One of the best things about the festivities is to give a present that the recipient can really rummage around in which is why finding the best Christmas hampers to give us gifts in 2021 is an undertaking to enjoy.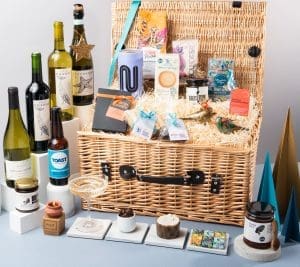 Not only will you treat someone you love or admire to an excellent festive present, but they will unearth not just one but lots of gifts to enjoy.
And if they are something of a food and drink lover, and there's no better way to celebrate than sending someone special a festive treat in a wicker basket.
If they have a sweet tooth, they will get to enjoy lots of new creations including mince pies though you can buy a chocolate hamper too.
Usually, luxury Christmas hampers are quite a pricey gift, but they are usually packed with a Christmas pudding, smoked salmon and other quality food to enjoy.
Gift hampers have a range of price tags and are a great way to acknowledge someone's efforts over the year, but they are also an excellent way to stock up to celebrate in your own home and also to entertain lots of guests on Christmas Day.
Gift hampers are also a great way to show appreciation because whatever your budget is for a Christmas gift – there is a Christmas hamper available for it.
You can buy hampers filled with white wines and other alcoholic drinks, while some hampers are geared towards the teetotal.
Here, the Christmas.co.uk team has been working to find the best Christmas hampers to give as gifts in 2021 and you find that these festive treats will meet a wide range of needs – and will impress the recipient.
Carluccio's Il Grandioso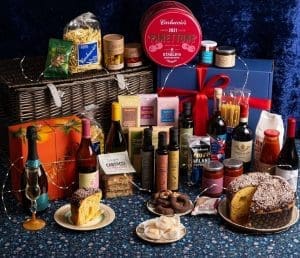 If you really want to make a magnificent gesture when gifting a Christmas hamper this year, how about Carluccio's Il Grandioso? It does cost £350, but it comes in a beautiful wicker basket packed with artisanal Italian produce. The selection includes Italian festive table staples from some of the country's finest suppliers including Vin Santo dessert wine, extra virgin olive oil and marinated tender figs. If the intended recipient loves to entertain and cook, particularly Italian dishes, then this Christmas hamper is a real treat. Alternatively, Carluccio's is offering an Italian larder hamper at £69 which includes organic vegetable sources, pasta and enough items to dish up three meals to feed a family of four. There's also a dry white wine and a fruity Chianti.
Christmas food hampers from Harvey Nichols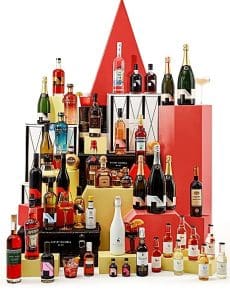 One of the great retailers of luxury Christmas hampers is Harvey Nichols and this year is no different. Their handpicked selection includes food hampers designed for connoisseurs, alcohol-free hampers for those who are teetotal and for those who do enjoy a drink there is an excellent choice of wine and spirits hampers. If you are planning on a lot of entertaining this Christmas, then the Harvey Nichols bartender hamper at £1,300, is certainly for you. The contents have been hand-picked by expert buyers and include the most popular drinks sold by the store. You'll get to enjoy bestselling wines and exclusive spirits along with magnums of Champagne. The hamper includes stocking filler miniatures, dessert wines and port for the cheese board. There's also a good range of gins plus flavoured premium tonics and a limited-edition Russian vodka. Harvey Nichols says this is the world's greatest drinks hamper, so who are we to disagree?
If the price tag for the Harvey Nichols bartender hamper is a tad too high, they also offer a Christmas drinks cabinet hamper or the Christmas cocktail cabinet hamper, both priced at £299, and they are packed with drinks and goodies you will need for an impressive season of entertaining.
British Regional Hampers Christmas afternoon tea hamper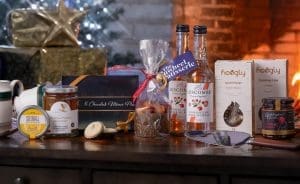 This alcohol-free Christmas afternoon tea hamper is a great offering from British Regional Hampers for recipients to enjoy limited-edition but very tasty British produce. The firm supports local small businesses by packaging environmentally friendly products to create a memorable and unique gift. There's no doubt that lots of us enjoy afternoon tea and if you know someone who enjoys pushing the boat out, then this alcohol-free Christmas afternoon tea hamper at £65 is a delight. There's a beautiful tea from Hoogly Tea, which are based in Sussex, and a very tasty English conserve from Cornwall. There's also a twist on marmalade with a Christmas pudding marmalade that features sultanas, glace cherries lemons and oranges. The excellent hamper also contains a delicious Christmas cake along with hand-crafted chocolate mince pies. This excellent Christmas gift is topped off with Muscat grape juice, a lovely bottle of bubbly from Devon.
British Regional Hampers also offers an impressive alcohol-free New Year's Eve and New Year's Day hamper at £110 containing smoked duck, spicy smoked flower and chilli crackers, black garlic pickle and salmon. There are lots of other items, including some very tasty honey chocolate. However, the Christmas.co.uk team were taken by the alcohol-free Christmas celebration hamper at £90. The idea is to create a grazing table that contains organic Cotswold brie, plum and date ultra-crispy toasts and beechwood-smoked duck breast. There's also a spiced plum chutney, some tasty cheese and a selection of lovely handmade chocolates and mince pies.
Social Supermarket's Royal Frost Birch Christmas hamper
One great way to make an impression with a cracking Christmas hamper, is to visit the Social Supermarket's site and select a hamper with quality goods selected from social enterprises. Here, the Christmas.co.uk team really like the Social Supermarket's Royal Frost Birch Christmas hamper which costs £195.99. It's the perfect mix of savoury and sweet treats, warming hot drinks and alcoholic beverages. There's a lot to like if there's a food or drink lover in your life and there are some great back stories about some of the products too. Along with a selection of wines and beers, there are hot chocolate melts, quality coffee beans, and a selection of Neapolitans, cardamom and orange biscotti, shortbread biscuits, summer harvest honey and some very tasty chilli onion relish. We also like the organic plum and brandy jam and the richly fruited Christmas cake. This is one of the pricier offerings from Social Supermarket, but they also offer letterbox gifts, various gift boxes and an ethical Christmas essentials gift box. There's also a nice Christmas morning gift box to help enjoy Christmas Day and the spirit of Christmas gift box will delight the gin lover in your life with sustainable gin and complimentary snacks
Sam's Riverside Christmas Hamper
If you would like to make an impression with a hamper packed with quality tastes, then Sam's Riverside Christmas hamper at £100 is certainly worth considering. This popular Hammersmith restaurant offers hampers and this one is packed with quality items including Prosecco, salted caramel milk chocolate, all-butter wheat crackers, Earl of Grey tea, pitted olives and Dr Will's Original Mayonnaise. We also liked the England Preserves English mustard and the red onion marmalade. It's an intriguing hamper with a range of quality goodies that the recipient will enjoy and it is certainly a foodies' delight. We also rather like Sam's Larder Hammersmith hamper which contains biscuits, marmalade and jams, as well as a variety of tea blends to offer breakfast lovers another real treat.
Other Christmas hampers to give as gifts that we loved
Marianna Leivaditaki Christmas hampers
While there are lots of Christmas hampers to enjoy this year, we really like the efforts from top chef Marianna Leivaditaki. She's put together a number of very tasty Christmas hampers, including the excellent Aegean Christmas pantry box at £120. It contains small farm olive oil, wild oregano, hand-picked sea salt, sour cherry spoon dessert, Cretan thyme honey and Graviera cheese. There's a lot more in the box but for those who are foodies, this is an unusual and impressive offering and a chance to create Cretan dishes with original ingredients.
Oliveology Christmas luxury hamper
We also like the Christmas luxury hamper from Oliveology priced at £160. This is a luxurious Greek-inspired treat with some items designed to impress. There's a handcrafted olive wood serving board, balsamic cream with mandarin, roasted almonds, apple olive oil, vanilla honey, dried cherries and truffle honey. There are more items, but everything is tasty and delicious with the Kalamata olives with oranges and herbs particularly impressing.
Biscuiteers Christmas hampers
Great Christmas hampers to give as gifts also include the products from the Biscuiteers. They are offering an advent biscuit tin filled with 24 vanilla iced biscuits in the shapes of polar bears, penguins and Christmas trees. It's a novel take on what most people would consider to be a hamper, but the £58 gift is certainly worth considering if the recipient loves biscuits (and who doesn't?), or if you simply want to make a big impression with a stylish and very tasty offering when visiting friends and family at Christmas. The talented team also make a Christmas Eve letterbox gift of biscuits in the shape of a fireplace, a letter to Santa and a carrot for £25. There's also a selection of winter walk biscuits with a woolly hat, scarf gloves and a big coat. All-round, the biscuits are excellent products and worth making the effort to buy and enjoy.