Traditional Christmas puddings are a fitting end to the traditional Christmas dinner and this year sees an impressive choice of puds being available.
Whether you are looking for a classic Christmas pudding to finish a festive meal before settling down in front of the TV, or whether you're looking for Christmas puddings with a twist, the taste test from the Christmas.co.uk team is an ideal guide for you.
Christmas puddings range from having lots of juicy fine fruits, to having vine fruits and crunchy almonds and those puds that have fruits and spices.
The best Christmas puddings to find in the run-up to the festivities come from the leading retailers such as Marks & Spencer's and Waitrose, but there are also some smaller retailers and specialist pudding makers that we've checked out this year.
And, as we found from our Christmas pudding taste test last year, they have created some very tasty puds to enjoy!
So, whether you want your Christmas pudding filled with glace cherries, are if you looking for a gluten free pudding, this is the time to stock up on brandy butter and enjoy a festive pudding delight on Christmas Day.
Award winning Christmas Puddings
Marks and Spencer Vintage Christmas Pudding
£15 each for 800g – Good Housekeeping award winner
This delicious Christmas pud was the Good Housekeeping Award winner for 2020 and we agree completely! We love all the interesting twists on Christmas food that have appeared in recent years.
However, tradition is a wonderful thing, especially at Christmas when it represents comfort, cherished memories and family rituals.
This sumptuously sticky Christmas pudding boasts a tantalising glossiness and delights the taste buds with a rich mix of juicy fruits, sweet glace cherries and crunchy, creamy almonds.
The spices, cinnamon and nutmeg are delicate and warming. There's festive booziness too!! Sherry, port and brandy are bold enough to give this M&S Vintage Christmas Pudding a lovely kick.
Sainsbury's Taste the Difference Salted Maple & Pecan Christmas Pudding
£6 for 400g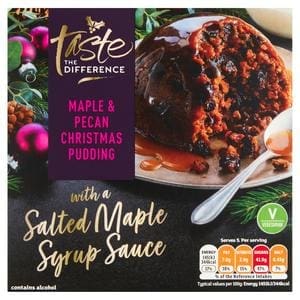 Now this is gorgeous! I adore anything flavoured with salted caramel – I could probably eat the whole thing to myself.
The caramel is beautifully buttery, and you get zingy hits of salt with every eager bite. The deeply flavourful nuggets of moist sultanas and currants are an ideal companion to the sweetly nutty and crunchy pecans.
Maple sauce envelops this attractive pudding, adding a centrepiece-worthy shine and a rich sweetness that adds smoothness to the texture as well as the tartness of the fruit.
Morrison's The Best Chocolate Orange Pudding
£6 for 500g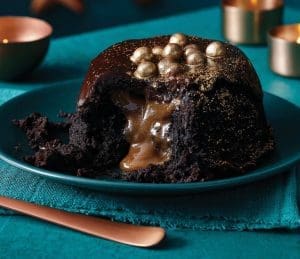 If you're craving an indulgent finale to your Christmas Dinner, then Morrison's is the place to shop.
The moist sponge of this unusual dessert has a cloudlike lightness that is the perfect antidote to a heavy meal. It's easy on the eye too! There will be plenty of 'oohs' and 'aaahs' as you place it proudly before your friends and family.
The unctuous chocolate ganache is accompanied by a punchy orange sauce that nestles beautifully at the centre of this pudding. It is gooey and melts in the mouth.
There was a danger that the recipe for this could have been 'too-much', but the darkness of the cocoa and the slight bitterness of the fruits mean that the flavours are perfectly balanced.
Supermarket Sensations
Waitrose No.1 Christmas Pudding with Courvoisier Cognac
£12 for 800g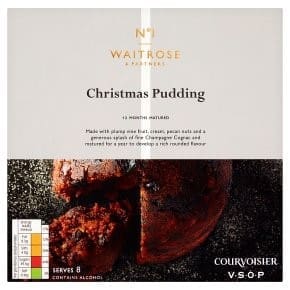 This traditional Christmas pudding is the perfect blend of all your favourite seasonal flavours, and it will look fab swathed in flame at the centre of your dinner table.
Rich brandy and fruity sherry add a bold punch of taste to zingy orange and lemon, while the fruity astringency of currants and sultanas give a burst of juiciness to the crunchy sweetness of pecans.
The texture is spot on too! Squidgy, sticky and delightfully moist, this is a Christmas pudding combination that is hard to beat.
Morrison's The Best Christmas Pudding
£8 for 800g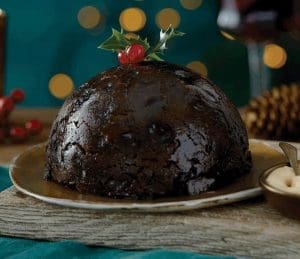 The Morrisons' Christmas food team certainly love a nut!
This festive dessert is crammed full of spiced pecans, creamy almonds and rustic walnuts. They give a super crunchy texture that is unusual for a Christmas pudding but actually pairs cleverly with the plump softness of the vine fruits.
If you don't have a sweet tooth this one might not be for you, but we think that there's enough citrus here to cut through the sugar.
Tesco Finest 12 Month Matured Christmas Pudding
£8 for 800g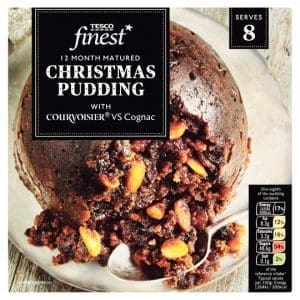 Fruitiness is the key flavour in this gorgeously glossy pudding. We could really taste the brandy-soaked cherries, as well as the usual sultanas and that is a very good thing!!
There's a generous amount of alcohol packed into this glossy dome, including the heat of cognac and aromatic cider notes. However, ruby port is the strongest of all the boozy flavours here and that's a lovely twist.
The Best of the Independents
Daylesford Organic Traditional Christmas Pudding
£20 for 900g – Good Housekeeping Awards Runner Up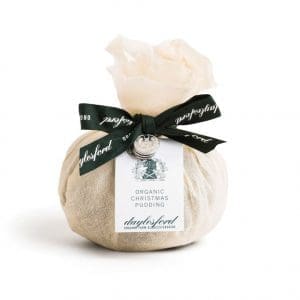 This is a lovely pudding that has an enticing dark colour which looks glorious when drenched in brandy sauce. Totally Instagrammable!
There's rum enriching this pud which delivers a toasted sugar taste that is an amazing with the nuts and tart fruit. The gentle warming spices are rather special too!
Christmas puddings can be slightly gritty, but Daylesford have managed to create the most divine soft and cake-like mouth feel. It's not as traditional as they promise but we're pretty sure you'll enjoy it enough not to care.
Betty's Classic Christmas Pudding
£17 for 800g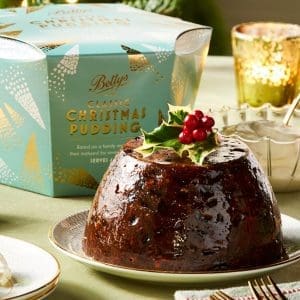 Betty's is a wonderfully old-fashioned Yorkshire Tea Room, and this pudding features the best of God's Own County.
The texture is mouth-wateringly moist and you'll discover plenty of sweet and jewel-like sultanas, cherries and currants – they are almost jammy which we thoroughly enjoyed.
Betty's artisan bakers have soaked their puddings in Yorkshire Ale and brandy which gives a tantalising tickle of taste but isn't too overpowering.
The packaging is very pretty too, so it would make a thoughtful gift.
Riverford Organic Vegan Christmas Pudding
£12.75 for 450g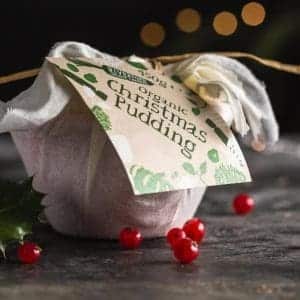 This is a lot of money to pay for a small Christmas pudding but if you value organic food, a vegan ethos and a luxurious recipe, then it will be worth the extra pennies.
There's A LOT of fruit per spoonful and we thought the extensive spice mix of cinnamon, cardamom, nutmeg, ginger, coriander, cloves and fennel really brought all the flavours to life.
This pud is made with coconut oil which adds a subtle creamy, nuttiness – and makes up for the slight lack of sweetness and booze.
Deliciously Quirky Puds
Aldi Specially Selected Damson, Plum and Pink Gin Pudding
£5.99 for 800g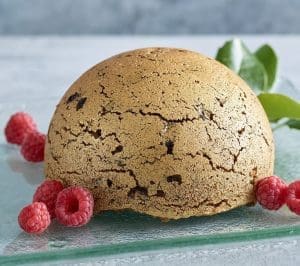 Covered in decadent, and edible, gold glitter, Aldi's delightful offering is a real showstopper.
Kids will think it's ace and you could (perhaps!) treat them to just a small portion!
Plum is the stand-out fruit flavour that is further enhanced with sugary pink gin. You'll still find the customary vine fruits (big juicy ones too!) nestled next to toasted almonds, so traditionalists won't be too outraged.
The centre is a tasty mix of plum jam and jelly. It's sounds too sweet doesn't it?! Surprisingly, this pudding has a flawless balance of flavours that simply must be tried!
Tesco Finest Hidden Clementine Christmas Pudding with Courvoisier Cognac
£5 for 400g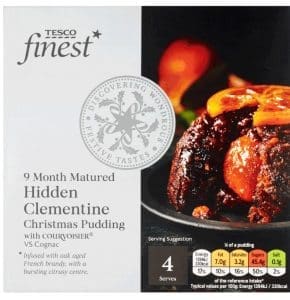 This one really made us smile. It's not the prettiest of puds, it kind of fell out of the ugly plastic container that it comes in, but the not-so-surprising treat in the centre makes us nostalgic for the quirky food styling of the 1970's.
The sponge is soft, moist and there is an impressive balance of nuttiness, alcohol and fruit.
The heart of this Christmas pudding is the sugared, full size clementine. A little bomb of candy sweet tanginess which leaves a refreshing, citrus aftertaste.
Lidl Deluxe Limencello and Panettone Topped Christmas Pudding
£6.99 for 700g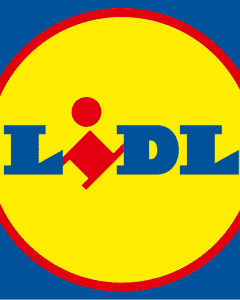 Ooooh, now we do like a bit of limoncello in the Christmas.co.uk office! It reminds us of Italian city breaks.
Lidl has created one of the most attractive Christmas puddings of 2020. It's covered with glistening scarlet cherries and a glossy sauce. And the smell!!
As soon as this baby is popped from its box, you'll be hit in the nostrils with a beautiful honey lemon aroma.
It's very sweet and sticky, which we couldn't get enough of, but if you prefer a more savoury, traditional pud, then we'd choose another from our list.
Free From
Marks & Spencer's Vegan and Made Without Wheat and Dairy Christmas Pudding
£4 for 454g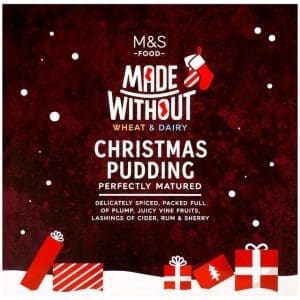 Free From food is often disappointing. It never quite lives up to 'the real thing' does it?! Not anymore!
Good old M&S are leading the way with authentic Christmas food that even people without allergies would choose to eat.
The levels of fat, juice-filled chunks of fruit in their Wheat and Dairy Free Christmas Pudding makes it taste luxurious from the first spoonful.
An exciting number of booze slugs have gone into this recipe and the texture is much less dense and claggy than the usual gluten free offerings.
LillyPuds Premium Gluten (and Dairy) Free Christmas Pudding
£19.95 for 908g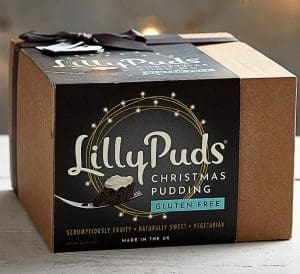 LillyPuds have received several 'Great Taste' Awards, a sign of innovation and finesse with flavours.
This Gluten Free Christmas Pudding is a pleasure to eat as well as being relatively healthy. Fruit makes up at least 50% of the recipes and there's only 4.5% is added sugar.
Each pudding is blessed with an interesting mix of ingredients such as almonds, ginger, apples, brandy, apricots and real ale.
And the very best thing about LillyPuds?! No hard and bitter mixed peel!!
Burtree Puddings Gluten Free Christmas Pudding
£15.99 for 900g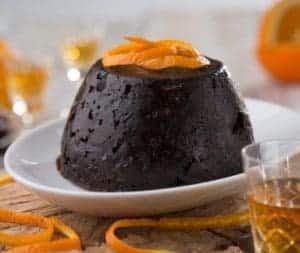 Burtree Puddings are the proud owners of 'The Guardian Newspaper Best Gluten Free Christmas Pudding'.
In the blind taste test, it was chosen by a family who aren't even on a gluten free diet.
These puddings are loaded with fruit, including entire pulped oranges for maximum zing! Tasty tipples such as brandy and cider finish off a set of amazing flavours in a dessert that is moist but remarkably light.
The 2020 Christmas Puddings that are not so good!
Iceland Luxury 12 Month Matured Christmas Pudding
£4 for 400g
Too sweet due to the overuse of glace cherries. The nuts were tasty, but a couple of bites felt gritty rather than crunchy.
Coles Signature Christmas Pudding with Bourbon and Ginger
£8.49 for 454g
A lovely pudding spoilt by too much ginger which left a bitter flavour and an astringent aftertaste on the tongue. It had a tad too much stickiness too.
Lidl 24 Month Matured Christmas Pudding
£12.49 for 907g
Two years is a LONG time for a Christmas pudding to be maturing! They have a great, moist texture but the flavours are too overpowering, a small portion would be all I could manage.