For many of us, having a tasty Christmas pudding is the perfect end to a lovely dinner and here we look at some of the best puddings available.
It's crowd-pleasing favourite and a delight when the lights are dimmed and a flaming pud is brought to the table – and then everyone gets to tuck into a moist pudding that should be zesty enough to highlight the fruit and sweet enough to satisfy.
These shop-bought puddings don't come with a sixpence or silver coin hidden in the creation. That's not such a bad thing though! We live in health and safety conscious times and it definitely helps the nerves of one of the Christmas.co.uk team who damaged a tooth in a pudding related incident as a child.
There are puddings of all sizes and prices to choose from this year and one survey from Which? highlights that one low price pudding has beaten the more expensive choices from the likes of Fortnum & Mason, as well as Harrods, in their taste test.
This highlights that by simply buying the most expensive pudding does not mean you're buying the best tasting.
This is where the Christmas.co.uk team really come into their own with the best Christmas pudding taste test to really seek out the quality offerings from those puddings you should avoid at all costs.
We have even tested the Christmas puddings with a 'twist' – and while these will not meet everyone's expectations (expect Aunty Gladys to 'tut' loudly if you risk serving up one of these creations), they are meeting a need for something 'different' and for changing tastes.
So, get your spoons ready and let's begin.
Our best Christmas pudding tested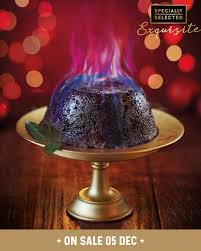 We entirely and unreservedly agree with the Which? magazine team who placed Aldi's Specially Selected Exquisite Vintage Pudding in first place. It is exceptional!
If you want a pudding packed with taste and texture, looks great and has a delicious aroma, then the £12.99 option from Aldi is for you.
The next tasty Christmas pudding that had the team licking their lips was an offering from Asda.
It's not a wallet busting pud at £7 and it's worth more. The Extra Special 9 Month Matured Luxury Christmas pudding is worth every penny and costs nearly half the price of the Aldi Christmas pudding and it has a more traditional taste and look that many people will admire.
There's a good combination of fruits within this delicious offering and it's certainly highly recommended.
Hot the heels of Aldi and Asda is an excellent 24 Month Mature Christmas Pudding being sold by Lidl.
The discount supermarket has created a delicious pudding that is laced with cognac, cider as well as brandy soaked Glace cherries. It's a lovely flavour with lots of fruit and a nice texture in a moist pudding. It costs £11.99 for a 907 g pudding.
The worst Christmas puddings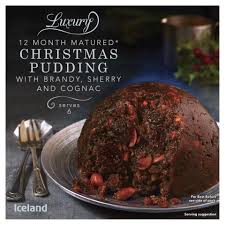 Since we've gone straight in to reveal the best tasting Christmas puddings, it's worth spending time looking at the worst.
Again, we agree with the Which? survey that highlights that the Iceland Christmas pudding really is a disappointment.
The store is offering a Luxury 12 Month Matured Christmas Pudding, which costs just £4 and only weighs 400 g. It leaves a lot to be desired and you may find that you need to add more brandy to the brandy butter to make it more palatable.
During our taste test, the Finest Christmas Pudding from Tesco was particularly disappointing. It costs £5 for 500 g and for taste, it's a lot less impressive than the Finest Christmas pudding that was produced last Christmas.
This brings us onto the Harrods' Decadent Christmas Pudding which weighs 454 g and yet costs £14. This is also a very bitter disappointment for those who like depth of flavours in their Christmas pudding, the whole taste journey was underwhelming.
This experience with expensive puddings extends to the one from Fortnum and Mason. Again, it is a lightweight 454 g but costs £13. Put simply, don't waste your money.
While it was not the worst tasting, the Highgrove Enterprises Organic Christmas Pudding was the one we thought was just not worth the money. It costs £26.95 for a 600 g pudding and it's available from Fortnum and Masons. Seriously, go to Aldi or even Asda and spend the difference on a decent bottle of wine.
Highly recommended Christmas puddings
However, one upmarket store that does get the balance right is the Harvey Nichol's Christmas pudding which costs £9.50 for 454 g. The velvety, rich taste has a nice level of alcohol and the fruits are sweet and juicy. It is certainly highly recommended by us.
And if there is a Booths supermarket near you, then you need to hot foot it down to your nearest one to buy their brandy and port Christmas pudding. It is exceptional.
The real attraction here is that it is a nice mix of Christmas pudding and what appears to be a cake with lots of fruit and overtones of citrus and marzipan. Great textures and crunchy walnuts. The 908g pudding costs £11.95.
Best of the rest Christmas puddings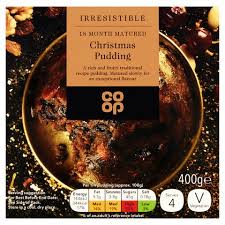 One pudding we all enjoyed was the offering from Co-op and their 18 Month Matured Christmas Pudding from their Irresistible range. It is very good and costs just £3 pounds for a 400g pudding with well-balanced flavours and nice sweet notes. There's also a noticeable presence of brandy to make this a rewarding dessert.
Morrisons offer a great range of Christmas foods for the festive celebrations, and though their Best Christmas pudding didn't quite hit the top notes with our testers, it is still an impressive and indulgent offering.
Their pudding costs £8 for 400g and is packed with alcohol, including sherry and rum, as well as fruits to give it a nice aroma. Morrisons topped our mince pie taste test this year, so if you're tempted to buy them, then this pud will also be a sound investment for the big day.
For those who shop at Waitrose, their 12 Month Matured Courvoisier Pudding is a tasty treat at £12 for 800g, as is the Sainsbury's Taste the Difference 18 Month Mature Christmas Pudding which costs £7 for 800g.
We also had a look at the M&S' The Collection for their Perfectly Mature Christmas Pudding. While it costs £12 for 907g and has lots of fruit and lovely flavours, there are better puddings available this year.
Other Christmas puddings you may like
Not all the best Christmas puddings will be coming from well-known supermarkets and retailers.
One of the better offerings that are worth searching out is one from popular Yorkshire café-restaurant destination Betty's. Their Christmas pudding costs £15.95 and is a traditional pudding with lots of fruit, almonds and cherries that hits the right tasting notes.
We also enjoyed the Wolseley Collection Christmas pudding which really is a nostalgic treat. There's plenty of zesty aroma and it's available for £16.95 for 454g at Harrods.
Again, don't be shy about going to Aldi or Asda just for their Christmas puddings if you really enjoy a tasty, well-made and all-round impressive pud to impress family and friends with rather than being disappointed with these pricey alternatives.
Alternative Christmas puddings to enjoy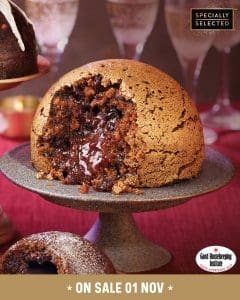 So, for those of us who usually have a traditional Christmas dinner of turkey, followed by a Christmas pudding may decide that this year could be an opportunity to try something different.
While the classic Christmas pud offers a comforting and rich taste that many of us enjoy, there are various twists and quirky variations available that may be more appreciated.
With this need to be different and yet similar, our best alternative Christmas pudding is the Morello Cherry Christmas Pudding from Aldi.
Seriously, this discount supermarket chain really has got it together this Christmas for its puddings and this gold-dusted offering delivers an excellent cherry creation with an interesting taste of spices and orange. It's a nice balance of taste and texture with lots of juicy vine fruits and costs just £6.99 for 800g.
While the traditional Finest Christmas Pudding from Tesco is a disappointment this year, that's not the case with their Finest 9 Month Matured Hidden Clementine Christmas pudding. It's packed with cognac, has lots of vine fruits and though the hidden clementine is something of a gimmick it does help make for an interesting offering. The pudding costs £5 for a 400g pud and it's highly recommended.
Morrisons have come good with the alternative Christmas pudding this year and their Best Panettone Crumb Pudding is a joy. This has a bronze shiny exterior and an excellent fruity smell and lots of vine fruits.
There's not a strong taste of alcohol but it has a range of tastes and textures that really impress – mainly down to the Amaretto to help create a good texture. The Morrisons pudding costs £8 for 800g and is a great twist on a traditional desert.
It's also worth mentioning the M&S Sticky Toffee Christmas pudding for those who don't like puddings full of spices. This comes with raisins and currants and is a traditional creation with a lovely sticky toffee sauce. It does contain rum and brandy but not in an overpowering way and at £10 for a 900g pudding, this could win over those who are not Christmas pudding fans.
We also loved the Luxury Spiced Rum & Cherry Topped Pudding from Iceland which costs £4.50 for 400g and the plump, ginger and honey Christmas pudding from Waitrose which is also an interesting creation packed with aromas and great taste. It costs £6 for 400g.
We also had a taste of what is likely to be a future popular trend, and that is a vegan pudding without dairy or wheat.
Step forward M&S for their Christmas pudding as part of their 'Made Without wheat and dairy range' but it was surprisingly tasty. It will be a big hit with any vegan you may have sitting at your Christmas dinner table with a nice moist texture and decent amount of alcohol. It is so tasty at £4 for 454g that even non-vegans may even be tempted by it. No, seriously, they might be.
The team at Christmas.co.uk also appreciate that not everyone spends time with family and friends and they may be spending Christmas by themselves or – horror – they may be having Christmas dinner with people who don't even like Christmas pudding. Why even bother?
For those who want a Christmas pudding for one, then the 18 Month Mature Christmas pudding from Sainsbury's Taste the Difference range is a tasty offering. It costs £2 for 100g and it's the perfect portion size for just one person. As a good all-round pud, there's a nice mix of fruit, a strong taste and a nice velvety texture. None of this will be going to waste!
Finally, our top tip to have a guaranteed flavour and for those who want to show off a Christmas pudding in the traditional way with a nice flame, then the best way to set fire to an expensive pudding is this:
Warm the brandy slightly
Pour it over the pudding
Put a match to it straight away and it will ignite
Then enjoy your Christmas pudding!