Christmas jumpers for kids – There's nothing much cuter than a smiling little darling bundled up in an adorable Christmas jumper. And if they're naughty? You can threaten them with more than a disgruntled Santa! See that obnoxious, glittery elf jumper little dude?! A picture of you enduring the wearing of it is going in a frame every Christmas from now until you're 40! So, sit down and eat your sprouts!
As with most things at Christmas, there are a huge number of festive jumpers, sweaters and tops to choose from. Where to start!? We've created a list. We're helpful like that. Just remember, there will be an incessant line up of 'events' at nursery and primary school during December, including Save the Children's awesome Christmas Jumper Day so buy wisely and your choice of garment should see your little one through the entire season. Ace!
Christmas jumpers for older boys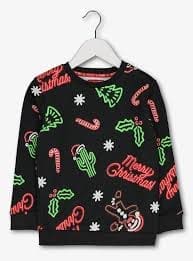 'Neon Christmas cactus sweatshirt' £10.00 from TU at Sainsburys
Most older boys would wear this. They may not LOVE it but leaving the house in it would be victory enough. The bold neon colours set against a black background are funky without being too loud and the design is quirky and fun. No Christmas clichés so it's a festive jumper without being too 'try hard'. Perfect for nearly-teenagers. It's a cotton mix, soft sweatshirt material that's machine washable. Great quality for the price too! Order one here.
'Santa Camo Sweatshirt' £12-£17 from Next
Another 'cool' non-woolly jumper for the boys in the family at that awkward age. The camo design is fun and edgy with a neutral palette and pops of jolly red. The 'Santa in shades' repeat print is discreetly Christmassy. The material is breathable 100% cotton with snug cuffs and neckline for warmth. Your son could style it with black jeans and boots and rock Christmas without being geekily 'obvious'. Order here.
'Dabbin through the Snow' Christmas Jumper £13.99 from Amazon
This one is for boys who have a sense of humour and who love a bit of festive cheer. 'Dabbin' in case you're old and crusty and don't know *eye rolls* is the dance move that Santa is busting out (I'm so not cool!) on the front of the jumper. The neutral, washed-out colours are great. Made from a cotton mix, brushed into soft fleece on the inside and machine washable. Buy one here.
Festive woollies for older girls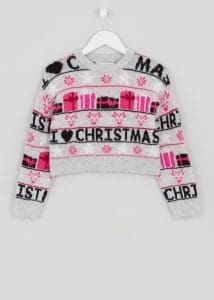 'Candy Couture Novelty Knit' £14.00 from Matalan
A Christmas jumper that your 12-year-old daughter would love! It has a slightly cropped length (calm down not that short and she could wear a 'vest' under it!) which makes it 'fashion'. The colours of grey, bright pink and black look funky together and the design of snowflakes, presents and 'I love Christmas' isn't too bold. The slightly fluffy knit is a fabric mix so might be a tad warm and wear better on days out in the cold rather than at an indoor Christmas party. Order yours here.
'Sequin Penguin Jumper' from £20.00 – £25.00 from John Lewis
Not technically a Christmas Jumper but this sweet penguin top is ideal for festivity resistant teenage girls. Everyone loves a penguin (and if they don't, they deserve presents!) and this little fella is super cute. The colour is a beautiful dove grey and the design is created from silver sequins which catch the light in a very lovely way. Made from snuggly soft cotton knit and, as you would expect by now, machine washable. Yes, even with the sequins. Order one here.
'Let it Snow' Jumper from £18.00 – £22.00 from Marks and Spencer
I love this one! It's the 'Coco Chanel' of Christmas jumpers. Classic black and white, minimalist with a touch of quirkiness. Fab! The slogan is knitted into the jumper, no glitter or sequins required and the only real embellishment is a few fluffy Pom Pom snowballs. This is a fantastic option for a girl who doesn't enjoy traditional festive colours or the same old elves, reindeers and Christmas trees. Machine washable acrylic mix so will feel warm to wear. Order here.
Adorable Yuletide tops for younger boys and girls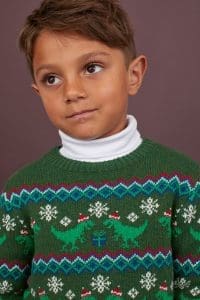 'Festive T-Rex Fair Isle Jumper' £11.99 from H&M
The tiny, party hat-wearing T-Rex dinosaurs rampage across the front of this action-packed jumper. Fair Isle knit is a traditional design at Christmas and H&M have created a few fun versions of it this year. Knitted in forest green, a fab colour and made from an acrylic mix with a touch of wool for extra warmth. It's a heavier weight, outdoor jumper so not great for the school Christmas party but ideal for ice skating and a Boxing Day walk. Order yours here.
'Reindeer Hoodie' £5.99 -£7.99 from Amazon
A Christmas hoodie is a practical option for young lads who bomb around the place at 100 mph and get too hot! A festive hoodie can be worn as a jacket over a long sleeve T-shirt for easy layering. The dark blue of this one would match all outfits and the peeping reindeer is an unusual but fun design. The fabric is a mix but is machine washable and stretchy. Buy one here.
'Personalised Christmas Wreath Jumper' £35 from NotOntheHighStreet.com
Christmas trees, candy canes and her name on the front. All little girls would be thrilled with this jumper. Yep, it's expensive! But the slouchy design could easily work for a few years if you buy a size to grow into. Pair with leggings when it's too big and jeans or a skirt when it fits. These sweaters are amazing quality, hand printed, ethically made and eco-friendly. Even better, you're supporting a small business when you buy one. (Or two! Mum could get a matching one!) Order yours here.
'3D Christmas Tree Jumper' £21.99 from Etsy.com
Simply stunning! This is the ultimate Christmas jumper. A 3D knit makes it so special. Baubles, tinsel and a star 'pop' out the jumper front. The bold colours of the tree are toned down with the dark marl kit which gives it a classier look. The fit is modern, the knit is quite heavyweight so feels warm and it has a brushed fleece lining so no scratching 'Hurrah!'.  Amazingly it is machine washable at 30 degrees! Order one of these beauties here.
Teeny tiny Chrimbo jumpers for babies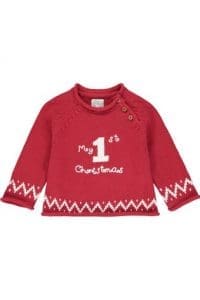 'My First Christmas Jumper' £25 from Next
Super sweet and perfect for both boys and girls. The 0-3-month-old size will make even the grumpiest Scrooge squeal at its cuteness! Beautiful quality, machine washable and complete with useful buttons at the neck for ease of change. I love that it's 100% cotton too for breathability, no-one wants a sweaty baby! Buy yours here.
'Baby Dog Christmas Jumper' £16 from John Lewis
This is just GORGEOUS! The baby blue colour is simply lovely and the cheeky doggy design is festive but not cliched. Made from a super soft 100% cotton knit, it has useful shoulder poppers and is machine washable. The value is incredible in comparison to similar jumpers from a big brand. Yes, it's £16 for a jumper that will last weeks but the photographs of your tiny fella snuggled up in it will last a lifetime. Order yours here before they get snapped up.
'Little Reindeer Baby Girl Sweatshirt' £7.00 from Peacocks
Baby pink with a delightful reindeer design this is soft and warm. The face of the reindeer is given a glittery touch on the antlers and scarf which is a cute touch. It's just £7! Amazing! Even if it only lasts for a few wears, who cares at that price! It's machine washable, 100% cotton and has a stretchy round neckline and poppers. Buy one here.