Is there a clearer sign that Santa is on his way than when delicious mince pies hit the shops? We don't think so and these scrummy treats are well worth waiting since last Christmas for! Or are they? We've all got favourite pies from various shops and here we look at the best – and, sadly, worst – of this year's mince pie offerings.
The Christmas.co.uk team have been hard at work tasting the wide range of pies that are available to bring you the best review of tasty mince pies you will read. It's been hard work, but someone had to do it.
So settle in, put on your trousers with the expandable waist and let's begin …
The history of mince pies
Hundreds of years ago eating a mince pie on each of the twelve days of Christmas would guarantee a year of good luck as well as an expanding waistline. The perfect excuse for over-indulging has been found! You're welcome!
Originally, a Christmas Mince Pie would have been filled with a dark meat such as lamb and presented in an oval dish to reflect the shape of the manger that the baby Jesus slept in. Pastry strips on the lid would have decorated the top to look just like swaddling clothes and sometimes a cheeky cook might have created a tiny depiction of Christ out of pastry off-cuts.
The spiced dried fruit that we know and enjoy now began to be introduced in the Georgian and Stuart times when mince pies became a status symbol. Elaborate displays of heart, star and flower-shaped mince pies arrayed on a festive buffet table showed your guests just how rich you were.
In more recent times, the mince pie has become synonymous with Santa Claus. Children in the UK will leave the treat as a thank you for gifts delivered.
Mince Pies with a twist
Are you an adventurer?! Do you refuse to be ruled by convention and expectation?! Then these quirky festive treats are for you!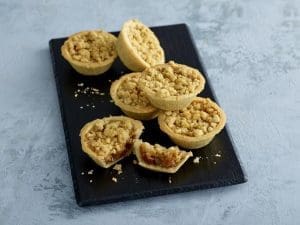 Aldi 'Specially Selected' Salted Caramel Crumble Topped Mince Pies £1.79 for six
Simply fantastic value.
Pretty to look at, if they last that long!
The salted caramel flavour is more like fudge which I loved, very moreish!
Delicious, rich mincemeat with fat juicy raisins.
The pastry and topping are soft and crumbly.
Tesco 'Finest' Crumble topped Mince Pie £2.00 for six
A classic mince pie with a tasty twist.
The balance of pastry to mincemeat is perfect.
A crumble topping with a beautiful buttery flavour.
Juicy, fruity raisins are made fancy with generous glugs of cognac and port.
John Lewis 'Cottage Delight' Sloe Gin Mince Pies £4.75 for six
A fantastic gift for a gin-obsessive.
Buttery, crumbly pastry.
A moist fruity filling.
Indulge your NEED for alcohol, these mince pies contain a huge splash of sloe gin which adds a distinct and delicious flavour.
Waitrose 'Christmas' All Butter Puff Pastry Mince Pies £2.50 for 6
I was suspicious of the puff pastry on these mince pies, but it works really well!
The puff pastry is buttery, sugary and crisp.
The filling is generous and gorgeously boozy.
Rough them up a little and they could be passed off as homemade at the school Christmas Fair.
Tesco 'Finest' Spiced Rum Mince Pies £2.00 for six
Oooh these are a RIGHT boozy do!
The pastry is lovely but that's not the point of these pies.
The rum is strong and has a real kick. They aren't for everyone but if you're part pirate and adore a shot of deep, dark rum then these are for you!
Co-op 'Irresistible' Winter Eve's Pudding Tart £2.00 for four
Unusual but pretty topping of gold stars.
Vanilla sponge layer in which you can really taste the butter.
Spicy apple and sultana filling. An interesting take on mincemeat that is flavourful and delicious.
The centre is vanilla custard. Any cake with a creamy, silky filling like this is a winner with me.
Classic mince pies
Christmas is about indulging in once a year favourites and upholding tradition. If you believe that 'if it isn't broken, don't fix it!' then these classic pies are for you.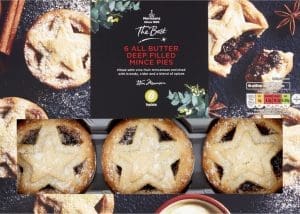 Morrisons 'Best' All Butter Mince Pies £2.00 for six
Morrisons have produced the winner of Good Housekeeping's 'Best Supermarket Mince Pie' award for the second year running. It's a worthy winner.
Crumbly pastry with a taste and texture that is very similar to a buttery Scottish shortbread.
The flavourful mincemeat is infused with orange oil from Brazil.
The spices are tasty and well balanced.
Big, fat pieces of whole fruit.
A fabulous star design on the top makes this pie perfect for entertaining.
M&S 'The Collection' Mince Pies £2.50 for six
The presentation is so pretty with a layered snowflake top. Santa would be thrilled to have these pies waiting for him.
The mincemeat is juicy and packed full of flavour.
Clementine juice in the filling add a fantastic, citrus punch.
Booths All Butter Mince Pies £2.50 for six
A good-sized pie. I'm greedy so this would be my choice.
Packed full of indulgent, highly flavoured mincemeat.
The filling is dark and glossy which gives the pie a classic look.
Buttery pastry which is firm rather than soft but was perfect for holding all the delicious filling.
I loved the Christmas tree decoration on the lid. It would be a fantastic addition to a festive buffet.
Waitrose 'No.1' All Butter Mince Pies £2.50 for six
The pastry is so moreish – you can almost taste the fresh butter.
A gorgeous combination of flavours in the mincemeat makes this pie a real showstopper. Tart apricots, sweet cherries, creamy almonds and rich brandy.
A striking snowflake design that is made shimmery with a sprinkling of sugar.
Sainsburys 'Taste the Difference' Mince Pies £2.00 for six
Mouth-watering buttery and crumbly pastry.
Rich, alcohol-soaked mincemeat.
You can really taste all the individual ingredients in each part of the pie.
Aldi 'Specially Selected' Classic All Butter Mince Pies £1.35 for six
The butter-rich pastry is melt-in-the-mouth good.
A filling of moist, fat, nutmeg spiced raisins.
A splash or two of cognac adds intriguing depth to the mincemeat.
Star designs are all over this year's mince pies and this is no less lovely.
Best Gluten-Free Mince Pies
In recent years Christmas fayre for people with food intolerances has improved hugely. Here's the best of 2019's gluten-free mince pies.
M&S 'Made Without' Gluten-Free Mince Pies £2.50 for 6
Ok, so stars are a thing. A few Christmas tree designs next year please people!
The homemade look is a winner for people who can't bake and have no morals.
A pastry with a sweet buttery taste and shortbread texture.
The citrus sharpness of the filling combines perfectly with the sweet pastry.
Spiced, chunky fruit add a luxury feel to this pie.
Tesco 'Free From' Gluten-Free Mince Pies £1.50 for four
Golden hued, flaked pastry.
The mincemeat filling has the perfect level of sweetness.
These pies have an intriguing citrus kick. The lemon really works.
Cinnamon is an underused ingredient in mince pies, these have a delicate touch which set off the other flavours beautifully.
A crunchy top from the sugar coating the top.
 Aldi Gluten Free Mince Pies £1.35 for four
More spices than usual but that works well in these pies.
The raisin and currant mincemeat is enriched with a touch of tart apple. The sharpness cuts through the sweetness is a fantastic way.
The pastry on this pie has a slightly unusual biscuit-like texture but it's gorgeous.
The Worst Mince Pies
Taste is subjective and what might make one person's taste buds sing will make another's gag. Try these pies if you must but don't say we didn't warn you!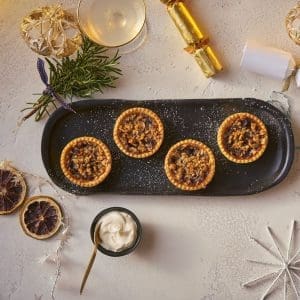 Sainsbury's 'Taste the Difference' Rum, Pineapple and Coconut Mince Pies £2.00 for four
A tropical mince pie, really?!
Weird and wrong.
The favours just don't work together.
Far too dry. You will need a drink or water to chug to stop your lips sticking to your gums.
The flavour is OK and that's as good as this pie gets.
Lidl 'Deluxe Luxury Mince Pies' £1.70 for six
Budget pies are a God-send for cash strapped families and can be surprisingly good. However, in this case Lidl have let themselves down!
Too dry, draws all the moisture out of your mouth
Far too much sweetness
Lacking in depth of flavour.
Harrods Mince Pies £9.50 for 6
Sometimes expensive doesn't indicate quality, these are disappointing.
Prohibitively costly. HOW much?
Far too saccharine sweet. You may develop diabetes in the hours after eating one.
Mince pies should be moreish. These just leave a sour flavour on the tongue. Nasty!
How to serve your pies
If it's a supermarket pie, without a doubt serve them warm! Give them a quick blast in the oven or a spin in the microwave is all you need to bring out all the spice, butter and sweetness.
A warm pie is the perfect partner for a really good quality vanilla ice cream. Granted it's not a traditional way of serving them but it is VERY good!
Cold is good too but it works best for icing sugar topped bakery mince pies.
A blob of warming brandy butter is the natural accompaniment to a mince pie, my Nana made the BEST I've ever tasted.
Cream of the pouring kind is a quick fix for a slightly dry pie.
Cheese, if you really have to but personally, Cheddar and Wensleydale should only be paired with Christmas cake.
Yes! Creamy, cooling and soooo good with spiced mincemeat and buttery pastry.