When it comes to styling your Christmas tree, there are some tips you can use to impress family and friends.
For most of us, it's not really Christmas until the tree is fully decorated and preparing the festive focal point is one of the most exciting times in the run-up to the festivities for most families.
Along with buying new Christmas tree decorations, it's a great way to get the whole family to join in with the preparations.
And there's no doubt that while Christmas tree decorating can be exciting for many, it can be a daunting experience.
It can also be intimidating when doing Christmas shopping to find the sheer range of styles of decorations and trees that are available, so this can fill some people with dread.
The main thing is to get your Christmas tree choice right and your choice of decor will follow.
This Christmas.co.uk article will help you achieve that with a tree that you will be proud and, more importantly, will impress friends and family.
---
Styling your Christmas tree with an expert
Julia Kendell is an interior design expert and she has these four crucial tips:
Make sure you add plenty of Christmas lights
Decide on the tree's decoration colours
Decide beforehand which decorations are necessary
Then put the decorations on your tree.
Essentially, she says, it's best to be prepared rather than just chucking the decorations onto a tree.
Firstly, she says you should have plenty of Christmas lights and this means having 100 lights per third of tree. For those who want a full-on showstopping Christmas tree extravaganza, then using up to 200 lights is also acceptable.
She says you should begin at the tree base and placing lights close to the trunk and then out along the branch before moving upwards until the tree is illuminated from the bottom to the top. Also, if you're putting your Christmas tree in a corner, then there's no need for wrapping lights at the back of it since no one will get to see them.
For mixing up the decoration colours, you can use a few simple tweaks that will rejuvenate your Christmas tree look.
Along with traditional red, green and gold decorations, you could switch the gold and green options for a Scandinavian-style tree using natural tones to match the tree.
To create the right balanced look, the decorations on the tree will need to be spaced out evenly with the smaller ones being placed nearer the top. The filler ornaments, or those that are less special, can be used at the lower end of the tree so you can place your nicest Christmas decorations at the front.
Watch Julia in this Homebase video decorating her Christmas tree.
---
Buying on-trend Christmas tree decorations
One popular outlet for buying on-trend Christmas tree decorations is Marks & Spencer and they recommend a red and white mix this year.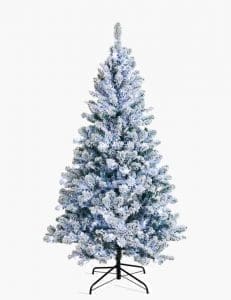 They say that from candy canes and Santa's outfit, the colours of red and white lend themselves to being Christmas classics.
A spokesman said: "By incorporating unexpected pieces such as Nordic-style snowflakes to drummers as well as cars, London buses and post boxes will help to boost the overall festive theme."
It also appears that frosty Christmas trees will be on trend again this year and for those who are looking for calm, cool colours then a crisp, white and green design may be for you.
How to arrange baubles on a Christmas tree
If you want to know how to arrange baubles on a Christmas tree, then Marks & Spencer says you should weave baubles in pale green and silver between the branches as these will nicely contrast with the darker frosting and using clear glass baubles offers a transparent touch with a sophisticated lightness.
The Marks & Spencer design team also recommends that for anyone wanting a simple green Christmas tree should add extra baubles along with larger antique-style decorations, particularly when finished in copper and gold.
The popular store also has a snow-covered tree available which lends itself as a blank canvas for adding textures, colours and motifs.
Among the Christmas tree decorations for this style, they recommend rainbows, shiny disco balls and pearlescent unicorns.
For the Christmas.co.uk team, it really is an eye-catching and unusual offering.
---
Putting up a Christmas tree
Don't fancy going to the time and trouble of putting up a Christmas tree and then decorating it? Then it's time to call in the professionals do it for you.
That's right, there are professional tree decorating firms available and one of the best known is Harrington's in the North West with a long client list of celebrities and premiership footballers as clients.
Co-director Tom Harrington says it takes several months of planning with the team putting up all of the Christmas decorations, including the tree and then in January, the team returns to take them all down to put in storage for next year.
Along with homes, the team also decorates business premises, restaurants and hotels.
Mr Harrington told the Manchester Evening News that clients are paying anything from £1,500-£4,000 and they had 20 residential homes to decorate last Christmas.
---
The best Christmas tree lights
We have mentioned that the decorating of a Christmas tree this year needs around 100 lights per foot of tree and the good news is that when it comes to Christmas tree lights, there is simply no such thing as having too many lights.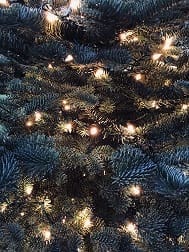 Put simply, you will need around 15 metres of lights for a six-foot tree – this means you will need to add five metres of lights for every foot of tree that you have. Remember too that Christmas tree lights tend to spaced much closer together than other decorative lights so you will need to choose carefully your lights and that they are designed for use on indoor trees.
For example, a 7-foot Christmas tree will need 20 metres of lights.
You can use this opportunity to use different styles and colours of lights so your tree looks magical.
Don't forget too that there are various shades of white lighting for a tree and these lights can change the entire ambience and appearance of the tree itself and give a warming, natural glow to the room it is in.
Type of lights available for your tree
Adding white Christmas tree lights helps to create that coveted sparkling, winter wonderland effect but what type of lights are available for your tree?
Christmas tree lights are available as:
Fairy lights
Cluster lights: These tend to be tightly packed together
Pinecone string lights
Globe string lights: These tend to be larger with fewer LED lights – the lights being spaced further apart than usual.
The options for decorating your Christmas tree with lights include:
Candle lights
Rather than wrapping a string of lights, you could use decorations such as candle lights that glow. It is possible to find candles with a dripping wax effect and will cover a 7-foot tree.
Basically, if you have any young Harry Potter fans in the house, then you will essentially be recreating Hogwart's Great Hall!
We love these Not On The High Street Christmas tree candle lights.
Christmas tree pine cone lights
These festive multicoloured lights work really well in red, blue, green and orange shades and you may even get away with adding extra baubles when using them. They can also make a very useful mantlepiece decoration during the festivities – even after you've taken your Christmas tree down.
We particularly love these 100 pine cone tree lights from Christmas Trees and Lights.
Best fairy lights for Christmas trees
There is a simple choice and while fairy lights are a classic option, there's also an opportunity to avoid using those with wires that are tricky to hide and instead buy those that use a copper core that can be wired seamlessly throughout the tree.
There are lots of good choices with these versatile lights offering a lovely and warming light and we love these Christmas tree fairy lights with 33 feet of copper wire – they can also be used for beds, bannisters and more after Christmas.
---
What is trending this year for Christmas tree decorations?
Lights4fun.co.uk has a good range of Christmas lights, they also offer some sound advice when it comes to styling and decorating your Christmas tree.
In order to make your Christmas tree a worthy creation, then illuminated Christmas decorations are a key addition.
A spokesman told us: "Trending this year are oversized bows."
People are also opting for illuminated stars as unusual additions and these can also be used instead of a fairy as your Christmas tree topper.
One great and effective way to personalise your Christmas tree is to use unusual baubles and of the impressive offerings this year, the Christmas.co.uk team particularly enjoy these:
Primark has these Mickey Mouse-themed baubles.
If you want quirky, then Sass & Belle are offering Christmas baubles in the shape of popular drinks bottle, including whisky and gin.
And the Bottle Club is offering a variety of Bailey's baubles for £6.99, which consist of a clear bauble with 5cl of the popular drinks inside.
The real trick is to see whether these Bailey's liquor baubles will last until Christmas day without being damaged or stolen!
---
Decorate the room for your Christmas tree
According to Ideal Home, this is also the time of year for people to decorate the rooms in which their stylish Christmas tree will stand.
The trend this year is for unusual and bright colours with those opting for a bronze decorating scheme using metallics and brass tones for their Christmas tree decorations.
Among those pushing for this trend is John Lewis & Partners who are teaming a classic Christmas tree with a décor of copper, amber and gold. This is part of a campfire trend and delivers a woodland element to those wanting a unique and on-trend home this Christmas.
Finally, while it's a great and fun part of the festivities in styling your Christmas tree, you may be short of time or creativity and simply decide to buy a pre-decorated Christmas tree.
There are lots on offer and all of the major retailers are offering excellent, well-priced examples of these trees to meet a range of budgets – including one that costs £1,700.
Petersham Nurseries in Richmond is offering a bespoke service for customers to buy an 8ft Nordmann fir tree, have it decorated and installed in their home – with the decorations being re-used in future years.
A spokesman said: "This style is hard to replicate and very aspirational and some people love what they see but they may not have an eye for detail to recreate it. Others may not be confident enough to try and or want to try and the tree will save them time."
Essentially, while the increasingly popular trend for buying ready-decorated Christmas trees is attractive for those who want a quick way to impress, there's still room to add family or sentimental baubles to help create the memories and joy this simple activity brings.
Whichever route you decide to take, this article is offering a guide for styling your Christmas tree in the latest and best styles and, hopefully, your family will help decorate your tree with you.