Where to buy Christmas cards? While they may not be as popular as they once were, many people still want to know where they should buy their Christmas cards and this guide will help.
Firstly, did you know that the Christmas card was invented by British civil servant Henrik Hall in 1843 as a way to get people to use the postal services more regularly? Obviously, he had no idea at the time that he would be creating a tradition that is still going strong nearly two centuries later and lead to millions of cards being bought, written up and delivered in that time.
One of his big motivations was that he couldn't really be bothered writing lots of letters to friends and family and instead wanted to send a card. That sounds very much like the sense of dread many of us have at this time of year when faced with the prospect of writing cards to family and friends, as well as business colleagues and clients.
2019 Christmas posting dates
Before we look closely at the types of Christmas cards that are available this year, and why we should buy them, you may need to know what the 2019 Christmas posting dates are to ensure that the recipient receives your card in time.
The Royal Mail says these are the UK dates to be aware of:
2nd Class and 2nd Class Signed For
1st Class and 1st Class Signed For and Royal Mail Tracked 48
Royal Mail Tracked 24
Special Delivery Guaranteed
If you are sending Christmas cards to loved ones or business associates overseas, then these are the relevant latest posting dates:
Africa, Asia, Caribbean, Central and South America, Far and Middle East
Cyprus, Malta
Eastern Europe (except Czech Republic, Poland and Slovakia)
Australia, Greece, New Zealand and Turkey
Canada, Czech Republic, Finland, Italy, Poland, Sweden, USA
Austria, Denmark, Germany, Iceland, Netherlands, Norway, Portugal, Slovakia, Spain, Switzerland
Belgium, France, Ireland, Luxembourg
And for those wanting to send Christmas cards to those serving in the Armed Forces, then these are the posting days for you:
Airmail to Operational HM Forces
Airmail to Static HM Forces
Royal Mail also offers a complete list of the last posting dates for each country.
Sourcing and buying Christmas cards
For many people, the sourcing and buying of Christmas cards really does mark the beginning of the festivities and while they are available in different sizes and designs, they usually create a nice impact with the recipient.
It's also is worth noting that you may struggle to find Christmas cards with glitter being used in the design this year since this is seen as being environmentally unfriendly.
One of those organisations that have removed glitter from its Christmas cards is the RSPCA.
The head of wildlife at the charity, Adam Grogan, said: "We have removed glitter this year from Christmas cards to reduce our environmental impact. Glitter is a micro plastic and the small pieces can be a problem for the environment and harm wildlife, causing stomach problems if eaten."
Personalise your Christmas card
And if you want to make a difference this year, why not personalise your Christmas card by having photographs of you and your family on the front? These really will be a unique offering!
There's also the opportunity of personalising a generic Christmas card with the family name and the cardfactory.co.uk offers a range of well-priced and very attractive cards for this purpose.
For those who are looking for good quality, cheap Christmas cards online, then The Works offers a range of well-priced products and this is also the opportunity of sourcing a range of card types at various prices from Amazon.
Buy charity Christmas cards
Most charities sell Christmas cards at this time of year to raise funds and also to highlight the services they offer.
We've taken a look at a range of them and can recommend these offerings: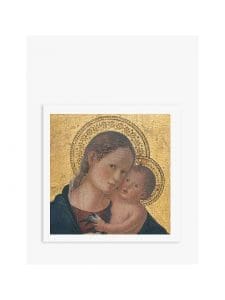 John Lewis & Partners has the Museums & Galleries Virgin and Child Christmas cards – a pack of eight costs £5. Not only is this a great choice as a Christmas card, 10% of the price is being split between Shelter, Marie Curie, Mind, the British Heart Foundation and the NSPCC.
John Lewis & Partners also offer a Partridge in a Pear Tree Christmas card from Museums & Galleries with the aim of raising money for the same charities. Pack of five will cost £5.50.
For those who'd like to make a contribution to the important work of Water Aid in Third World countries, then Paperchase is selling a pack of eight Christmas Pudding charity cards for £3.75. The money raised will help to transform the lives of those who will get access to clean water.
The best luxury Christmas cards guide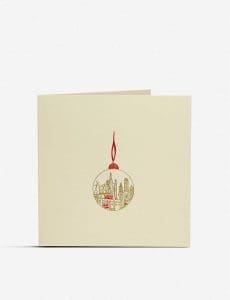 Nothing really makes a statement Christmas than opting for a luxury Christmas card rather than a cheaper mass-produced version. The Christmas.co.uk team recommend:
Best Christmas card for a loved one
There's an incredible range of lovely Christmas cards to celebrate a first Christmas together with a loved one.
We rather like 'I Love You Deerly' Christmas card from the Scribbler for £3.20.
Etsy offers a home for well-designed and stylish cards and the 'First Christmas Together' card for £3.75 is worth considering.
Best personalised Christmas cards
We've already mentioned one great way of having lots of personalised Christmas cards being produced, but other firms also offer this facility.
We particularly like the offering from Superfumi and their personalised family Christmas card from Not On The High Street at £5.
The Christmas Calligraphy creations from Papier are worth a look – including their photo cards which offer a luxury touch – 10 for £18.
The best multipack Christmas cards
You may have a need for your children to send a Christmas card to every single classmate – or work in a very large office – then you will have a huge choice of cards. However, finding quality and humorous cards can be an issue. On Amazon, you can buy a pack of 34 cards for just £1.45 and the cards are bright and cheerful.
However, if you want to make an impression for a reasonable price, then these Father Christmas cards from Paperchase are worth considering. A pack of 10 cost £6.
A spokesman for Paperchase told us: "These Christmas cards just scream Christmas carols, roasted walnuts, the pine smell and crinkly wrapping paper."
We tend to agree that of the multipacks, the Paperchase offering is among the best available. Plus, these also have glitter to brighten up the recipient's day.
Before leaving this category of the best of multi-pack Christmas cards, it's worth noting that Amazon offers a great selection of bumper Christmas card packs. You can buy a box of 44 for £5.99. The cards are of various sizes and designs and will probably meet most needs. That's particularly impressive at 14p per card.
The best humorous Christmas cards
While humour is subjective, essentially, you may find what you believe is a hilarious Christmas card but then cause offence and upset to the recipient – so you really do need to tread carefully.
The types of funny cards available range from humorous to full-on objectionable black humour, so you need to be aware of who you are sending the card to.
For the team at Christmas.co.uk, John Lewis & Partners have come up trumps once again; for £4 there's a 24-pack charity Christmas cards, called 'Cutsie Cats'.
And for those who like their Christmas humour to be 'safe', there's a Millennial Christmas card offer from Scribbler at £3.20.
In addition to shopping online and with high street retailers, there's a great range of Christmas cards available from various charity shops and a lot of people make the effort to visit one to buy them.
Our Top Tip: The best time and opportunity to buy Christmas cards you love at an impressive price is in January when shops are getting rid of their stock and the cards become incredibly cheap. No-one will know when you send your card the following Christmas that you snapped up the bargain in the January sales!
What to write in your Christmas card this year
Alongside the issue of finding humorous or charity Christmas cards that match your outlook or sense of humour, is the question of what to write in them.
We've all been faced with a pile of Christmas cards to write and then drawn a blank when it comes to thinking up fresh things to say.
It's hardly a good look when you handwrite a message to two colleagues and they both say the same thing – and you'll see this when they put their cards on display.
Instead, here's our guide to offer some ideas that you may find useful:
How to write funny Christmas card messages
We may as well start with humour since most of us want to project a welcome and funny Christmas message, so if you are struggling try these messages for inspiration:
They say the real gift of Christmas is the amount of time we get to spend together. (That's why I haven't bought you anything else!)
Eat, drink and be merry this Christmas – though everything is in moderation. Happy Christmas!
It's at this time of year that we are reminded of what really important: Mother's cooking!
I'm fairly sure that Santa will not be getting you anything this Christmas. So I thought this card would mean you have something to open.
Those heartfelt Christmas card messages
Sometimes we need to be more sentimental with those we love and these messages may help:
I feel so lucky that I will be spending another Christmas with you.
Christmas is a magical time of year because I get to spend time with you.
With you in my life, that's the best Christmas present I could ever ask for.
You light up my life like a Christmas tree!
I know you've had a tough year, but I hope Christmas brings you happiness and joy. Wishing you all the best.
Messages for work colleagues
We spend a lot of time with work colleagues so we may know the boundaries of their fun – however, be careful about 'banter' as a message since this can be misconstrued especially when you will have other people read the card. Try these ideas:
Thank you for all you have done this year. Enjoy your Christmas break.
Best wishes to you and yours this Christmas. See you next year!
Thank you for your efforts this year. Have a great Christmas.
Hope you enjoy your well-deserved time off – I'm looking forward to working with you again next year!
I'll be seeing you at the Christmas party for more 'HR-approved' merriment!
General messages for Christmas cards
Thankfully, we don't always have to be so specific with our messages as these general ideas illustrate:
May your Christmas be filled with laughter and warmth.
Merry Christmas! Wishing you health and happiness this Christmas and for a great New Year.
From our family to yours, we wish you a Merry Christmas.
Here's hoping that all of your Christmas wishes all come true.
And let's not forget the most popular general message that matters will tend to write:
Merry Christmas and a happy New Year!