Charity Christmas gifts will help you make a personal statement this festive season. Here we explain why.
I love Christmas. The excuse to eat delicious food, drink indulgent cocktails at home and re-watch my favourite movies while snuggled up with my family.
Honestly though? Christmas gifting can make me stressed out, angry and feeling like a miser because I insist on staying within my budget and get seriously ticked-off by the amount of packaging everything is covered in.
Present giving CAN be lovely. I take pride in presenting my nearest and dearest with thoughtful, personal gifts. I even enjoy a Secret Santa as getting the perfect thing for someone I don't really know for £5 is a fun challenge. 'War of the Worlds' socks for a closet uber-fan of the soundtrack? Oh yes, he was thrilled and amazed that someone knew!
Shopping for mass-produced tat in excessive packaging leaves me cold and I KNOW that there are kinder and happier gifts to give my friends and family to make them smile.
Charity gifts are, in my humble opinion, ace! You can buy gorgeous products, donate cash directly to a loved one's favourite charity or choose to give a specific amount to buy a goat for an impoverished family or a care package for a woman and child arriving at a refuge.
Why is a charity gift a good idea?
The world feels polarised and unstable right now and the sense of alienation we are feeling is making us more insular. The values of kindness, empathy, philanthropy and inclusiveness feel as though they are being challenged from every angle.
Now, more than ever, a gift bought from or given to a charity feels like the right thing to do at Christmas.
Strengthening of your values and beliefs
Recently the Charities Aid Foundation revealed the results of their study 'Why We Give' when asked why they donated to charity, 96% of respondents said they felt they had a moral duty to help others with what they have which is, the Foundation says: "A sentiment that is rooted in their personal principles and values."
It will make you and the recipient of the gift feel good!
Extensive research has revealed that when we give a donation to charity the part of our brain that controls pleasure is stimulated. Simply put, being kind and selfless makes us happy.
It starts a positive trend
A charity gift or donation will inspire the people around you to do the same. The first time I bought my friend a gift card declaring I had bought a homeless person a Christmas dinner in her name I worried about the reaction. She was thrilled and the following year paid for her sister to adopt an elephant and dedicated a toilet in a village in Lesotho to her Dad, a very appropriate gesture apparently. I didn't ask!
Charity giving has more of an impact now
Gift Aid, strict regulations, payroll-giving and donation transparency is ensuring that more of your money goes to the people or animals you are intending to help.
At a time when some people are becoming more suspicious of others and more interested in looking after themselves and their families, a gift of money, time or expertise to someone less fortunate is even more powerful.
Set a great example to your children
Children are possibly the best people to give a charity gift to. Sit down with them, explain the gift, show them pictures and help them track how the gift might be helping in the coming year.
Sponsoring a child through a charity such a Plan International will create a long-term relationship with a child in a completely different culture through exchanging pictures and letters.
It's ecologically sound
Donation to a charity in the name of someone you love is good for plants
No layers of packaging to go in landfill
No need to use un-recyclable wrapping paper
Your carbon footprint won't be affected
You won't have fed the requirement of corporations to churn out endless plastic toys and bottles for smellies
Choose to print out any gift cards included will mean no fuel will have been used to deliver the gift.
Some of my favourite Charity Christmas Gifts
Here's a selection some of the charity gifts that will reignite the spirit of Christmas in your home:
Help 'Blue Cross for Pets' treat a poorly pet
This lovely gift will be especially appreciated by children who are interested in being a vet. Your £30 gift will treat all types of illnesses and injuries in distressed animals. A gift card with lots of information will be sent so you can present your gift on Christmas Day.
NSPCC 'Big Little Gifts'
The NSPCC have a variety of gift items such a children's books, decorations and craft items that can be gift wrapped along with info on what the NSPCC does.
Their new range of 'Big Little Gifts' are perfect for teachers, parents and friends. The message on the gift card is a 'Thank you' for what they do for you and the donation gives a gift of the same to a vulnerable child.
'Thanks for being a great listener' will fund the taking of eight phone calls to Childline.
Oxfam 'Bee Free' fine bone china mug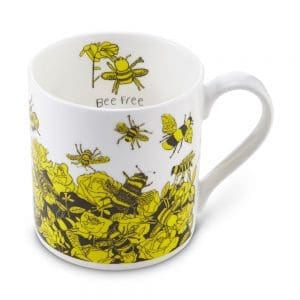 This beautifully designed mug is perfect for someone special who loves a cup of tea, bees or is a Mancunian – the city's symbol is a worker bee.
Oxfam has sourced the mug from ARTHOUSE Unlimited, a company who employ people with physical impairments, learning difficulties and epilepsy.
Your gift will help fund the project and empower groups of people who may find it difficult to find meaningful work.
Water Aid 'Build a Bog'
Us Brits love a bit of toilet humour and this gift will spark a laugh, a smile and a lot of pride. Water Aid has some fantastic charity gifts but this one is funny as well as being hugely important for the family receiving this amazing gift of their own loo.
Your friend or relative will receive a fun gift card explaining their present, the mason will be paid to do a job he is proud of and which supports his loved ones and a family will have their own enclosed toilet built giving them dignity, safety and convenience.
'The Dogs Trust' stocking filler gifts
If you're going to do Christmas stockings, make sure they are filled with something the recipient will love and which will do some good. This doggy decorated bag is part of a fab range of gifts from The Dogs Trust that would be perfect for a friend who loves their pooch.
The items are cute, good value and a proportion of the cost will be spent by The Dogs Trust on looking after abandoned and homeless dogs.
Centrepoint – Sponsor a Room
Centrepoint is a charity which supports homeless young people. Sponsoring a room for a young person in desperate need of safety, food and warmth is a powerful gift for a teenager. It costs £12 a month which is less than half the cost of the latest iPhone contracts.
Encouraging them to donate £5 a month from their Saturday job wages could be the beginning of a lifelong commitment to charity. The £5 basics package provides everything needed to turn a hostel room into a sanctuary.
A monthly chance to win big with the Alzheimer's Society Lottery
Sadly, Alzheimer's is a disease that many of us have been touched by. There are lots of ways to help support carers, care for the people who are suffering and fund vital research.
This is a fun gift which will enter your loved one into a weekly lottery to win £2,500 worth of prizes each month. Each ticket is £1 a month so you could buy a few as a stocking filler. Who knows?! If your friend wins, they might treat you to a pint or three!
Oxfam 'Supporting Female Entrepreneurs' gift card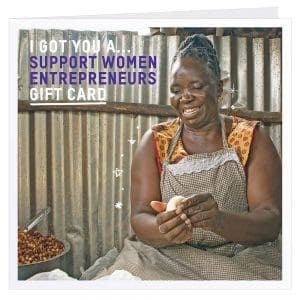 Oxfam has a huge range of charity gift cards each designed to appeal to the recipient's values. Animal lovers would adore 'Super Goat' or 'Poverty Pig' whereas your mate who has a filthy sense of humour would love 'Pile of Poo'.
My friend runs her own business and is, rightly, super proud of that. She would find this gift of empowerment and support to a woman struggling to get herself and her family out of poverty really moving.
Finding a charity gift which is relevant to the person you are giving it to makes it special and shows how you feel about them.
Give to a Food Bank
Donating a selection of Christmas treats to your local food bank every December would make a fantastic festive tradition for your family.
Take your kids to the supermarket to pick out what they would love to eat and drink and deliver it to the food bank in a beautifully decorated box. You'll be teaching them that poverty isn't always half a world away and that the kids in their class might be in need too.
Buy a bicycle from 'Send A Cow'
Anyone who loves cycling will appreciate this gift. With it, you are both giving a local farmer the freedom to access health services, water pumps and go out into his or her community to help train other local people to become self-reliant.
Donate money to a friend's favourite charity
Simplicity itself. Take the time to find out if your friend has a charity that means a lot to them and then donate to it. It's a much more meaningful gift than another set of smellies and you can donate as much as your budget allows.
Beautiful and quirky ways to present your charity gift
Whoever you have bought the charity gift for will still enjoy having something to open on Christmas Day. Explaining to the people they are sharing the day with will be part of the pleasure of receiving such a lovely gift.
Think creatively but don't feel the need to spend lots of money on the presentation or the point of avoiding unnecessary spending and 'stuff' will be lost.
Write a heartfelt note to your friend or relative to explain how to the gift in their name will be spent and why you thought it was a great gift for them. Reading your words will be one of the best things about the gift so be honest about how you feel
Many of the charities who sell charity gifts will provide a printable bespoke card for you to write in. If not, spend some in the card shop looking for appropriate images or simply write a letter on pretty paper
Tuck the gift card into a bunch of flowers or potted plant
If the gift is for a cat charity or you're adopting an orangutan, buy a small fluffy toy which can hold the gift card. This is a lovely idea if you are buying for a child
Include lots of information about how the gift will be spent in the gift. Most charity gifts will come with glossy images and fact sheets for sharing
Use the gift as a stocking filler or as the gift inside a handmade cracker
An 'adopt an animal' gift over 12 months is a fab Secret Santa gift if the budget allows. Many such schemes are £3 a month which you won't even notice going out of your bank account.
There's no doubt that donating to charity is a great way to help others – and what better time of year to do this than at Christmas? Not only will you be helping but your gift recipient will be really pleased about the kind thoughts and effort you went to in helping support a cause they believe in.