Forget boring mince pies! Dismiss plastic-covered chocolate selection boxes! The festivities are ALL about enjoying the best Christmas cake. This is your VERY well researched guide to the best ones available.
A scrummy Christmas cake, with a delicious cup of tea, is something to savour. And this year, there are cakes available to suit every taste and whether you prefer your Christmas cake with a twist or the traditional offering, then this Christmas.co.uk taste guide is for you.
The best Christmas cake 2019
Let's start with the best Christmas cake. It's a luxurious taste experience from Fortnum and Mason.
Their £30 creation is nothing short of epic! A decadent indulgence with lots of gorgeous fruit that has been soaked in alcohol. There's also an excellent topping of white icing and a stylish tree decoration so it can double up as a great gift if you're visiting family this year.
Runner-up: Christmas cake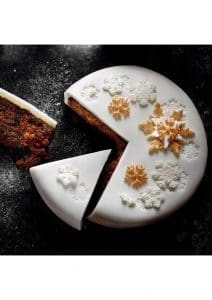 Many of us won't want to splash out £30 on a cake so we can highly recommend the richly fruited Christmas cake from Waitrose. It's an impressive show-stopper adorned with a white and gold snowflake covering a cake with marzipan fondant. The cake is laced with brandy and comes complete with fat vine fruits, glace cherries and a warming cinnamon taste.
The cake weighs in at 1.3 kg and costs £16. It really is a worthy runner-up.
If you're still not sure you want to spend that much, then we can also highly recommend the Luxury Christmas cake from Iceland.
This £8 creation delivers a 1 kg cake that has a thick layer of marzipan and soft icing and plenty of fruit. There's a decent alcohol flavour in what is a very moist spiced cake.
While the Iceland offering is a value for money creation, we were also impressed with the Specially Selected luxury Christmas cake from Aldi.
This fruity, sweet and delicious creation costs £11.99 and weighs 4.5 kg.
This is also the point to mention the Marks & Spencer's Six Month Matured Rich Fruitcake. The retailer really does push the boat out at Christmas and this 1.54 kg cake costs £20.
It's a fruity and delicious creation that is full of flavour but is not too swamped in icing, it's certainly a cake that is worth considering for its rich taste – some on the team thought this cake is too old fashioned for younger cake-lovers.
Most disappointing Christmas cake
The Christmas.co.uk team LOVE a moist Christmas cake, so we were underwhelmed by the Finest rich fruitcake from Tesco.
The cake was a tad dry and there's a too strong taste of alcohol. However, the marzipan is excellent and it's a nicely designed cake. It costs £10 and the fruitcake weighs 907 g.
We had the same issues with the Taste the Difference Christmas fruitcake from Sainsbury's.
It really does look like a deliciously fantastic creation and we liked the fact it is a lightly spiced option. But as festive cakes go, this one just missed the spot. Others may well enjoy what is more of a traditional fruitcake rather than an alcoholic Christmas treat.
The Sainsbury's iced fruitcake costs £10 and weighs 900 g.
Another disappointing creation is the shimmering iced Christmas cake from Co-op. It costs £7 for a 907g cake and it simply misses the point. It's too dry, lacks fruit and feels like it's been repackaged from another purpose.
Sadly, not everyone likes fruitcake which is why retailers are offering a better and wider range of alternative Christmas cakes to meet different tastes. Here we'll get to try some of them.
Best of the rest Christmas cakes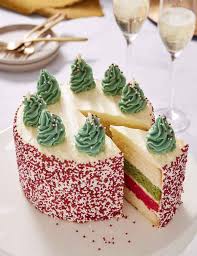 It's as far from a traditional Christmas cake as you can possibly get, and the Marks & Spencer's Rainbow Christmas cake is an excellent sponge cake delight.
With rainbow coloured sponge and sprinkles, there's plenty of buttercream, along with frosting and trees for the festive touch. It really is a great choice for those who may not like a traditional Christmas cake.
It's also very large, for £15 you can serve eight people a 'standard' portion. (The cake lovers at Christmas.co.uk aren't sure what that it is!).
Panettone
This is also the time of year when people across the UK tuck into Christmas panettone, as this makes for a delicious and stylish alternative.
The best ones offer a fluffy and sweet panettone and our favourite this year is the Chiostro di Saronno panettone which comes with a chocolate cream filling plus chocolate chips. The tin that the panettone comes in is also an excellent addition.
The panettone costs £13 from Amazon.
If panettone is your thing at Christmas, then we happily recommend the Best Classic panettone from Morrisons. Costing £7 for a 750 g product, the cake is buttery and moist with lots of fruit and delivers a very enjoyable eating experience.
Disappointing panettone creations
There are also some disappointing panettone creations and this Christmas includes the Classic Fruited panettone from Tesco. It costs £3.34 for a 750 g offering and though it has got plenty of fruit, it is just too dry with an odour and it simply lacks that special something you want to impress guests with.
However, even though we weren't fans of the Tesco one, it was still much better than the Number 1 Nocciolato panettone from Waitrose. This has nice fruit, but again it is quite dry and certainly not worth the £15 price tag for 750 g.
Best bake your own Christmas cake
For a lot of people, creating, baking and ensuring your cake remains moist is an undertaking too far.
Thankfully, there are Christmas cake mixes available and we particularly like the Sattina fruitcake mix because it's easy to make, you simply add water and then bake it to deliver a delicious cake result. It costs £6.60 for a 1 kg delivery of rich fruitcake mix – an ideal cheat's Christmas cake. No one will know!
Other Christmas cakes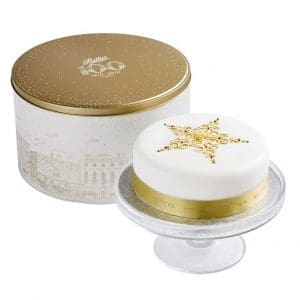 Not everyone wants to buy Christmas cakes from the big supermarket chains or well-known stores and it's at this time of year we may decide to shop around to find other cake creations to satisfy our need for a tasty Christmas treat.
This brings us to the soft iced Christmas cake from Betty's which costs £30.
Like the winner from Fortnum and Mason, this Betty's creation has a very fruity flavour. Some found it too sweet, but it is also moist and lovely.
In fact, it tastes more like gingerbread with nice fruits rather than a traditional Christmas cake.
Another unusual creation is a cake with distinct black treacle undertones and lots of colour as well as flaked almonds and glace cherries on top.
It's from the Original Cake Company and is their brandy fruit cake. It's available from Booths supermarket at £6 for a cake weighing 350 g and the black treacle delivers a nice aroma but a bitter aftertaste.
If you have guests that are wheat intolerant and you need a gluten-free Christmas cake alternative, then head to Lakeland for their fruit brandy cake.
This cake costs £16.99 and has a tasty filling that is as good as traditional recipes.
Christmas cake alternatives
While some people may enjoy a sponge cake as a Christmas cake alternative, we were taken by a yule log from Patisserie Valerie. The £25.95 creation includes edible figurines and is a chocolate-covered sponge cake that will hit the right taste buds.
And if you really want to stand out from the crowd with a cake alternative, then perhaps the £10 Christmas Colin the Caterpillar is for you. Colin is a Marks & Spencer's creation that is a year-round popular bestseller, but now it's got a festive makeover. It features holly, candy canes, snowflakes and Colin in a Santa hat. It's a proper festive cake for everyone to enjoy.