If giant pigs in blankets, and huge sausage roll logs are your kind of festive dishes, then the Tesco Christmas food range for 2020 is for you.
For many shoppers, the unveiling of the Tesco range in the run-up to Christmas generates lots of excitement.
This year is no different and their food range for the festivities really does deliver something for everyone.
Along with the giant pigs in blankets, at £2 for a pack that weighs in at 274 g, each of the lovely big porkers has been seasoned with pepper and then wrapped in bacon.
The Christmas.co.uk team reckon they may for the ideal side dish for Christmas dinner, or even as a canapé.
As with other supermarkets offering Christmas food choices, Tesco is also serving up a delicious Christmas feast for vegans this year with a range of tasty plant-based dishes.
The Tesco sausage roll log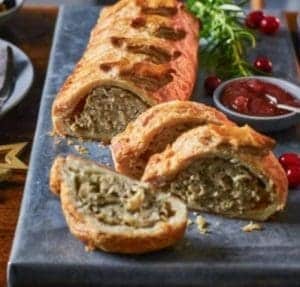 If you've ever fancied a giant sausage roll, then the sausage roll log from Tesco at £5 is a tasty and impressive dish.
The seasoned pork filling has been wrapped in pastry and topped with decorations of festive pastry leaves.
Tesco reckons that the sausage roll log will serve up to 10, which makes it an ideal choice for a Christmas gathering, but we think it will make a tasty meal or a popular buffet choice before and after Christmas Day.
Chocolate orange and maple bauble cake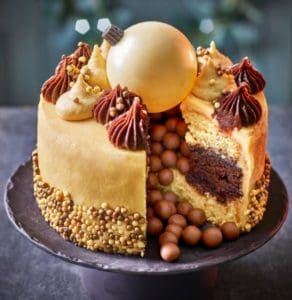 We have already highlighted this tasty delight from the Tesco Finest range, and this chocolate orange and maple cake is a tasty £13 treat.
As a dessert after a Christmas dinner, it is certainly an attractive option with moist orange sponge cake layered between a chocolate orange brownie and completed with a Belgian chocolate and orange ganache.
The topping consists of a maple-flavoured buttercream and a white chocolate bauble decoration. The cake also contains chocolate balls and will delight guests.
While it's a tasty treat, it's also an option for a Christmas buffet or for those festive gatherings that you want to impress at.
Giant pigs in blankets
Several supermarkets are offering giant pigs in blankets, and Tesco's tasty creation is 10 for £2.
Everyone loves pigs in blankets, and the giant ones are certainly eye-catching.
They will also be a popular choice on Christmas Day when they are dished up for hungry guests as a tasty and conversation-starting side dish.
Meat-free festive vegan roast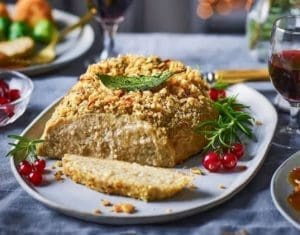 Tesco says that is vegan roast is a plant-based Turkey crown and is the first of its kind and stands proudly as part of its Christmas food offering in 2020.
The centrepiece is created using pea protein and is shaped into a log with caramelised red onions and served with a sweet red wine glaze.
The festive vegan roast costs £6.
For those who want to serve up something tasty and different, then Tesco is also offering 10 pigless blankets for just £2.
Again, they are made from pea protein, onions and mushrooms and just like the real thing, they are hand-rolled in a vegan pastry. They look like the real thing!
Another great idea is the Wicked Kitchen Wellington which is a vegan alternative to the beef wellington and is a seasoned pea protein with a roasted garlic herb and mushroom duxelles and then wrapped in flaky pastry.
Free Range Heritage Narragansett Whole Turkey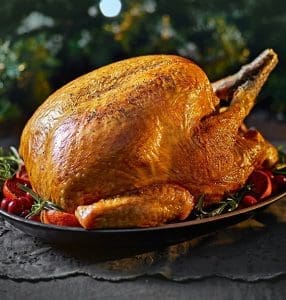 For the big event, the Free Range Heritage Narragansett Whole Turkey from the Tesco Finest range is a British bird that is packed with flavour.
It's also self-basting so will remain succulent while being cooked and will dominate the dinner table when served up.
It's available from 14 December in stores with the price yet to be confirmed.
There's no doubt that if you want best fresh turkey, then this turkey offering from Tesco is one of the best currently available.
Also, Tesco is offering a juicy range of frozen turkeys in the run-up to Christmas.
Easy carve duck
Among the options this year for those who are thinking of serving up something other than turkey, then the easy carve duck with a maple and orange glaze from the Tesco Finest range is worth considering.
This is a tender and rich offering and finished with a sweet orange and maple glaze.
It's been filled with a British pork, maple and orange stuffing.
Crackling pork loin
Another alternative to turkey this year, is a crackling pork loin.
This tasty creation from the Tesco Finest range is a French-trimmed offering with a succulent porcini and black truffle butter.
The joint has a truffle-flavoured salt rub to deliver a crispy and golden crackling.
Again, this is an eye-catching and great looking meat dish to serve up.
A salmon joint with stuffing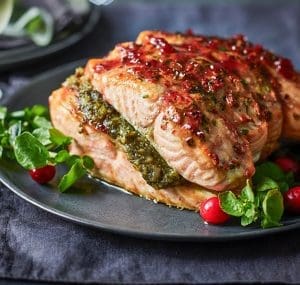 Continuing with the same theme of alternative meat for Christmas dinner ideas, the Tesco Finest range also serves up a salmon joint with stuffing and cranberry glaze.
This will only be available from December 21 and is the perfect choice for fish lovers.
They will get succulent Scottish salmon fillets that have been stuffed with a caramelised red onion and roasted chestnut mushroom filling, and then topped with a delicious, sweet cranberry glaze.
Christmas dinner side dishes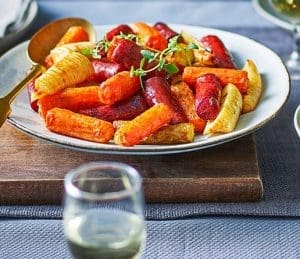 The Tesco Christmas food range for 2020 also includes a range of a number of tasty side dishes including red cabbage with a cranberry glaze, though we really like their roasted roots rainbow carrots and parsnips.
No-one wants to spend their Christmas Day having to peel carrots and parsnips, and this is a ready to cook offering that really does impress.
There are pre-prepared orange, red, purple and yellow carrots and parsnip wedges with a sprinkling of thyme to create the perfect timesaver.
The dish also offers a conversation point with its colourful place at the table.
Alternative Christmas dinner desserts
While the showstopping chocolate orange and maple bauble cake mentioned earlier will definitely impress, the Tesco food range for Christmas 2020 offers other tasty delights.
There's the opera dessert, from the Tesco Finest range which has been inspired by the French opera cake, a classic of its kind.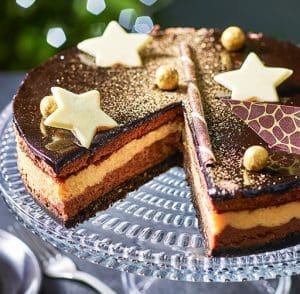 The elegant dessert combines layers of chocolate toffee cheesecake, a chocolate sponge with a chocolate biscuit base and a toffee flavoured mousse.
And if that is not enough, the opera dessert is finished with a black coat glaze and then finished with a gold dusting and chocolate decorations.
Other choices include a passionfruit sleigh which is an eye-catching dessert which shows a sleigh made from a baked orange cheesecake, being pulled by two reindeer.
There's also the Wicked Kitchen ginger chai cake which is a creation that vegans and non-vegans alike will enjoy.
This offering consists of a chai tea-soaked and ginger spiced cake that has been hand frosted and then topped with caramelised ginger pieces and dusted with cinnamon sugar.
It's a very tasty plant-based dessert that deserves to be a centrepiece on any Christmas dinner table.
Tesco is also offering a chocolate Tiffin star made with Belgian chocolate ganache and white chocolate chunks.
The star also contains chewy fudge, shortcake balls and sultanas and has been finished with a sprinkling of gold.
There's a lot to like about the Tesco Christmas food range for 2020 – and guests visiting for dinner will be well fed with tasty creations.