Supermarkets in the UK have been highlighting some of their Christmas food ranges for 2020, with Tesco doing the biggest reveal so far.
Over the coming days and weeks, the Christmas.co.uk team will be looking at the other supermarket offerings – and carrying out taste tests too.
For many of us, a supermarket Christmas range for 2020 will include mince pies, Christmas puddings, sage and onion stuffing, a Turkey crown, and increasingly giant pigs in blankets.
If you love festive desserts, you will be enjoying a lot of tasty and intriguing offerings – and there's a big helping of salted caramel products from all stores.
Alternative Christmas dinner choices for 2020 look like including beef Wellington, gluten free offerings, and Chinese food with spring rolls. This year is very much going to be a mixed bag of offerings – though be careful you don't buy too much and then end up wasting your festive food purchases.
2020 festive food ranges
We have already seen Aldi, Tesco, Waitrose and Iceland give us an idea of what their 2020 festive food ranges will be.
Their tasty treats include a wide choice of mains plus sides, party foods and puddings.
After the turmoil of 2020, supermarkets in the UK are offering festive food ranges that are extra special.
And first out of the blocks to reveal their full line-up, is Tesco with a selection of party nibbles, festive and Christmas-themed crisps (think Christmas tree tortillas, mature Cheddar & caramelised chutney on crinkle crisps, and maple and bacon tortilla rolls).
Tesco's Christmas food range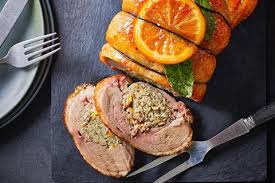 Some of Tesco's Christmas food range is available now, and more will be available in-store in the weeks in the run-up to Christmas.
Along with popular choices, Tesco is also catering for everyone wanting plant-based dinners, and their foody twists cover traditional trimmings and puddings.
From December 14, Tesco is offering its finest British free-range Heritage Narragansett whole turkey.
There's also their finest easy carve duck with maple and orange glaze.
Both the duck and turkey are gluten-free.
Stock-up ahead of Christmas Day
For those who want to stock-up ahead of Christmas Day, then gammon joints and lamb legs are available already.
Jamie Robinson is Tesco's chief executive, and he said: "We have selected maple and orange this year as our signature flavour combination as it oozes festivity and decadence.
"The citrus and sweet elements add a complexity of flavour to a traditional favourite and is a versatile pairing."
He added that the combination works well with a range of meats, snacks and desserts and will deliver 'Christmas cheer'.
Range of new party foods
If you're holding a Christmas party or entertaining regularly, Tesco has a range of new party foods to impress.
Their bite-size appetisers include mini ham and cheddar toasties, and mini ham hock and cheddar.
They are also offering giant pigs in blankets at £2, with each sausage seasoned with pepper and then hand-wrapped in a tasty, streaky bacon rasher.
Most of Tesco's Christmas classics will be available from November 23, and it is worth keeping an eye out for their festive sausage roll – it will feed up to 10 people so may well be a conversation piece as well!
And since Tesco is by far the largest UK grocery store, they really do pull out the stops to deliver what customers will be looking at Christmas.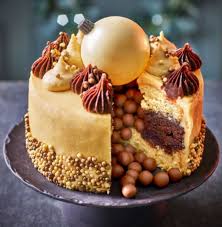 Indeed, they are also offering their Finest chocolate orange and maple bauble cake for £30 with buyers enjoying a layer of chocolate and orange brownie sandwiched between two layers of orange sponge and Belgian chocolate and orange buttercream.
The cake is finished with a white chocolate bauble decoration along with a maple flavoured buttercream.
While this is a pricey cake, it should serve up to 14 people and is a sound choice for parties or for those entertaining lots of guests on Christmas Day – Covid-19 restrictions permitting, of course.
Christmas after-dinner drink
And Christmas would not be Christmas without an after-dinner drink, and Tesco's festive range includes a gingerbread latte Irish cream liqueur that can be added to a coffee or hot chocolate, or even served over ice.
There is even, new for 2020, a Christmas pudding in the shape of a ginger-spiced chai tea-soaked cake.
There's also, for those who are looking after their figures, a plant-based version of the mince pie which contains no butter.
Aldi's Christmas range 2020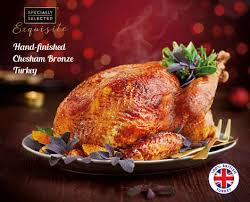 Aldi has yet to reveal its full range, but we are looking to promised items such as a plum and pink gin, along with truffle pigs in blankets.
They too will also be selling giant pigs in blankets with a range of mini Yorkshire puddings loaded with sausage stuffing balls which are topped with a pig blanket.
Aldi is also offering roly-poly turkeys, British whole turkeys and roast turkey crowns.
For pudding lovers, there will be millionaire mince pies, mini mince pies and flavoured crumble mince pies.
Iceland's Christmas Range 2020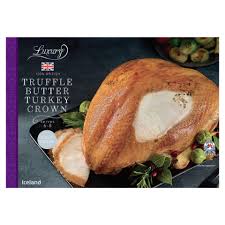 One of the popular Christmas stores is Iceland in the run-up to the festivities, with a wide choice of foods at reasonable prices – and not all of them are frozen.
Indeed, their luxury truffle Turkey crown will be making a reappearance in 2020, along with their Luxury Perfect Aberdeen Angus rump joint that has a beef dripping butter.
There's also a pork leg crackling joint, and their classic Turkey Wellington.
Iceland also says that it is bringing back one of its big hits from last year's range – the prawn ring tray and the mini hot dog rolls.
Other canapés include many steak bakes, mini fish and chip cones, mozzarella sticks and sweet and sour chicken crispy balls.
The Waitrose Christmas food range 2020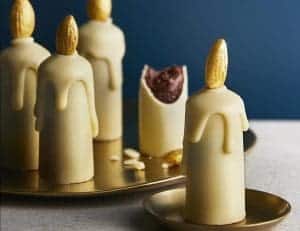 Another popular store for its Christmas food offering, is Waitrose.
And this year they really have pushed the boat out with a range of delicious desserts and ornate chocolate stirrers that can be stirred into a hot milky drink, or even eaten from the stick – a great choice for a cold winter evening.
There are also chocolate candles that have been created by the chef, Heston Blumenthal, as well as British venison Wellington.
Essentially, the Christmas supermarket food range for 2020 is likely to be an impressive one, and here at Christmas.co.uk we will be highlighting the choice of products from their extensive ranges.