Christmas is just around the corner, and you might be wondering how to plan your festive feast.
Whether you want to stick to the classics or try something new, here are some tips and advice from the Christmas.co.uk team to help you create a delicious and memorable Christmas menu.
Start early – and avoid the stress!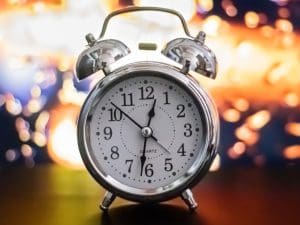 The earlier you start planning, the better. This will give you plenty of time to decide on your dishes, source ingredients and even practice any new recipes you want to try. If you aren't a confident cook and the thought of cooking Christmas dinner for a house full of guests brings you out in a cold sweat at night, we can highly recommend practising each course beforehand.
Start with the Yorkshire puddings we mention below, add roast potatoes and then cook different roasts. It's also a good time to think about vegan and vegetarian dishes for guests.
Also, by planning early, you will avoid the needless stress of having to think about the menu, plan the cooking and then doing the cooking all in a short space of time. You will be doing yourself a lot of favours by planning early and removing unwanted stress.
Remember, this is meant to be a day for everyone to enjoy!
Start with the main course
The centrepiece of your Christmas table is usually the roast, whether it's turkey, ham, beef or something else. You should decide what kind of meat you want to serve, how much you need, and how you want to cook it. For example, you could roast a whole turkey with stuffing and gravy – we have seven great turkey ideas – or glaze a ham with honey and mustard, or slow-cook a beef brisket with red wine and herbs. You can also opt for a vegetarian or vegan main course, such as a nut roast, a mushroom wellington, or a lentil loaf.
oooOooo
Make Christmas Day easier on yourself!
Here's a great video from Nicky at Kitchen Sanctuary – who also offer some great festive meal recipes – on how to avoid the stress on Christmas Day.
As Nicky says, the microwave is your friend on Christmas Day!
There are some great ideas including using canapes rather than starters, making the roast potatoes and gravy ahead of time and keeping the roast turkey simple.
Nicky also buys ready-prepared veg – there's a huge selection in supermarkets at this time of year – and to set the table ahead of time.
She also recommends making the dessert before the big day too.
We think this video is informative with some excellent ideas and suitable for those who cooking dinner for the first time or those who just want to access some simple ideas.
ooooOOO
Choose your Christmas menu sides
Once you have your main course sorted, you can think about what to serve with it. You should aim for a variety of textures, colours and flavours to complement your roast. Some traditional sides include roast potatoes, mashed potatoes, Brussels sprouts, carrots, parsnips, cranberry sauce, bread sauce and – everyone's favourite: pigs in blankets. You can also add some twists to your sides, such as adding garlic and rosemary to your roast potatoes, roasting your Brussels sprouts with bacon and chestnuts, or making a spicy cranberry chutney. You don't have to be traditional – you can choose something from these alternative side dish ideas. And don't forget to dish up Yorkshire puddings – we have some cracking recipes for you to try!
Don't forget the dessert
No Christmas meal is complete without a sweet treat to end it. You can go for the classic Christmas pudding with brandy butter or custard, or try something different like a chocolate yule log, a mince pie cheesecake or a gingerbread cake. You can also make some festive cookies, cupcakes, or truffles to enjoy with coffee or tea. We have some great mince pie recipes – and a fantastic mince pie ice cream creation that will wow guests!
Plan ahead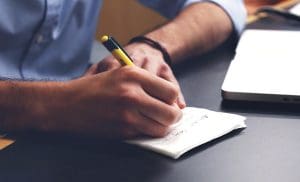 To avoid stress and chaos on Christmas day, you should plan ahead as much as possible. You can make a shopping list of all the ingredients you need and buy them in advance.
You can also prepare some dishes ahead of time and freeze them until you need them. For example, you can make your stuffing, gravy, cranberry sauce, bread sauce and dessert ahead of time and reheat them on the day.
To underline how important preparation is, be aware that restaurants always pre-prepare otherwise there is no way they could get everything done in the time between receiving your order and delivering the food to your table.
This process is often referred to using the French term mise en place – it's a reference to the setup required (assembling the ingredients, preparing any foundational steps e.g. chopping up the potatoes etc).
If preparation is good enough for professional chefs, then it is good enough for you!
Also, don't be shy about delegating some of the tasks, such as peeling vegetables to others on the day. Most people want to help!
You will also need to consider the drinks list for guests from beer and wine, to soft drinks and mulled wine.
We also believe that if you have a small kitchen or are short of time, you could ask guests to bring a dish that just needs warming up.
<link to shopping list article>
oooOooo
Full Christmas Dinner Cookalong
Another great video that helps break down the day into manageable chunks for success is 'Full Christmas Dinner Cookalong' by Sorted Food.
The team says it has come up with a 'foolproof plan' to deliver a stress-free meal.
We think they are right!
The team offers a start to finish schedule of just four hours to prepare and cook and then serve Christmas dinner.
From prepping the turkey, stuffing and roasted veggies, everything is covered.
What the Christmas.co.uk team liked about this video is that a 'Pause' sign comes onto the screen so you can pause the video and finish the dish they are preparing.
You can literally use this video on Christmas Day to dish up a delicious meal that everyone will love! The team makes it look simple and it's like having a real chef alongside you in the kitchen…
oooOooo
Presentation
This is a subject most people won't consider until nearer the big day – or on the day itself! That's the issue of presentation. If you've gone to all of that trouble preparing a fantastic, multi-course dinner, why wouldn't you want to show off? You can decorate the Christmas dinner table to impress family and guests. There's a Christmas.co.uk article on how to decorate a festive dinner table properly that you might find helpful.
Watch some YouTube videos for Christmas menu inspiration
If you need some more ideas or guidance on how to plan your Christmas menu, you can watch some YouTube videos from experts and enthusiasts who share their recipes and tips. Here are some channels that you might find helpful:
Jamie Oliver: The famous chef has a playlist of videos on how to make various dishes for your Christmas menu, from turkey to gravy to pudding
BBC Good Food: The popular food magazine has videos on how to cook the perfect Christmas dinner, with tips on timings, temperatures, and techniques
BOSH!: The vegan duo has a playlist of videos on how to make plant-based dishes for your Christmas menu, from nut roast to mince pies to trifle.
Follow the trends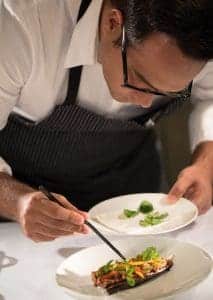 If you want to impress your guests with your Christmas menu, you can also follow some of the latest trends in festive food. According to experts and surveys, some of the trends for this year include:
Alternative meats: Instead of the usual turkey or ham, some people are opting for more unusual meats such as goose, duck, venison, or even ostrich
Global flavours: Others are adding some international flair to their Christmas menu by incorporating flavours from different cuisines such as Indian, Mexican, Moroccan or Thai
Vegan options: More and more people are choosing to go vegan or vegetarian for ethical or environmental reasons, so having some plant-based options on your menu is a must – we explain more about this trend in an article
Personalisation: There's also a trend for customising a Christmas menu to suit their preferences and dietary needs by making their own sauces, dressings, marinades or spice mixes.
Plan for leftovers
Christmas meals often result in leftovers so plan dishes that can be easily repurposed into other meals in the following days. Obviously, there won't be many roast potatoes or pigs in blankets for this, but roast meats and vegetables can be saved for a day or two. Again, this is a chance to be creative and cook dishes you wouldn't normally consider.
How to plan your Christmas menu
We hope this Christmas.co.uk article has given you some ideas on how to plan your Christmas menu.
Remember that the most important thing is to enjoy yourself and have fun with your family and friends. Merry Christmas!