If you've never tried a Yorkshire pudding, you're missing out on one of the greatest side dishes known to man.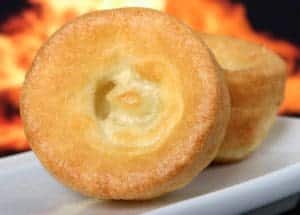 As most people in the UK will know, these delicious little puffs of goodness are a staple of British cuisine, and for good reason – they're absolutely amazing.
Crispy and golden on the outside, soft and airy on the inside, Yorkshire puddings are the perfect accompaniment to a Christmas dinner – or any roast dinner. Or any meal, in fact.
There are still people in Yorkshire who dish up their Yorkshires as a starter with gravy. Some people add jam and other delights.
Here, the Christmas.co.uk team looks into the world of Yorkshire puddings and offer a range of recipes.
If your Yorkshires turn out flat, then it's time to try one of the recipes here to impress your dinner guests.
So, sit back and get ready to taste the greatness of Yorkshire puddings.
What are Yorkshire puddings?
Yorkshire puddings are a traditional British dish that is typically served as a side dish with a roast dinner.
They are made from a batter of eggs, flour, and milk or water, and are baked in the oven until they are puffed up and golden brown.
Yorkshire puddings are typically crispy on the outside and soft on the inside, with a slightly savoury flavour.
They are usually served with gravy.
While there are lots of recipes for making them, some are more successful than others.
A lot depends on your oven to deliver the crispness required and it might be worth trialling a few of the Yorkshire pudding recipes we offer up here.
oooOooo
Culinary Ginger's Yorkshire pudding recipe
The Culinary Ginger is Janette, and she is an author and photographer with a great website packed with some great food ideas.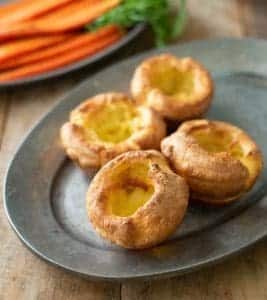 Now based in the States, this is her Yorkshire pudding recipe and, as she points out, the dish isn't really a pudding but a savoury side dish – it is similar to a 'popover'.
For US readers, the Yorkshire pudding and popover recipes are very similar.
Janette highlights that traditionally the recipe required beef dripping – or the drippings from the roast beef – but any oil capable of reaching a high temperature will do.
Ingredients
½ cup (74 grams) all-purpose flour (in the UK: plain)
¼ teaspoon salt
2 large eggs, room temperature
½ cup (118 ml) slightly warm whole milk
Fat or fat from a meat roast – or lard or oil.
Janette adds the method on her site and allows her batter to rest for 30 minutes.
In a preheated oven she adds just one teaspoon of oil to a muffin tray cup and then heats this until the oil begins to smoke.
In the questions on her blog, Janette highlights that the Yorkshires can be cooked ahead of time and frozen.
Mini roast beef Yorkshire pudding bites
We thought it would be good to mention Janette's recipe for mini roast beef Yorkshire pudding bites – a great finger food for parties or a buffet.
These appetiser size puds are filled with roast beef plus horseradish.
She also adds a variety of toppings including dill.
oooOooo
Jamie Oliver: How to make Yorkshire puddings
One Christmas recipe creator go-to for many people is Jamie Oliver and here he explains how to make foolproof Yorkshire puddings.
He starts by explaining that lots of people struggle to get their Yorkshires to rise and he offers a number of 'secret tips' to achieve success. These include using FOUR eggs and whisking the eggs before adding the flour and milk. He also has a nice trick to fill one end of the Yorkshire pudding tray with oil and tilting the tray to fill the remaining holes. He also uses a spoon to prevent the batter spilling onto the sides – which he says prevents the pudding growing fully.
Jamie also offers some additions for Yorkshires, including salmon and horseradish.
oooOooo
The history of Yorkshire puddings
It's difficult to say exactly when Yorkshire puddings were created, but they have been a part of British cuisine for centuries.
One popular theory is that they were originally created as a way to use up the drippings from the meat being roasted.
The pudding batter was poured into a hot pan of renderings and placed in the oven underneath the meat to cook.
This resulted in a dish that was both delicious and practical.
Another theory suggests that Yorkshire puddings were popularised by King George III.
According to this story, the King was travelling through Yorkshire and was served a meal that included the fluffy and delicious puddings. He loved them so much that he took the recipe back to London with him, and their popularity quickly spread throughout the country.
This is just another aspect of British Christmas traditions that have been made popular by the Royal Family and their influence also includes Christmas trees and decorations, placing presents underneath the tree and the sending of Christmas cards.
Regardless of their true origins, Yorkshire puddings have become a staple of British cuisine and are often served with a traditional Sunday roast.
They are so beloved that they even have their own special day – the first Sunday in February is National Yorkshire Pudding Day – THIS IS TRUE!
However, did you know that Yorkshires are so popular – and special – that National Yorkshire Pudding Day is actually celebrated TWICE a year.
For Brits, it is the first Sunday in February and for those in the States and everywhere else it is October 13. The celebrations first began in 2007.
We don't know why that is, but we reckon that every month should have a Yorkshire Pudding Day!
So, whether you prefer them crispy on the outside or soft and tender all the way through, it's clear that Yorkshire puddings have stood the test of time and are here to stay.
And all we know is, they are a fantastic addition to your Christmas Day celebration meal.
In future, keep an eye open for this hashtag: #YorkshirePuddingDay
oooOooo
What to do with leftover Yorkshire puddings
This tip sounds very strange to us because we have never seen a meal with leftover Yorkshire puddings.
But Becca at the easycheesyvegetarian.com has and she tells us: "If you have any Yorkshire puddings leftover after the big day, they make great pie crusts, especially any particularly oversized ones.
"Just stuff them with your choice of filling and serve them up with any leftover vegetables.
"You can even use large Yorkshire puddings to make homemade quiches – perfect for Boxing Day brunch!"
oooOooo
Tips for Yorkshire pudding fillings
As mentioned, Yorkshire puddings aren't just a great side dish or a starter, they are also good for alternative fillings.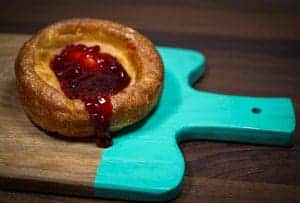 That's what Hannah Ackroyd, a Yorkshire blogger at Get Lost thinks and she told Christmas.co.uk: "Yorkshire puddings are much more than a simple side dish.
"Traditionally, Yorkshire puddings have been enjoyed as part of all courses, including desserts!
"So, if you want a break from the Christmas chocolates and biscuits but you're craving a sweet treat, why not try a Yorkshire pudding with jam, golden syrup or even ice cream to satisfy your sweet cravings!"
She adds: "It's also a great way to use up any leftover puddings from your Christmas dinner."
And here's a great picture of a Yorkshire pudding with jam. Scrumptious!
oooOooo
Elaine Lemm: The Original and Best Yorkshire Pudding Recipe
We thought this was a bold claim from Elaine, but she does have a great recipe.
And with 491,000 views over the past six years, we thought we'd better have a look.
She also uses four eggs and lets the batter rest for at least 30 minutes – she says up to two hours is better.
The result is that the puddings do rise into crisp and fluffy creations in the hot oven.
And, from the viewer comments below the video, the viewers highlight that this video tutorial explains clearly how to achieve great Yorkshires – even for those who have tried countless other recipes before.
oooOooo
Here are 9 things you didn't know about Yorkshire puddings
We love Yorkshire puddings but did you know:
The original name for Yorkshire pudding was 'dripping' or 'batter' pudding as they were originally cooked using the drippings from roast beef
The first recipe for Yorkshire pudding appears in a cookbook from 1737 called 'The Whole Duty of a Woman' – not a title that would encourage buyers today!
In Yorkshire, there is a tradition of eating Yorkshire puddings as a dessert, topped with jam or syrup
In some areas of the UK, such as Yorkshire, Lancashire and Cornwall, it is common to serve Yorkshire puddings as a starter with a gravy or a side dish
The world's largest Yorkshire pudding was made in 2009 and weighed 50.2kg (110 lb) and was 46.46 m² (500 ft²) wide!
In some regions, Yorkshire puddings are known as 'laverack' or 'giant'
In the United States, Yorkshire puddings are sometimes referred to as popovers.
The Royal Society of Chemistry declared that the perfect Yorkshire pudding should be 4 inches tall.
oooOooo
A classic Yorkshire pudding recipe
In our search for the best Yorkshire pudding recipes, we came across this classic offering from the Dairy Book of Home Cookery.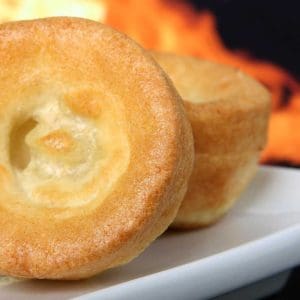 This is a masterpiece of classic cookery that has been used by millions of home cooks since the 1960s.
The book is still in print and features 950 classic recipes – and 50 new ones.
For us the big difference with this classic Yorkshire pud recipe is that it only uses one egg and butter is used to line the tins.
This is a very simple recipe and is probably a good start for those who want an easy way to cook Yorkshires.
Ingredients:
110g (4oz) plain flour
Pinch of salt
1 egg
300ml (½ pint) milk
40g (1½oz) butter
oooOooo
Yorkshire Puddings – Get them PERFECT every time!
This is another bold title for a YouTube video but this offering from Nicky at Kitchen Sanctuary is excellent.
And the recipe is a cracker!
Again, it has had more than 400,000 views in the last three years as cooks try to find a Yorkshire pudding recipe they can rely on.
Nicky highlights that you shouldn't use self-raising flour or baking powder because your Yorkshire puddings won't rise! They will be flatter.
That's because self-raising flour has baking powder added (in the US, a smaller amount of baking powder is added so you might get away with using this flour for your Yorkshires).
The baking powder means the puddings won't 'puff up' as intended and the Yorkshires will be too spongy. It is the eggs, high heat and subsequent steam that help the Yorkshires to rise.
Also, if you do use self-rising flour and you do manage to get the Yorkshires to rise, they won't taste the same.
Again, Nicky's recipe calls for four eggs – and another tip is to store the batter in the fridge – even leaving it overnight.
The comments for this video also highlight the success rate for this recipe – and it is much better, they say, than most 'celebrity chef' offerings!
oooOooo
6 Great tips to make successful Yorkshire puddings
There's no doubt that lots of us want to deliver crisp, impressive Yorkshire puddings to the dinner table but there is so much that can go wrong.
Here, we give six great tips that cooks everywhere should bear in mind to make excellent Yorkshires:
Be sure to use a hot oven (around 210°C to 230°C) and preheat your baking tin or dish. The high temperature helps create a crispy, golden crust on the outside of the pudding. We find that you can cook your Yorkshires while the turkey is resting (and also, with experience, you can crisp your roasted potatoes at the same time)
Use a light touch when mixing the batter, as overmixing can result in tough, dense puddings. Whisk the batter together just until it is smooth and no lumps remain
Resting the batter for at least 30 minutes before baking can result in a lighter, fluffier pudding. The gluten will relax, which allows the pudding to rise better
Use a fat with a high smoke point (such as vegetable oil) to coat your baking tin or dish. Once the fat is hot, quickly pour in the batter – this also helps the pudding rise
Don't open the oven door while the Yorkshire puddings are baking, as this can cause them to collapse. Plan to have everything else ready to go before you put the puddings in the oven (This tip is probably the MOST important – do not be tempted to look at how great your Yorkshire are doing until the cooking time is up!)
If you're using a muffin tin to make small individual puddings, fill each well only about two-thirds of the way full. This will leave room for them to rise up out of the tin, creating a nice shape.
There will be many nervous cooks wondering about the timings for their Christmas dinner. You could have a few trial runs when cooking a roast dinner and learn that the Yorkshire puddings go in last. You will need the oil to be hot and you must not open the oven door for 15-20 minutes. Once risen, the puddings will remain fairly stiff unless the batter isn't quite right, and they are spongy and may deflate a little – but will probably still taste great.
oooOooo
Homemade Yorkshire puddings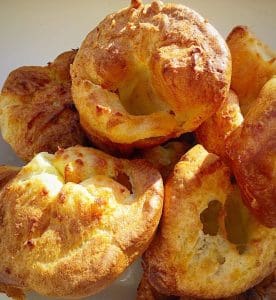 The recipe comes from Sammie at feastingisfun.com.
Ingredients
3 large free range eggs
250ml milk – whole or semi-skimmed
200g plain white flour
1/8th tsp salt
1/8th tsp freshly ground black pepper
Pinch of sugar
The last item is new to us but this might be the secret ingredient so many cooks are looking for!
Sammie says this is her tried and trusted recipe that always works.
She also adds a step-by-step guide, along with photographs which makes the recipe easy to follow.
Sammie tells us: "I always add a pinch of sugar and my homemade Yorkshire puddings are easy to bake ahead and freeze. Perfect for Christmas!"