For many people, it's not a proper Christmas dinner without turkey and here the Christmas.co.uk team takes a look at some classic Christmas turkey recipes for you and your guests to enjoy.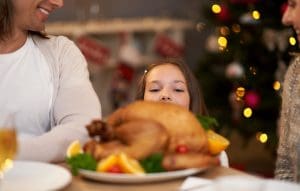 And since Brits gobble down around 10 million turkeys every year, this is a much-loved staple in most households.
That means families will be prepping and cooking the choice bird with all the trimmings to make the turkey dinner the highlight of the day.
Along with a traditional recipe for delivering a turkey, there are some other great ideas to consider making your festive meal really stand out.
oooOooo
Why do we eat turkey on Christmas Day?
Eating turkey on Christmas Day in the UK has been a tradition since the 16th century.
The popularity of turkey is believed to stem from a book published in the early 16th century which claimed that the bird was brought to England from America.
It soon became a popular choice for Christmas dinner as it was large enough to feed the whole family and was an affordable option.
Another theory suggests that Henry VIII was the first person to eat turkey for Christmas dinner after being served it by English merchants who had traded with the New World.
Whatever the origin of the tradition, turkey remains the most popular choice for the UK's Christmas Day dinner to this day.
oooOooo
A classic Christmas turkey recipe
Let's start our look at recipe ideas with this classic Christmas turkey recipe from our friends at Eversfield Organic.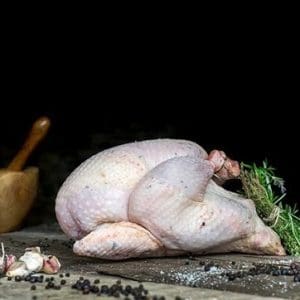 This family-run organic grocery service is based in the heart of Devon and was founded by Mark Bury in 2002.
The original intention was to provide nutritious, organic beef for his family and close friends.
They still offer a range of organic meat, butchered to order by traditionally trained butchers, but they have grown year on year and now deliver entire organic grocery orders nationwide, as well as an extensive and award-winning Christmas range.
They now have three farm shops/delis/cafes in Tavistock, Totnes and Marlborough, an organic certified pub at the Dartmoor Inn, Merrivale, and both a butchery and fish counter in Selfridges department store, London.
Despite this expansion, the firm's ethos hasn't changed – they are passionate about future-proofing the future of food through regenerative farming practices, a closed-loop sustainability system and recyclable packaging.
They still operate from the family farm and offer a personable service for customers.
The Eversfield Organic turkey recipe to impress
This recipe is 'Anna's Christmas Turkey' after the firm's sales and marketing director, Anna.
The instructions are straightforward and really do get the best out of your organic turkey.
Firstly, since turkeys come in all shapes and sizes, you'll need to check the exact weight of the bird to determine the perfect cooking time.
This recipe is based on a 5kg turkey.
INGREDIENTS
Organic turkey, 5kg
Salted butter
Pepper
Organic rosemary
Organic bacon
METHOD
To ease the load on Christmas day, Anna recommends prepping your turkey the day before.
Check the main cavity for giblets (you can save these for the gravy in your roasting tray later).
Once removed, rub a mix of butter, sea salt, black pepper and rosemary generously onto the bird, pushing your fingers under the skin too. Add organic bacon if you wish.
Add stuffing into the neck cavity, if you want to, but not too tightly.
Season the bird well with salt and pepper.
Place a large sheet of greaseproof paper or tin foil over the bird and refrigerate until ready for cooking.
When ready, take your turkey out of the fridge a few hours before cooking to allow to come to room temperature.
Preheat your oven to 180°C / 160°C fan / gas mark 4.
Place the bird in a large roasting dish, add one cup of water or gravy to the cavity and two cups to the roasting tray along with the giblets.
Cook your turkey breast side up for 3-4 hours – one rule of thumb is to baste your turkey every 40 minutes.
Cover the turkey with foil towards the end of cooking if it's looking a little too brown.
To check if the bird is cooked, place a sharp knife in its thickest part – usually the thigh.
If the juices are running clear, you're good to go.
If not done, cook for another 5-10 minutes at a time.
If you have a meat thermometer it should read 75ºC at the thigh's thickest part.
Set the turkey aside and allow 45 minutes to an hour for it to rest before carving. Allowing time for resting will see the meat relax and its juices being reabsorbed. You should cover the bird loosely with foil.
With the turkey resting, you can now start cooking your potatoes, stuffing and Yorkshire puddings.
RECIPE NOTE
When cooking at the suggested temperature of 180°C / 160°C fan / gas mark 4, Anna likes to follow the general rule of 40 minutes per kg up to 4kg, then an additional 45 minutes per kg after.
| | | |
| --- | --- | --- |
| Whole Turkey Pre Cooked Weight | Time in Minutes | Time in Hours:Mins |
| 2kg | 80 | 1:20 |
| 2.5kg | 100 | 1:40 |
| 3kg | 120 | 2:00 |
| 3.5kg | 140 | 2:20 |
| 4kg | 160 | 2:40 |
| 5kg | 205 | 3:25 |
| 6kg | 250 | 4:10 |
Roast turkey cooking times
To calculate easily your 5kg turkey (which should feed eight people) cooking times, BBC Good Food recommends that you put the bird breast-side up into the roasting tin, and roast for:
40 mins per 1kg for the first 4kg (TIP: That's 2hrs 40 mins)
Then 45 mins for every 1kg over that weight
Or when the bird's internal temperature reaches 65-75C.
For a turkey of this weight, the cooking time should be around 3½ hrs (and perhaps 4 hrs to get the skin crispy).
Jamie Oliver recommends preheating the oven to 180°C/350°F/gas 4. For a 7kg turkey – and a 'higher-welfare bird', cook for 25 to 30 minutes per kg.
A 'standard' turkey will be 35 to 40 minutes per kg.
Christmas.co.uk top tip: With so much confusing information around we recommend that you:
Calculate the cooking time you think the turkey needs
Baste it every 40 minutes
Check the juices that run clear when you stick a sharp knife into the thigh
If the juices aren't clear, cook for longer
Remember: You need to ensure that the bird is properly cooked which is why a meat thermometer will be a sound investment – even if you only use it to cook a turkey on Christmas Day!
oooOooo
How to cook a turkey at Christmas  – tips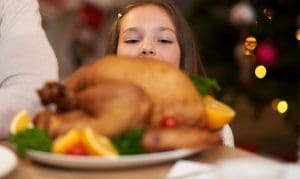 The centrepiece of the Christmas dinner is a perfectly roasted turkey but for some people, cooking a turkey can be a daunting task, especially if you have never done it before.
However, with these simple tips and tricks from Christmas.co.uk, you can ensure that your turkey is juicy, succulent and delicious.
So, let's dive in and learn how to cook a turkey at Christmas.
·         Choose the right size of turkey
Before you start cooking your turkey, it's important to choose the right size. A general rule of thumb is to allow 450-680g for each guest. If you are expecting 10 people, then a turkey that weighs between 4.5-6.8kg should be enough. While it sounds like a lot, you'll want to ensure there is enough breast meat for all guests. Meat industry experts reckon that the average turkey will deliver around 30% of its weight in meat. Remember too that if you want to have leftovers for sandwiches or salad, then choose a larger size.
·         Brining your turkey
Not everyone does this but brining your turkey is growing in popularity. For many, this helps to keep the meat juicy and adds flavour. Brining is a process of soaking the turkey in a salt and water solution. The usual timings will be 1 hr for every 500g of the turkey's weight. Some recipes call for brining to take at eight hours – and for the larger birds, an astonishing 18 hours! or at least 12 hours before cooking. You can also add sugar and oranges, along with other herbs and spices to the brine. Once your turkey is soaked, remove it from the brine and pat dry before cooking.
·         Stuffing or not stuffing
While many people like to stuff their turkey, you need to be aware that stuffing can increase the cooking time and may cause the inside of the turkey to be undercooked. There are two issues when stuffing a turkey: You either don't cook the internal cavity of the bird sufficiently and risk salmonella, or you don't cook the stuffing evenly and also risk food poisoning. If you do want to stuff your turkey, it's recommended that you cook it separately in a baking dish. Another option is to stuff the turkey with herbs and citrus fruits to add flavour without adding to the cooking time.
·         Preparing the turkey
Before you start cooking your turkey, you'll need to prepare it correctly. Remove the giblets from the cavity of the turkey and rinse it thoroughly under cold water. Pat dry with paper towel and season generously with salt and pepper. If you choose to stuff the turkey, fill the cavity loosely with stuffing or herbs and citrus fruits.
·         Cooking the turkey
When it comes to cooking the turkey, preheat your oven to 180°C/350°F/gas mark 4. Place the turkey on a large roasting tray and cover it loosely with foil. Cook for approximately 35-40 minutes per kilogram. As mentioned earlier, the cooking times for 'standard' and 'high welfare' birds do vary slightly so always check the cooking instructions that have been supplied. Half way through cooking, remove the foil and baste the turkey with any juices that have collected in the bottom of the tray. A meat thermometer should read 75°C when inserted in the thickest part of the bird (usually, the thigh). The cooking time will vary depending on the size and type of turkey, so it's best to check the packaging for specific instructions.
·         Resting the turkey
Once your turkey is cooked, leave it to rest for 30 minutes (and up to one hour) before carving. This enables the juices of the bird to redistribute so the meat is tender and juicy. The turkey should be covered loosely with foil to keep it warm while it rests.
·         Carving the turkey
Carving a turkey can be a bit tricky, but with a little practice, you'll be able to master it. Using a sharp carving knife, remove the legs and wings from the turkey. Then, slice the meat from the breast, starting at the top and working downwards in thin slices.
Cooking a turkey can seem like a daunting task, but with a bit of preparation and careful monitoring, you can achieve a perfectly cooked and succulent bird. With these simple tips and tricks, your Christmas lunch or dinner is sure to be a hit with your family and friends.
oooOooo
Jamie Oliver – A classic Christmas turkey recipe
In this video, Jamie Oliver shows how you can prepare a quick and flavourful roast turkey for your Christmas festivities.
The idea is to deliver a tasty turkey without the stress, and you'll need a free-range turkey, butter, herbs, cranberries and smoky streak bacon.
To get the crispy skin and moist breast meat, Jamie uses a 'Christmas flavoured butter'!
This is a very simple and quick recipe to deliver great results – the turkey is in the oven for a maximum of three hours with moist meat and crisp bacon.
oooOooo
Slow cooker turkey crown Christmas dinner
If you are wary about cooking a big turkey in your oven – or your oven simply isn't big enough for a large turkey – then this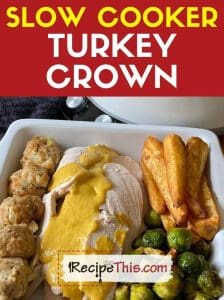 This is a delicious Christmas turkey crown recipe and is the creation of Samantha and her chef husband Dominic.
The recipe – and lots more great Christmas and turkey ideas – can be found on recipethis.com.
Samantha says the idea is to transform a crown you can be in any supermarket or butchers into a tasty and easy to make roast turkey dinner on Christmas day using a slow cooker.
If cooking at Christmas is a stressful experience and you want an easy Plan B, then this simple roast turkey dinner could be the solution.
Which also means that for anyone hosting Christmas dinner this year can stage a few rehearsals to get the meat and side dishes cooked to perfection!
Can a turkey crown be cooked in a slow cooker?
Yes, and this is a practical way of doing so.
Not only does a crown fit perfectly into the cooker, but there's room for stuffing balls and the vegetables.
It's also worth noting that this turkey crown for a slow cooker recipe is aimed at UK readers – mainly because a 'turkey crown' is not normally known elsewhere. Here, the crown is the bird's body with the wings and legs removed – essentially just the breast part attached to the bones. It's an ideal choice for smaller gatherings and for those who prefer to dish up white meat rather than darker meat.
For readers not in the UK, you buy a turkey breast with the bone-in for this recipe.
This recipe works the same way!
Ingredients
Turkey – use any turkey crown (or bone-in turkey breast). For example, a Bernard Matthews or a supermarket turkey crown
NOTE: Do not use a frozen turkey crown for slow cooking – this can be dangerous because it won't reach a temperature that is high enough to kill bacteria. Either use a fresh turkey crown or if you do buy frozen, ensure it has been fully defrosted. Follow the defrosting instructions on the packaging very carefully. Be aware that a 3kg frozen turkey crown could take up to 30 hours to fully defrost – so read the instructions and be prepared!
Seasoning – salt, oregano, pepper and mixed herbs.
Root vegetables – Most root vegetables will work including onion, potato, celery and carrot.
Preparation
The website has easy to follow instructions and you will need to peel and dice the vegetables, put them in the cooker with seasoning, add the crown and lots of extra virgin olive oil.
Once your turkey crown is about halfway through the cooking time, add the homemade stuffing balls.
For a 3kg turkey crown, the slow cooker time will be five hours, remove from the cooker and cover loosely with foil. Allow the crown to rest for up to one hour. For brown skin, place under a hot grill.
Slow cooking times for a turkey crown
To cook overnight, cook on low for 8 hours
To cook on Christmas morning (for example), then cook on high for 4 hours.
oooOooo
No brining and no stuffing Christmas turkey
If you don't fancy the brining process, or even stuffing the turkey's cavity, then you'll love this video from Kitchen Sanctuary.
There's also no basting to make this an easy, fuss-free recipe to let the bird's flavour shine.
The meat is also lovely and juicy.
Ingredients:
1 turkey – approx 4.5kg
2 tbsp olive oil
1 tsp salt
1 tsp black pepper
240 ml chicken stock
The presenter Nicky recommends:
Preheat the oven to 160C Fan/180C/350F/Gas mark 4
Remove the giblets and neck
Place the turkey on a large wire rack on a large roasting tray
Rub the oil all over the turkey, then sprinkle with salt and pepper
Pour the stock into the roasting tray – to help steam the turkey and add flavours
Spray or brush the foil with more oil, then create a 'tent' over the turkey with the foil to help the steaming process
Place the turkey in the oven 4.5kg will take 3 hours
Remove the foil and roast for the last hour
Check the bird is cooked by either piercing the thigh and seeing clear juices – or use a thermometer and it should read 70C.
Remove from the oven and transfer to a warm serving plate
Leave to rest for 30-60 minutes for a juicy turkey.
Nicky offers these cooking times for a whole turkey – but not a turkey crown
Under 4kg (8.8lbs): 20 mins per kg (2.2lbs) plus 70 minutes
4kg (8.8lbs) and over: 20 min per kg (2.2lbs) plus 90 minutes.
Always check that your roast turkey is cooked before serving!
oooOooo
Rolled stuffed turkey breast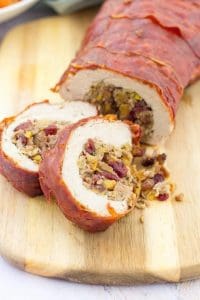 Here we take a look at something that's a bit different from the classic Christmas dinner offering – a rolled stuffed turkey breast.
This is the tasty creation from Easy Peasy Foodie which uses a juicy turkey breast, a lovely sausage stuffing which is wrapped in a crisp prosciutto.
As a showstopper, there's a lot to recommend this dish.
Indeed, it's a cost-effective offering when compared with a huge turkey centrepiece.
This is a tasty choice for small families too.
Ingredients:
Turkey breasts – you can buy them in large sizes at Christmas, for example, 2kg
Prosciutto
Sausage stuffing
Method
The instructions are clear, and you will need to lay the prosciutto on cling film, 'butterfly' the turkey breast and place the stuffing on top. You then roll everything up and you have an impressive, rolled turkey breast.
You can prepare this dish the day before so you only have to prepare vegetables on Christmas Day.
Cook for 1 hour and leave to rest for 20 minutes.
Easy Peasy tells us: "This is much more flavourful this is than a standard roast turkey.
"Instead of just plain turkey, you get the delicious intermingling of turkey, prosciutto and sausage stuffing."
She adds that the prosciutto will protect the bird from drying out, so the prosciutto ends up being crispy, and the turkey is juicy and tender.
oooOooo
A festive alternative to Christmas turkey recipes – how about cockerel?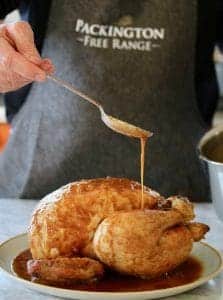 If you don't fancy turkey this year but want to impress, then how about festive glazed Christmas cockerel?
That's a brainchild of the team at Packington Free Range.
They have a great recipe from ex-River Cottage chef, Steven Lamb, that combines the classic flavours of a glazed Christmas ham with delicious Cockerels, to create an exclusive festive centrepiece.
Preparation Time: 10 minutes plus marinating
Cooking Time: 2 Hours
Serves: 6
Ingredients
Packington Free Range Cockerel
For the marinade
65 ml cider vinegar
5 tsp zest from 2 oranges
125 ml orange juice (from the zested oranges)
2 tbsp Dijon mustard
100 g brown sugar
2 tsp ground cinnamon
1 1/2 tsp allspice
1 tbsp olive oil
1 tsp ground ginger
1/2 tsp black pepper
2 tsp salt
2 whole star anise
To serve:
Cavolo Nero, toasted walnuts, and pancetta
Roast potatoes
Braised red onions in cider
METHOD
The website offers clear instructions, but it is recommended to mix and marinade the ingredients the day before.
The finished offering is not only impressive – the cockerel is full of flavour – but you will be dishing up an alternative to a classic Christmas turkey.
oooOooo
Festive bird shopping tips
If you're planning for your festive feast this year, whether it is a traditional turkey or alternative cockerel, here are a few tips from the team at Packington's that can ensure you buy the best for your special meal.
If your budget allows, always look for a free-range bird as these tend to offer a better-quality of meat. If not, standard turkeys will give moist and succulent meat with flavour
Check your seller offers full traceability provenance – mass produced birds will not be able to tell you exactly where the birds came from or how they were reared
Ensure your bird has no growth promoters or routine antibiotics – rearing without enhancers is as nature intended, and before intensive farming methods introduced poorer quality of meat. This ensures the bird is allowed to mature in their own time, meaning a happier life for them, and a deeper flavour for you.
Buy from a company that has environmentally sustainable farming – they care about their animals and the land, ensuring it's here for generations to come.
oooOooo
What to do with turkey leftovers at Christmas?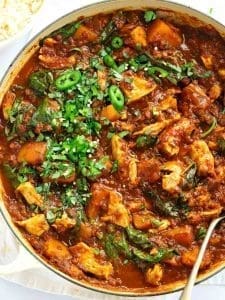 Most families will be buying a turkey that more than feeds everyone at the dinner table, which means there is a lot of leftovers.
But what can you do with turkey leftovers?
Here is a great recipe for 'Easy leftover turkey curry' from Sarah at Tamingtwins.com that is quick and easy.
Ingredients
Onions
Curry paste
Garlic
Butternut squash
Ginger
Vegetable stock
Tinned tomatoes
Sea salt
Red lentils
Baby spinach
Mango chutney
Leftover turkey
Method:
To a pan, add the onion, curry paste, ginger and garlic, along with some oil and gently cook for 10 minutes.
Then add the tinned tomatoes, butternut squash, lentils and half of the stock.
Then add the mango chutney and turkey
Cook for 5-10 minutes.
Turn off the heat, add the spinach, put a lid on until wilted.
Sarah adds that the recipe can be used in a slow cooker.
Serve the curry with poppadoms, rice and mango chutney.
Use coriander to garnish.