If you are hosting family or visitors for Christmas dinner this year and want to be inspired by alternative side dishes, then this Christmas.co.uk article is for you.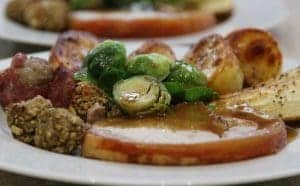 Everyone wants their festive meal to be a success, and while most of us will opt for turkey as a main course, that leaves options open for non-traditional side dishes.
Traditional side dishes for Christmas dinners include stuffing, roast potatoes, carrots, gravy, Brussels sprouts, cranberry sauce, Yorkshire pudding, pigs in blankets, parsnips, plus sides and condiments.
Also, you may have to cater for dinner guests who have dietary restrictions, such as allergies, intolerances or they are vegan or vegetarian.
Offering a range of side dishes, some of which are meat-free or gluten- or dairy-free, ensures that all guests can feel included and well-catered for.
Alternative side dishes for Christmas dinner
And for those reasons, opting for alternative side dishes for Christmas dinner also means choosing foods that aren't high in fat, salt and sugar.
Alternative side dishes such as salads or roasted vegetables mean that they can provide lighter and more nutritious options that still taste great.
There's also the opportunity to add interest and variety to the meal with new flavours and textures.
But most of all, this is a fantastic way to show off culinary skills!
Brussels sprouts and bacon gratin
So, let's start with Brussels sprouts and bacon gratin.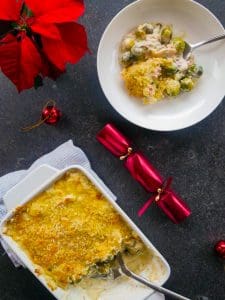 This is the creation of Kacie at the excellent food and travel blog, The Rare Welsh Bit.
Here, she uses quality dry-cured streaky bacon and roasted sprouts that deliver a crunch.
Not only is this a great dish for the dinner table, but it is also a tasty way to use up any leftover sprouts. (We know that you won't have any leftover sprouts because they are so popular, but just in case…).
This is a creamy creation that can be enjoyed all year round.
Ingredients
650g Brussels sprouts
150g streaky bacon rashers
850 ml whole milk
200 ml double cream
125 ml white wine
50g plain flour
50g unsalted butter
50g Parmigiano Reggiano
200g Gruyère
25g Panko breadcrumbs
½ whole nutmeg grated
1 tbsp olive oil
salt and pepper to taste.
The method is a straightforward process that is detailed on the Rare Welsh Bit blog.
It involves roasting the sprouts, frying the bacon and adding to a roux.
The dish can be prepared beforehand, and it only takes 20 minutes to bake and is then served immediately.
We also love Kacie's Brussels sprouts rarebit which is a lovely idea for the table or to use up leftovers.
It is a simple dish which packs in lots of taste.
Both of these dishes are highly recommended by the Christmas.co.uk team!
oooOooo
Why would people choose non-traditional alternatives for Christmas lunch?
There are lots of people might choose non-traditional alternatives for Christmas lunch for a variety of reasons, including:
Dietary restrictions: Many people have dietary restrictions or preferences that prohibit them from eating traditional Christmas foods such as turkey, beef and mince pies. For example, those who follow a vegan or vegetarian diet may seek out alternative protein sources such as tofu or seitan, while those with gluten or dairy allergies may need to avoid certain ingredients.
Cultural traditions: Some people come from different cultural backgrounds and non-traditional foods are often served for festive meals. They may continue this tradition in the UK, or simply prefer to mix things up by incorporating elements of their culture into their Christmas meal. We think that Christmas lunch is the ultimate inclusive meal of the year – regardless of your religion, gender or political persuasion, it's a great get together that everyone can enjoy.
Health concerns: For those who are health-conscious or watching their weight, traditional Christmas foods may be too heavy or indulgent. Seeking out lighter and healthier alternatives can help them maintain their health goals while still enjoying the festive season.
Personal preference: Some may simply prefer non-traditional alternatives to traditional Christmas foods. They may find that these dishes offer more variety or align better with their personal tastes and preferences.
And let's not forget that having the same mains and side dishes year after year can put diners off – so if you want to turn up the interest this year, then alternative or non-traditional side dishes might be for you.
Overall, there are many great options for non-traditional Christmas foods that can be just as delicious and memorable as the traditional fare.
Read on to find out more…
oooOooo
Gordon Ramsay's ideas for alternative Christmas side dishes
He's a popular chef and has some great ideas for the Christmas dinner table.
In this YouTube video, Gordon Ramsay offers several interesting ideas, and we start with his pork, apricot and pistachio stuffing. As a side dish, this is a real treat and can be prepared the day before.
And, as Gordon says, these are recipes that really do show off your kitchen skills to guests.
Other dishes include crisp roast potatoes – made with turmeric and chilli flakes!
You might also like the Brussels sprouts with pancetta and chestnuts.
oooOooo
Vegan mashed potatoes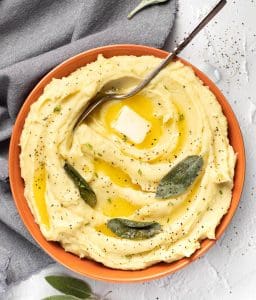 Along with roast potatoes, mashed potatoes are a popular choice at Christmas and this vegan offering is worth considering.
You'll need vegan butter, garlic and herb-infused soy milk to deliver a flavour packed mash.
It's not just suitable for those who need a dairy-free diet, but for anyone who wants a tasty mash for the festive dinner. The recipe also works for midweek meals too.
Here, Mel at Virtual Vegan offers a dish that is naturally gluten free.
Ingredients
Potatoes
Garlic
Soy milk – unsweetened
Vegan butter
Fresh herbs – sage and thyme
Salt and pepper.
The method for creating tasty vegan mashed potatoes is straightforward, as Mel explains on her website. The secret is to boil the potatoes until soft but not waterlogged – put a knife into one and if it slides down the knife then it is perfect.
Add plenty of milk and butter and mash the potatoes – a handheld mixer will do the job well.
Along with this tasty mash creation, Mel also offers a wide range of Christmas side dishes you might find tempting.
oooOooo
Why is Christmas dinner so special?
Christmas dinner is a special event in the UK for a number of reasons:
Traditional family gathering: Christmas dinner is typically a time when families come together to share a meal, exchange presents, and enjoy each other's company. This tradition dates back centuries and is an important part of many families Christmas celebrations.
Festive atmosphere: Christmas dinner is an opportunity to extend the season's joyful atmosphere to the dinner table with special decorations and table settings.
Quality time with loved ones: For many people, Christmas dinner is a time to catch up with loved ones, share stories and enjoy good food and drink. The relaxed and festive atmosphere sets the scene for quality time with family and friends which is often a cherished memory.
Traditional menu: Many families have their own unique traditions and recipes for Christmas dinner, but the traditional menu typically includes a roast turkey or other meat, along with stuffing, roast potatoes, vegetables and gravy.
And let's not forget that while most families will have a traditional menu, they might swear by turkey every year, the side dish is a chance to do something different and introduce something novel.
This is especially true if you are having vegan or vegetarian guests for dinner.
oooOooo
How about a Polish side dish for Christmas?
The purpose of having non-traditional side dishes with your festive meal, is that it opens the door to other cultures and countries.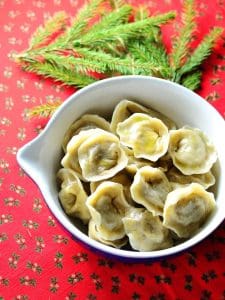 Here, Monika at everydayhealthyrecipes has a lot of quality recipe ideas, including some tasty ideas for Christmas.
So, what about Polish dumplings?
Depending on what your meal's meat choice is, these dumplings could be the perfect accompaniment.
Traditionally dished up on Christmas Eve, we reckon these tasty morsels would be an excellent non-traditional offering, especially with something like turkey or chicken.
Monika has a lot of festive food ideas but the dumplings are worth a closer look.
Along with wild mushroom dumplings, there's also sauerkraut dumplings and cheese and potato dumplings.
The mushroom dumplings are called – which translates as 'little ears' – and are usually served hot.
50g dried porcini mushrooms
½ onion, finely chopped
1 tablespoon vegetable oil plus more for drizzling
1 tablespoon soy sauce
1 tablespoon breadcrumbs
Salt and pepper to taste.
Monika also gives an easy recipe for the dumpling dough to use for this dish – or you can buy it.
The recipe is not only easy but surprisingly quick to put together.
The step-by-step instructions with photographs really help.
This is another festive side dish that can be prepared ahead of the big day. Monika says they can be made up to three days before with the dumplings being stored in a fridge.
oooOooo
Andy Cooks – Three great Christmas sides
We love this video from popular chef Andy who offers recipes for three side dishes that he prepares for his own family's Christmas dinner.
There's a lot to like here, especially the beef fat roast potatoes with rosemary salt.
He also dishes up honey-glazed carrots with buttermilk dressing and pomegranate and there's also petits pois à la française – that's peas, bacon and onions.
oooOooo
Why are side dishes so important for our Christmas dinner?
There are several reasons why side dishes are an important part of Christmas dinner in the UK and they include:
Completeness: Christmas dinner is often seen as a feast, which means it should include a variety of dishes to ensure a complete and satisfying meal. Side dishes offer a range of flavours, textures and nutrients that complement the main meat and add dimension to the meal.
Traditional cuisine: Side dishes have played an essential role in British Christmas cuisine for centuries, and they are often a reflection of local and regional food traditions. For example, Brussels sprouts and roast potatoes are iconic English side dishes that are almost always served on Christmas Day.
Festive adornment: Side dishes are an opportunity to incorporate festive elements into the meal. People often use colourful vegetables like carrots to brighten up the traditional greens. This is where these alternative side dishes really play a part.
Accommodating dietary requirements: Side dishes provide an opportunity to accommodate various dietary requirements at the dinner table. With the increasing number of people who follow vegetarian, vegan, gluten-free or dairy-free diets, it's necessary to offer a variety of side dishes to make a meal inclusive.
oooOooo
Easy Peasy roasted Brussels sprouts
Yes, it's another Brussels sprouts recipe but with the vegetable being a popular (?) festive choice, those who are cooking up dinner will be looking for sprout inspiration.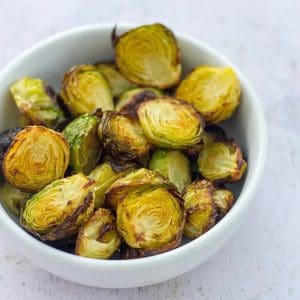 Here, Eb, who runs the Easy Peasy blog offers roasted sprouts. These are something of a treat and the sweet flavour when roasted really does come out.
Eb says she has more 14 recipes on the site for sprouts – so if you are looking for more ideas search them out!
The big attraction for these roasted sprouts is that they are easy to make.
You simply halve the sprouts, put them on a baking tray, drizzle oil and add some salt and pepper.
The sprouts should be face up and spaced well apart.
We think this dish is a real treat if you aren't a confident cook and are dreading cooking Christmas dinner this year. This is a failsafe offering!
Other sprout recipes from Eb include sprouts with chilli and ginger, honey and stilton and the one that adds walnuts to sprouts is intriguing.
oooOooo
The best source for a collection of alternative side dishes
With so many blogs, supermarkets and media outlets offering tasty and wonderful Christmas dinner ideas, it can get confusing.
However, we've found that if you are short of time, then the BBC site offers a cracking selection of Christmas side dish recipes.
From roasted Brussels sprouts with parmesan and garlic butter by Philippa Davies to James Martin's excellent pigs in blankets and Nigella's Lawson's maple-roasted parsnips, there's something for everyone.
There are sausage meat stuffing ideas, turkey gravy and potato gratin dishes to consider.
We can also recommend the honey mustard mash by Poppy O'Toole, the fondant potatoes from the Hairy Bikers and Izy Hossack's broccoli cheese dish.
They are all very scrumptious!