With so many stores dotted around the UK, the Co-op Christmas food range is probably more accessible as a supermarket choice than many rivals.
And in 2020, the popular shop is offering an interesting range of festive delights to enjoy.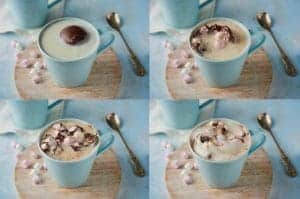 For us (and probably most of their shoppers), one of their most striking and fun creations is a melting hot chocolate bombe which is a milk chocolate ball that you simply melt in a cup by pouring hot milk over it.
Considering how much fun and enjoyment this delight can bring, it is astonishing good value at £1.50.
The bombe also has a centre filled with marshmallows that will appear once the chocolate begins to melt.
Posh chipolatas in blankets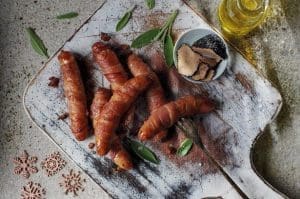 Other offerings for Christmas Day, include posh chipolatas in blankets which cost £3 for six.
The Co-op team has given their pigs in blankets a twist this year with each posh chipolata containing truffle oil and chestnut and then being wrapped in oak-smoked streaky bacon.
And for those diners looking for a change from traditional turkey, the Co-op is offering a French-trimmed pork rack joint that has been seasoned with sea salt, rosemary and thyme.
It looks like a really tasty offering that should impress.
Puddings for Christmas dinner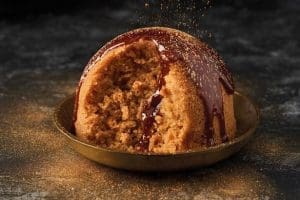 Puddings from the Co-op for Christmas dinner this year could include a 'Free From' Irresistible burnt caramel sponge for £4.50.
This gluten-free dessert is a tasty offering with a moist fudge sponge that is topped with caramel sauce and a gold shimmer.
Other vegetarian delights from the Co-op in 2020, include 'No duck' spring rolls at £2.25 for 10.
Cranberry and port flooded pork pie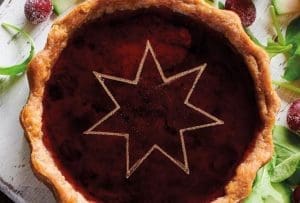 For those who like to enjoy a pork pie on Christmas day, particularly as part of the evening buffet, Co-op is offering a cranberry and port pork pie at just £4.
This is something of a boozy twist for pie lovers to enjoy as the top of the pie has been covered with a cranberry and port jelly.
It's available from early December and is likely to prove popular.
Other tasty offerings for the festivities include Scottish smoked trout with whisky and honey.
The Co-op is also inventing a snack that is a mixture of a croissant and a doughnut – the Co-op calls them croiss'onut.
These salted caramel-filled doughnuts cost £1 and are an intriguing offering.
More information
If you like the look of the Co-op Christmas food range in 2020, then you can find your nearest branch by using their online store finder.