As we all know, this is not just Christmas food, as that the adverts would have us believe, but this is M&S Christmas food.
And for 2020, there's a lot to enjoy for those who love quality produce and interesting conversation starters being dished up for them.
Indeed, the Christmas food range from Marks and Spencer is always an anticipated event and with unusual food combinations and tasty creations being popular with food and drink fans so many items tend to sell out quickly.
M&S is also renowned for delivering innovative products for the festivities and this year is no different.
M&S Christmas party food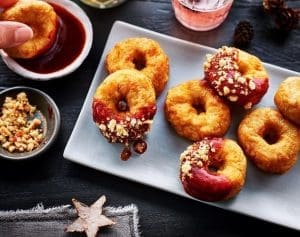 M&S is renowned for their party food and they have pulled out all the stops for 2020.
They include chicken doughnut dippers – which sees rings of battered jumbo British chicken breasts in a doughnut box with barbecue sauce and a dip of waffle crumbs.
They are interesting creations and look like a gourmet doughnut but one that you have to decorate yourself.
And they taste like waffles with chicken, so will be hugely popular.
M&S is also offering king prawns in blankets at £7, which is a tasty twist on pigs in blankets.
These are juicy prawns that have been wrapped in smoked bacon and are a stylish festive surf and turf dish.
We were also taken by the molten Camembert with a tear and share cheese puff pastry – a whole camembert is surrounded with cheddar pastry puffs and a tasty offering.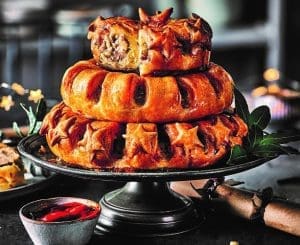 There's also a very impressive sausage roll that makes for a great centrepiece using seasoned pork sausage meat that is wrapped in an all-butter pastry.
The sausage roll stack costs £12 and is a great centrepiece for any buffet table.
The dish sees 32 sausage rolls being taken and then baked together and then put together as three tiers.
We also enjoyed their battered mini sausages done in a chip shop style with a curry dip for £5.
Vegans also get to enjoy the M&S frozen Plant Kitchen no chicken Kievs at £5.
Christmas day lunch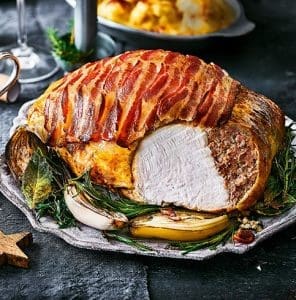 Traditional Christmas day mains include a perfect Turkey crown which costs £50 and will feed between six and eight people.
The M&S Turkey crown is pre-stuffed with pork and cranberries, pre-basted and wrapped in bacon and ready to go into the oven.
It's worth adding the M&S best ever pigs in blankets at £5 which offer a very tasty side dish.
And if you fancy something different for Christmas dinner this year, M&S is offering slow cooked turkey legs for £12 to feed four people.
Or you could tuck into their slow cooked British pork belly feast at £35.
The meat is scored and then seasoned before being slow cooked to produce a delicious dish with a pork and apple jus and crispy crackling.
There's also the slow cooked British short rib of beef at £50, M&S call it 'The General' and this meat dish offers a melt-in-the-mouth experience.
The short rib of beef is seasoned with salt and black pepper, thyme and garlic plus there's a serving of a truffle, red wine and beef jus.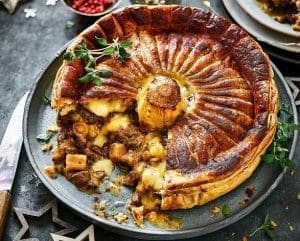 Vegetarian options on Christmas Day include a mushroom and camembert pie for £18 which sees roast parsnips and mushrooms being adding to a cheese sauce and then encased in a very light flaky pastry.
The dish is very striking and is a tasty offering that non-vegetarians may well enjoy too.
Talking of which, there's also an impressive looking Plant Kitchen festive wreath at £10 which is packed with roasted mushrooms, pumpkin seeds and chestnuts to create an eye-catching dish. It's also topped with a cranberry and orange glaze.
---
M&S Christmas food range for 2020
M&S has also revealed that its Christmas food range for 2020 will be promoted in a range of stylish Christmas adverts.
The first ad features actress Olivia Colman with others being voiced by Dame Helen Mirren, Tom Hardy and Eddie Redmayne.
The first advert features the sparkling gin liqueurs, mini porcini Yorkshire puddings and a triple chocolate panettone.
The ad also puts a spin on their famous line with the catchphrase now being, for 2020 at least, "This is not just Christmas food …this is M&S Christmas food".
Marks and Spencer say that they will donate £2 million to charity in 2020 and their first advert features the charity logos that have been selected by the actor.
Watch the impressive video now:
---
Christmas dinner table desserts
Desserts for the Christmas dinner table include the famous M&S Colin the Caterpillar being given a festive twist this year.
He has been dressed to look like Santa delivering presents and is a fun addition to any Christmas dinner buffet table.
There are also golden balls with choux pastry puffs filled with whipped cream and then layered with a salted caramel sauce. If that's not enough, they are then decorated with gold balls and then covered with a gold shimmer.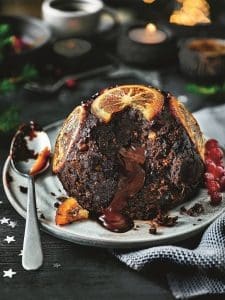 M&S is also offering a traditional Christmas pudding, and this is one that the Christmas.co.uk team really enjoyed when we carried out a taste test, and it is the Collection chocolate and orange Christmas pudding at £12.
This tasty delight features Belgian chocolate, vine fruits, brandy and orange liqueur which really do bring this Christmas pudding to life.
There's also a marvellous chocolate and orange sauce that melts in the middle to devour.
Vegans also get to enjoy their planned kitchen chocolate torte which consists of a dark chocolate ganache on a biscuit base and is finished with a dusting of cocoa powder and a snow flake decoration.
However, you should probably save space for the M&S mince pie cookie at £1.
If you would like to get into the spirit of Christmas early, then this all-butter spiced cookie is an ideal starter. The cookie is topped with a spoon of juicy mincemeat.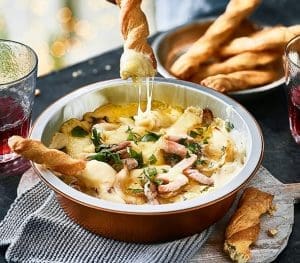 A lot of people enjoy a good cheese board during the festivities and M&S is offering a molten mountain cheese bake at £7.
This is something of a cheese-lover's dream and consists of a fondue pot of Emmental, Comte and Gryere and is topped with bacon lardons, Raclette cheese and roasted onion and is ready for placing straight into the oven.
For those who love a proper cheeseboard, the cheese grazing box at £25 delivers a range of cheesy goodies including Stratford Blue, Vintage Red Fox and Petite Basque Flowers.
Guests also get to enjoy extras such as walnuts, hazelnuts and almonds.
M&S festive drinks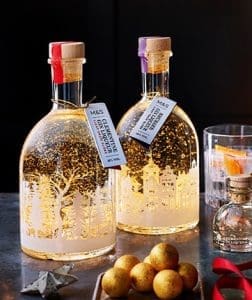 For those who want to enjoy a range of quality and unusual festive drinks this year, then M&S will be your go to store.
Among the great choices this year is a light snow globe gin liqueur which costs £18.
Not only is this a tasty drink available in two flavours of Clementine or rhubarb, but it's also an impressive little bottle that becomes a decorative ornament in its own right.
This will be the 'must-have' drink of the festive season and you simply shake and switch on the bottle to illuminate a woodland theme for the 23-carat edible gold leaves to then shimmer in the bottle and fall like snowflakes.
There's even a mini version of the Clementine gin liqueur that is ready for hanging on the Christmas tree. It will make a great gift for family and friends.
A spokeswoman for M&S told us: "Customers this year have been telling us they want to embrace more than ever the spirit of Christmas. We will not want to confine Christmas festivities to just one day and we will be looking to extend the season and turn it into a series of festive moments."
She added: "Christmas is not the time that our customers want to hold back on and food plays a central part in their celebrations. Some of our festivities may look different and some might be virtual, but they will be special as we unite and celebrate with family and friends."