For those people who are still debating what they should dish up on Christmas Day, this list from Marks & Spencer of their bestselling Christmas food will help.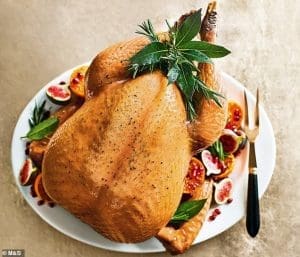 There's no doubt that Christmas Day is the day to indulge in delicious tasting food and plenty of drink – and the popularity of M&S to provide the food for the event should not be underestimated with the firm predicting that around 25% of Brits will be eating a Christmas turkey provided by them this year.
However, while many people will still be deciding what their Christmas Day menu will consist of, it appears that lots of people have already been rushing to buy their items for the big event.
M&S has also revealed that its customers began searching for Christmas food in October and they have now put together their bestselling list of foods.
As should be expected, there's a wide range of tastes from buyers!
Marks & Spencer's festive sandwiches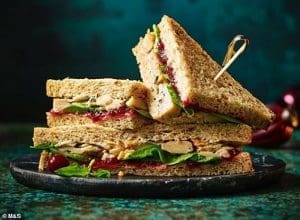 The Christmas.co.uk team have already revealed that Marks & Spencer's festive sandwiches are extremely popular and they are expecting to sell more than 3.6 million sarnies over the festive period.
The most popular is the firm's classic turkey feast sandwich, which comes as no surprise.
What does come as a surprise is out of the total sandwich sales, this classic will shift 1.2 million purchases.
The most popular new M&S sandwich this year has been the vegan 'no turkey feast' sandwich.
From the list, the most popular dessert is the excellent chocolate pinecones that have a gorgeous chocolate sauce filling.
Turkeys for Christmas food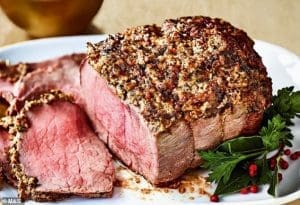 Alongside the selling of lots of turkeys for Christmas food – the fuss-free boneless Oakham turkey breast with stuffing is the top choice at £25 – M&S says the next most popular meat sale has been for its topside of beef – which sells for £34 – and they say they are also looking to sell 10 million glasses of Prosecco and half-a-million litres of ready-made gravy.
In addition, the food store will also sell 720 tonnes of stuffing and an incredible 140 million pieces of party food for the party loving British public.
On top of this, the firm is gearing up to sell more than 6.5 million pigs in blankets, which are an incredibly popular side dish for Christmas foods.
It helps that the firm has also unveiled two foot long pigs in blankets for Christmas lunches in 2018.
M&S also says it will sell 30 million sprouts – that will reach from London to Switzerland.
While there are some cracking Christmas food deals from other retailers, it appears that M&S occupies a special places in the hearts of Brits wanting quality and a great offering to share with family and friends.