Every year, there is a very wide and confusing choice of the best Christmas puddings to choose from and knowing which is the best is never easy but this Christmas.co.uk guide will help.
One of the issues for puddings is down to personal taste and while they consist of fruit and spices, most of them also contain lashings of alcohol.
There's no doubt that setting fire to a Christmas pudding helps bring to an end what has been a lovely Christmas dinner, particularly if you are sharing with family and friends.
Also, while the best Christmas puddings were traditionally steamed, this can take several hours whereas today it is much easier to place the pudding in a microwave and everything is ready in a few minutes.
Another tip for those who want to present a flaming spectacular to the dinner table is to warm the alcohol before it is poured over the pudding so it will burn when you light it.
Not everyone likes Christmas pudding but there's a range of flavours and there will be something here to meet most peoples' needs.
Winner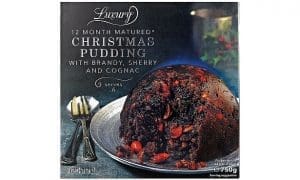 For the testers at Christmas.co.uk, Iceland's Luxury 12 Month Matured Christmas Pudding delivers the best all-round pudding treat.
The flavours are strong, there's plenty of fruit and the alcohol mix of brandy, sherry and cognac works really well.
This offering packs lots of flavours, so if you like a bland tasting pudding then avoid the Iceland offering.
The alcohol flavour is particularly strong with plenty of nuts which many competitors don't have since they tend to be pricey ingredients.
For the price, it's an all-round winner at £6.
Second place
In second place, there's an excellent offering from Tesco and their Finest 12 Month Matured Christmas Pudding serves eight and costs £8.
It's a well-made effort, flavoured with cognac and there are lots of rich flavours. It's also a darker pudding than many of its rivals and it offers a tad more crunch but the moist and fruity interior is a delight.
Again, there's a lot of alcohol flavour, including sherry and cider and you need to cook the pudding carefully to ensure it delights.
Third place
The Irresistible Christmas Pudding from the Co-op really does live up to its name with an irresistible offering that delivers a good mix of taste, texture and flavours.
Again, there's a good mix of fruit and the whole offering has been matured for 12 months and costs £5.49.
Not only does the pudding look great when it has been dished up, it probably suits a wider range of tastes and it smells lovely.
Essentially, the alcoholic flavours are not as noticeable but work well with the fruits and spices. This is a highly recommended irresistible Christmas pudding.
Fourth place
Since they dominate a lot of Christmas dinner offerings in the UK, it's no surprise to see Marks & Spencer making our top five.
The retailer picks up fourth place with its 12 Month Matured Vintage Christmas Pudding.
It costs more than many of its rivals at £12 but it comes in an impressive ceramic bowl. The pudding is an indulgent and rich mix of lovely fruit, spices and alcohol.
Of all the puddings, the M&S offering smells the best and it's a good traditional indulgence that looks tasty when served up.
Fifth place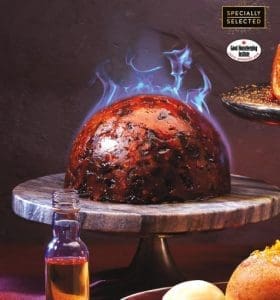 While most of the Christmas puddings featured here comply with the traditional take on what these puddings should be; lots of fruit, spices and alcohol, some retailers are offering slightly unusual versions, including puddings with a chocolate sauce.
However, the Salted Caramel Vodka Pudding from Aldi is a very tasty and interesting twist on what is a classic pudding. The fruit has been drenched in a salted caramel vodka and delivers an impressive taste.
It's a moist offering and an unusual choice for those who want something that is a bit modern with a different twist. At £6.99, the Aldi Christmas pudding is highly recommended.
Special mentions
As with all our taste tests, there are some puddings that impress but don't quite make the top five or top 10 and one of these is the classic Christmas pudding from Harrods. It's a pricey offering at £13 but it has lots of sweet flavours with an authentic smell of what a Christmas pudding should be like.
We also liked the Fortnum & Mason offering with their King George Christmas pudding; it is available in four sizes and costs from £12.95. Made with quality ingredients, it's a very traditional pudding with lovely flavours in a sticky offering older people will relish.
For vegans, the Riverford Vegan Christmas Pudding is also highly recommended at £11.95. An excellent mix of fruits and spices delivers a tasty pudding.
We were also taken by the Waitrose offering with its Golden Delicious Christmas Pudding. It costs £14 and the centre of it oozes lots of flavours but the exterior can be dry.