The festivities are never complete without impressive Christmas tree decorations and the festivities in 2018 are no different.
Along with Christmas lights, tree toppers, baubles and garlands, there's a wide range of decorations to choose from at a wide range of prices.
Here at Christmas.co.uk, we've explained what people looking to buy a Christmas tree should look for, whether that's a real or artificial tree, and our ultimate guide will tell you everything you need to know.
For many families, decorating their Christmas tree is one of the most exciting parts of the festivities and is often part of a family tradition.
However, despite many helping hands, it can be difficult achieving a polished look for your tree and that's after you have spent several hours untangling the Christmas lights or hanging your baubles to find they clash.
Even worse, you may find that your baubles are unevenly spread out and you may not even have enough of them.
Firstly, let's explain the type of Christmas tree decoration categories that need to be dealt with.
Christmas tree lights
The lights for your Christmas tree do not need much explaining since it is these fairy lights that often make the tree look like a magical creation. Seeing the lights twinkling away in a decorated room help to spread the festive joy.
Christmas tree toppers
There's a choice for tree toppers and while many of us prefer the traditional angels or a star, there's also a growing trend for other styles, often outlandish, including birds or top hats.
Whichever type of tree topper appeals to you, just ensure you've left enough space between the top of the tree and your ceiling so it can be attached without being damaged or bending the tree.
Christmas tree garlands
We've added Christmas tree garlands to the list though they don't suit everyone's tastes but for anything that doesn't light up but can be strung around the tree, then this is a garland. Garlands today are usually made of beads, ribbon or tinsel.
Christmas tree ornaments
The types of baubles and ornaments that you place on the tree can be flamboyant or traditional choices and many families may have baubles that have been passed down over the years. This all helps to create a lovely family Christmas atmosphere.
How to decorate a Christmas tree
When it comes to decorating the Christmas tree, there's no tried and tested method for decorating one that will guarantee to make your life easier and leave it looking spectacular.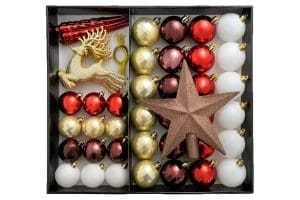 However, it's important that you untangle the Christmas lights first and ensure they work – then you can hang the lights from the tree. This will help prevent a headache should you decorate the tree, come to switch on the lights and find they do not work.
This means there is the painful process of removing decorations to replace the lights or fix them.
If your lights work, it's important to attach the fairy lights before any other baubles or ornaments because you can rearrange them easily should they look out of place or wonky.
If your choice is to use a string of fairy lights, then you should begin at the base of the tree and then work your way outwards to help create a 3-D effect.
You will need to carefully drape the Christmas lights over the part of the tree where these lights will be on show and spread them evenly over the branches. If you need new lights, then Habitat is offering an impressive set of 32 LED lights that change colours for £20.
Amazon is also offering a string of fairy lights that change colour for £10.99 but they also have an impressive cluster of tree lights that help to plump up the look of the Christmas tree and are suitable for outdoor and indoor use. There 720 LED lights in a cluster along with a 10 metre long wire and timer for £24.94.
Placing the tree topper
Depending on the type of tree topper you have, the Christmas.co.uk tip is to not leave this until the very end of the decorating process.
Most people will be tempted to do so but if it's a tall tree, then you run the risk of having to stretch to place the tree topper and also create the potential of baubles and ornaments falling off while doing so. And that's without the prospect of falling from a chair and injuring yourself!
The best way is to place the tree topper after the Christmas lights so the tree and the decorations will remain intact.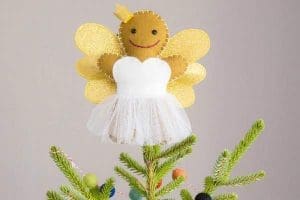 Among the stylish and unusual Christmas tree topper designs available this year, is this cute gingerbread angel which costs £26 from Notonthehighstreet.
Dressed in a white tutu and sparkly wings, the angel is handmade and is available in silver and gold options so it should match with your other tree decorations.
Disney fans can also invest in a Tinkerbell tree topper that lights up from Shop Disney and there are also Santa Christmas tree toppers that illuminate as well from Amazon.
For those who have a gold or silver theme, then a gold light star that lights up is also available for topping the tree costing £12.99 from Very.
Adding Christmas tree garlands
Before adding the ornaments and baubles, it's probably a better idea to add the garlands that you will be using after you've added the lights and the topper.
It's likely that you'll be adding more than one garland to create a better finish so have everything ready beforehand and place them on the tree.
While tinsel is available everywhere, Notonthehighstreet is offering a Bonnie and Bell reindeer garland which comes complete with tiny jingle bells. It costs £16 and is wrapped around a reel to help with easy storage.
Wayfair also offers a pine garland complete with battery-operated LED lights which cost £29.99.
Adding tree ornaments
There is a pecking order when it comes to adding Christmas tree ornaments and we would recommend that any sentimental or expensive ornaments should be placed on the lower branches because these tend to be the strongest and you will help avoid breaking something that is sentimental to you.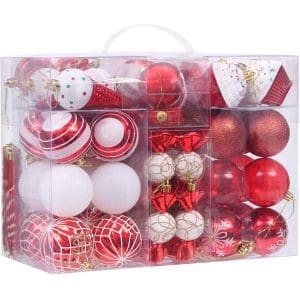 For those who have small children or a dog in the house, then they may knock things off the tree so you should take note of how high they can reach and begin adding the ornaments from this point. Try adding the garlands and the lights to the bottom section instead.
The larger ornaments should be spread evenly among the branches with the smaller pieces filling the gaps afterwards.
Indeed, you could invest in a shatterproof bauble set and these are available at different prices and sizes though we like the offering from Wayfair at £29.99.
Shatterproof baubles are also available on Amazon and we are rather taken by one pack of 80 baubles costing £35.95.
As this guide shows, you don't have to spend a fortune on Christmas tree decorations to create something that is lovely and impressive. We have also highlighted in another article that discount shops such as Poundland and Home Bargains are offering some very impressive decorations that are a match visually for more expensive items from upmarket stores such as Harrods.
These are well worth investigating for their potential and if your children or dog may destroy or damage the baubles, then they are easy and cheap to replace.
However, many people will be well-organised and have their exterior Christmas lights already in place and have a Christmas tree twinkling with lights.
For the rest of us, then sourcing a new tree and decorating it is something we leave until closer to the big day and the trendy colour schemes this year – if you need to know – are set to be silver and white, which tends to be a classic combination.