They are usually a cheap and tasty festive treat, and here we look at the best supermarket mince pies for 2021.
Most of the pie recipes used here are traditional, and most supermarkets are offering classic mince pies as well as gluten-free mince pies.
But who can resist a deep filled mince pie with butter shortcrust pastry?
Today, though, supermarkets are experimenting with their mincemeat filling and festive spices to make their Christmas treats even more attractive.
We have checked out everything from Tesco Finest mince pies to the M&S Collection mince pies and the Co-op's Irresistible All-butter Luxury Mince Pies.
There's a lot to recommend supermarket mince pies, particularly when they have lashings of brandy and port to help boost the flavours though we still love traditional vine fruits and some icing sugar on top.
For the best festive flavours and to learn which are the best supermarket mince pies for 2021, read on!
Tesco Finest Mince Pies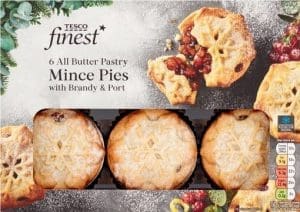 It was a close-run thing deciding which is the best supermarket mince pie for 2021, with Tesco Finest Mince Pies just edging it.
Not only is the all-butter pastry crumbly and rich, but the mincemeat is a gorgeous mix of glace cherries and plump vine fruits and then infused with the French brandy as well as ruby port.
We also like the festive spices and there's a twist of lemon zest too before everything is finished with a dusting of sugar.
The pies cost £2 for a pack of six and are just as delicious when eaten hot or cold.
Tesco also offers an excellent Finest Crumble Top mince pie and 'Plant Chef' mince pies for vegans.
And if you're entertaining, the Tesco Finest mini mince pies which come in a pack of 12 are also an excellent and very tasty offering.
Co-op Irresistible All Butter Pastry Luxury Mince Pies
Coming a close second with the Christmas.co.uk mince pie taste testers is a very flavoursome offering from Co-op.
Their Irresistible All Butter Pastry Luxury Mince Pies are definitely worth searching out and cost £2 for a pack of six.
The all-butter pastry contains a delicious mincemeat made with apple and vine fruits and it too has a brandy and port infusion.
There's a sweet dusting of sugar to help give this a flavour boost and the star topped pastry casing crumbles nicely.
Overall, this is a delicious festive offering that will win friends!
The Co-op also offers a pack of six cheaper mince pies, at £1 and while they are tasty, they lack the flavour of the luxury mince pies.
The supermarket also offers nine mini mince pies to help those who are entertaining, and they deliver a delicious mouthful that's a perfect match for a nice cup of tea.
Iceland Luxury All Butter Mince Pies
For some, this will be a surprising entry for our taste test to find the best supermarket mince pies.
We thought that the Iceland Luxury All Butter Mince Pies were worth every penny of the £1.89 it costs for a pack of six.
Delicious hot or cold, there's a delicious mincemeat filling with yuzu juice – a Japanese citrus fruit juice similar to mandarin orange being mixed with lemon.
The overall result is a nice mix of festive spices and a citrus taste that come together really well to deliver a flavoursome and well-balanced mince pie.
There's a nice icing sugar dusting for the star-shaped casing top and this is a well-made treat to enjoy.
Morrisons The Best Deep Filled Mince Pies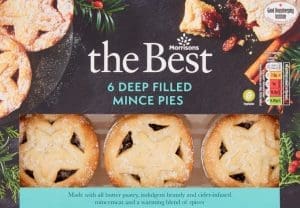 We absolutely loved the Morrisons The Best Deep Filled Mince Pies which has a chunkier mincemeat filling than most rivals.
There's a good taste of mixed spice, vanilla as well as apple and orange oil.
This is a satisfying mince pie to enjoy, and they cost £2 for a pack of six.
The all-butter pastry is well made, and the mincemeat has lots of cider and brandy infused flavours. The spices are also warming and Morrisons says that their mince pies are a premium offering. We would agree!
It's also an award winner, picking up a number of taste approved gongs and these mince pies are also suitable for vegetarians and have an impressive flavour.
Morrisons also offers a pack of bake at home mince pies that are very tasty, plus they have a standard box of mince pies at 99p for six.
And if you are entertaining, you can buy nine mini mince pies with their deep filled offering to impress.
Like many other supermarkets, there are also 'Free from' and gluten-free alternatives and vegetarian choices.
M&S Collection 6 Mince Pies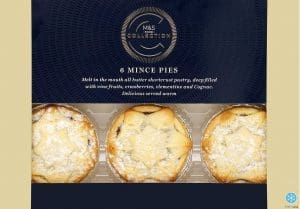 This is probably a disappointing result for M&S food lovers everywhere but we thought the M&S Collection mince pies were not as good as their rivals.
It costs £2.50 for a pack of six and while the pastry is genuinely melt in the mouth, including the star shape lid with icing sugar, the deep filled mincemeat contains cranberries, glace cherries and dried vine fruits didn't quite hit the mark – we were expecting something a tad more special.
There's also a splash of brandy, cider and cognac to deliver a rounded taste.
These pies can be served warm or cold and with a dollop of cream, they are more palatable.
For vegetarians, there's the M&S Plant Kitchen mince pies that are very tasty and there's a box of nine mini mince pies available for parties or for lots of visiting guests.
There's also their 'Made Without' range and the gluten-free mince pies are quite a nice alternative.
Sainsbury's Taste the Difference All Butter Mince Pies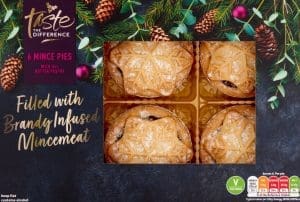 There's a nice blend of festive fruits, Christmas spices and aromatic peel – with lashings of brandy used to infuse the mincemeat.
It tastes quite decadent but these Sainsbury's Taste the Difference All-butter Mince Pies are a tasty treat and cost £1.50 for six.
Sainsbury's say their mince pies are made by a family with four generations of baking expertise and the pastry does melt in the mouth and the mincemeat filling is quite traditional – though it's not as good as the Tesco Finest offering.
If you like something with an unusual taste then the Sainsbury's Winter Berries, Clementine and Gin Mince Pies from the Taste the Difference range are worth trying out. They cost £2 for a pack of four but the gin really adds an unusual edge to the mincemeat filling.
Sainsbury's is also offering 'Cookie-cutter pies' as an alternative, along with traditional deep filled pies which cost £1 for a box of six.
For a really sweet mince pie, then the Sainsbury's iced top mince pies at £1.25 for six are also worth trying.
Aldi Specially Selected All Butter Classic Mince Pies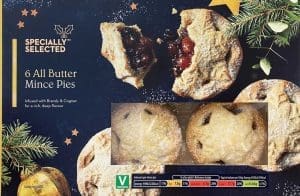 Aldi has an impressive range of mince pies available for 2021, and we rather like their Specially Selected All Butter Classic Mince Pies.
There's a deep mincemeat filling that has been infused with cognac and brandy to deliver a deep, rich flavour.
The star-shaped lid for the pie has been dusted with sugar and at £1.49 for six classic pies, these are a satisfactory offering.
There's plenty of taste and the texture and the all-butter casing crumbles nicely and we also like the 12 All-butter mini mince pies – a great compliment with a cup of tea if you have friends or family calling round.
Elsewhere on the Christmas.co.uk site we have already mentioned the excellent Aldi Specially Selected Frangipane Mince Pies but there's also a quite tasty 'Free From' mince pie offering that is a suitable gluten-free creation.
Aldi is also offering All-butter Sloe Gin mince tarts as a spin on mince pies, and they have some Specially Selected Exquisite Mini Mince Pies which cost £2.49 for a nine pack. These have been hand finished with three different toppings to impress.
Lidl Deluxe 6 All Butter Mince Pies
Another supermarket that doesn't quite reach the peak of offering ground-breaking mince pies but delivers a tasty creation, is Lidl and their Deluxe All Butter Mince Pies are worth trying.
The all-butter shortcrust pastry is nice and crumbly, and the contents have been deeply filled with a mincemeat that is lightly spiced and is dominated by plump vine fruits.
There's also a generous splash of cognac and the sweet dusting on the pastry crust underlines the pies' sweet offering.
The pies cost £1.49 for a pack of six and if you are a regular Lidl shopper, you won't be disappointed.
The mincemeat filling lacks the depth of flavour that is found in rival offerings but it's still a nice mince pie to enjoy with a cup of tea.
A better choice would be their Luxury Brandy Butter mince pies which cost £1.99 for a pack of six.
Again, there's a very crumbly all-butter shortcrust pastry that has been filled with mincemeat and then finished with a brandy flavour buttercream.
These are quite tasty for those who don't like too much pastry and there's enough about them to be a winner when offered to guests or family.