Searching for festive presents can be a chore but with this guide to the best Christmas hampers, you will be able to enjoy an easy win.
Not only are there a wide range of Christmas hampers available in the UK, but just about everyone will enjoy receiving one.
And since food and drink make up a big part of the festivities, a well-chosen hamper is a great way to deliver a festive treat for the recipient and their guests to enjoy.
Or you may decide that some of the Christmas hampers are so good that you buy one for yourself!
Buy the best Christmas hampers
You can buy the best Christmas hampers filled with bottles of wine, or sweet treats for someone you love who has a sweet tooth.
Food hampers from the likes of John Lewis and Fortnum & Mason are incredibly popular and include treats such as Christmas pudding, a mince pie selection and they are all contained in a stylish wicker hamper that the recipient can use in future.
These festive treats don't just focus on food and drinks, for Christmas Day, some hampers deliver a pick me up on Boxing Day too.
And don't forget that Christmas hampers make for a great gift for a loved one – plus, they are a sound choice as a corporate gift – because there will be something in the hamper that the recipient will love. If not, they can give what they don't like to friends and family.
Here, we check out some of the best Christmas hampers for 2021, including the offerings from John Lewis, and other foodie treats including olive oil hampers, gift boxes containing smoked salmon to deliver a classic Christmas that a loved one will enjoy.
Daylesford Organic truffle lovers hamper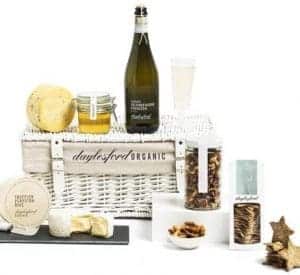 One of the most popular festive Christmas hamper providers every year is the range from Daylesford Organic. They utilise the very best in artisan drink and food from their organic farm to create luxury hampers to impress. This year's no different and along with the artisan cider and beer hamper and the Cotswold cheese and wine hamper, we rather liked the truffle lovers hamper at £125. This is a great creation for anybody who enjoys the heady flavours of truffle and includes a truffled single Gloucester cheese, a truffle honey jar and a mini truffled Penyston brie. The recipient also gets to enjoy a bottle of Prosecco, seeded star savoury biscuits and truffle and pecorino nuts. The truffle lovers hamper from Daylesford Organic sees the contents being packaged by hand in white wicker baskets and they are a great idea for Christmas presents.
Kylie Minogue Wild Rosé Christmas Hamper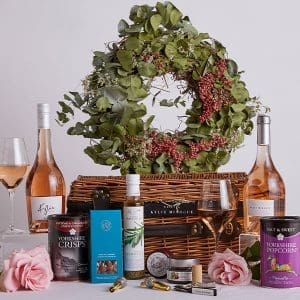 It's one of the most popular offerings for wine lovers, and the Kylie Minogue Wild Rosé Christmas Hamper is a limited edition to impress. There's a wicker hamper including hand-embroidered linen lining and there's a good range of food and wine chosen by the Queen of Disco. Contents include two bottles of Kylie's wine, a corkscrew and bespoke wine glasses along with a rosemary and sea salt chocolate bar and Yorkshire chardonnay crisps. The hamper costs £149 and it's an intriguing creation for those who like wine or love Kylie. Recipients also get an English farmhouse cheddar from the Fine Cheese Co, orange candy, sweet and salty popcorn and mandarin orange crisps. If there's a Kylie lover in your life, then this wild rose Christmas hamper will hit the right note.
Delicario Italian Gourmet Hamper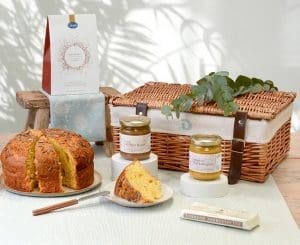 Delicaro is an online delicatessen that works with small-scale producers to deliver authentic regional European tasty delights. They have a range of hampers this Christmas and the Christmas.co.uk team was really taken with the Delicario Italian Gourmet Hamper which costs £60. From earthy saffron biscuits, there's something for those who like traditional Italian food but done really, really well. There's a Paté di Olive Rosate and aubergine in a cream. Each item is carefully wrapped in the hamper before sending and recipients also get to enjoy a very light Venetian focaccia and a traditional almond nougat. The Delicario hamper also stands out because there's a greeting card that's included and you can add a personal message to it.
Melrose and Morgan 12 Days of Christmas' hamper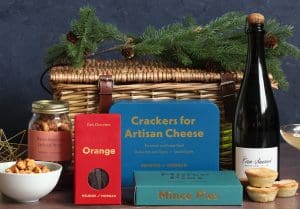 Another tasty treat when it comes to gourmet Christmas hampers comes from Melrose and Morgan, the modern grocer and kitchen based in North London. They've unveiled a new range of food and drink hampers for the festive season, and they can be bought online or in-store for delivery across the UK. If you like to enjoy some of the best produce from small-scale artisan producers, then they have a range of hampers to enjoy. For those who want to create an impression, they offer the '12 Days of Christmas hamper' at £595 which delivers ultimate luxury. Along with six fine European wines, a lovely champagne, and a bottle of Negroni, this is an excellent offering. Along with Secret Smokehouse smoked salmon, cured charcuterie, a festive cheeseboard, truffle crisps and two types of chutney, there's something for everyone. For the sweet-toothed recipient, there's candied chocolate ginger, sea salt caramel and dark chocolate coated oranges. The hamper also includes Christmas cake and traditional mince pies, plus marmalade and jams. For the money, this is a great way to enjoy Christmas.
Black Mountains' Gourmet Deli Gift Hamper
One of the bestselling choices from the Black Mountains Smokery is the gourmet deli gift hamper at £95. This is a great hamper choice for a discerning foodie who gets to enjoy sliced smoked salmon, oak roasted salmon, duck liver pate along with smoked chicken breast and duck breast. There are various chutneys, crackers and a caramel sauce to enjoy plus chocolate coated coffee beans. The firm offers hampers in three price categories and it's worth checking out the £49 hamper boxes and the £75 gift box hampers. Everything is freshly prepared and then delivered in chilled packaging. It's an unusual and tasty creation.
John Lewis & Partners Winter Warmer Christmas Basket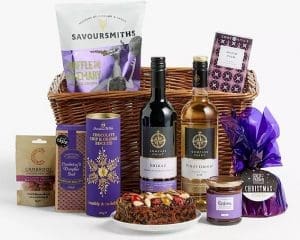 Another popular outlet for Christmas hampers is John Lewis and Partners and their winter warmer Christmas basket which is a bestseller for the firm. It costs £75 and is a stylish offering that includes wine, almonds and savoury biscuits. There is also a tasty Christmas pudding, various biscuits, chocolate bars and a Christmas chutney. This is a tasty and stylish offering delivered in a woven basket that can be reused for future storage purposes. John Lewis also offers a seasonal cheer gift box at £50, a Christmas ladder box at £100, and a stylish festive treats hamper at £60. Whatever your needs when it comes to Christmas hampers, John Lewis has something for you.
Hotel Chocolat 'Eat, drink and be merry hamper'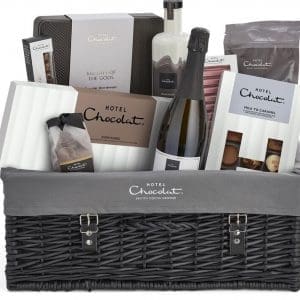 As should be expected, chocolate lovers are well-catered for this Christmas with a great range from Hotel Chocolat. We love their 'Eat, drink and be merry' hamper which costs £150 and has great reviews on the site from recipients. For a decadent Christmas, the basket includes chocolate macarons, chocolate puddles and a milk caramel selection box. There are other chocolate choices too including a hot chocolate drink, chocolate cream and biscuits, plus there's a bottle of Prosecco to enjoy. It's a great offering and a tasty one with quality chocolate in a lovely hamper. Hotel Chocolat has other festive delights this year including a chocolate wreath box, lots of selection boxes and a grand advent calendar.
More best Christmas hampers for 2021 to consider
With so many great Christmas hampers available, it's worth giving some other impressive creations a mention. Among them is Honey & Co who have restaurants dishing up middle eastern food and an online shop. Among their Christmas hampers this year is a mulled wine hamper offering at £55. It includes a fig, chocolate and hazelnut Christmas cake, a small bottle of brandy, a bottle of red wine and a mulled wine spice mix. There's also a giant gingerbread cookie.
Another restaurant offering a range of hampers is Jikoni with its 'Joy at Home' hamper at £270. It offers a bottle of English sparkling wine, a Bordeaux and a Grand Cru. There are also four jars of chutney, a tote bag and the restaurant's block print table napkins and tablecloths. The restaurant also adds its cookbook, a selection of nut mix and paan and cashew fudge.
A great alternative for those who love unusual gifts at Christmas comes from Yorkshire Rapeseed Oil. This family-run business offers award-winning cold-pressed Yorkshire rapeseed oil with a range of hampers including a 'Build your own gift box' from £11.50. You essentially mix-and-match the various rapeseed oils, plus dressings, to create a great gift for those who like to cook and love flavour.
Corporate Christmas hampers are also big business and growing in popularity because they are an ideal way to reward staff and to present at events or meetings. Peach Hampers offers a great range including the opportunity of branding and personalising the hamper. Among their choices is the Christmas cracker hamper at £47.50 with the option of choosing the drink you want, including alcohol-free choices. There are lots of chocolate and a Christmas spiced fudge, jams and mince pies that are presented in a recycled black hamper box.
Another unusual choice as a Christmas hamper is the 'Movie marathon hamper' from Healthy Nibbles. It costs £20 and is a mix of sweet and salty favours for food lovers. Recipients get to enjoy sweets and chocolate that will see them enjoy binge-watching box sets or watching lots of films in one day. Healthy Nibbles aims to deliver healthy snacks that have no artificial colours or hydrated fats sweeteners or preservatives.
There's also a reminder too from Butlers Farmhouse Cheeses that you don't have to spend a fortune on Christmas hampers. Their website has a range of Christmas hampers but their perfect British cheeseboard at £5 is certainly worth considering if there's someone in your life who loves different varieties of cheese. The cheeseboard contains three excellent choices with Button Mill, Bluestacks Blue and Sunday Best to be savoured.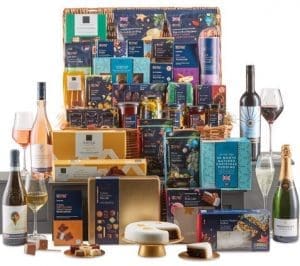 Finally, we have to highlight the excellent offering from Aldi this year with a range of hampers to impress. They really have shaken up the market with some well-priced offerings and there are nine hampers to choose from, starting £19.99 – that's 50% cheaper than the cheapest hamper from Fortnum & Mason's. Last year, Aldi's hampers sold out in record time and buyers get to choose from the 'Ultimate celebration hamper' that is packed with chocolates, cakes and wine and there's the Sommelier's six wines hamper and the 'Ultimate decadence hamper'. All in all, Aldi has an impressive range to meet various budgets and is certainly worth considering.