Morrisons Christmas food – the supermarket has revealed a 10% discount scheme for teachers as well as school staff – as a 'thank you' for looking after the country's school children during the Covid-19 pandemic.
The Morrisons Christmas food range for 2020 offers something for everyone to make this a tasty festive season to celebrate.
The supermarket chain is offering several delicious starters including mini dressed crabs which consists of small crab shells being filled with crab pate and then topped with crab meat.
There's also the impressive looking turkey cushion which sees Christmas dinner guests being served with a turkey that is layered with bacon and pork stuffing, and then hand-wrapped with streaky bacon.
Also, Morrisons is not forgetting vegans in 2020 – and those who would prefer a plant-based Christmas dinner this year.
Beefless Wellington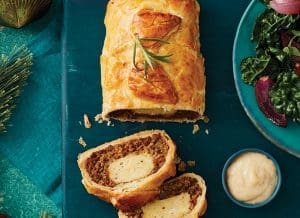 There's a beefless Wellington which is a mix an apricot, cranberry and chestnut duxelles with a wholegrain mustard and wrapped in a lovely flaky pastry.
Or there's the Morrisons Best Christmas tarte which sees various root vegetables and a creamy vegan cheese and then topped with apple sauce.
Other the delights include no-duck spring rolls, no-duck tempura and vegan gingerbread doughnuts.
There's also meat-free pigs in blankets and a vegan trifle to look forward to.
Christmas dinner puddings from Morrisons
Christmas dinner puddings from Morrisons this year sees a nice range on offer – including a Belgian chocolate orange pudding that features a hidden caramel sauce centre that melts when cooked.
There's also the store's Best vegan trifle, a first for Morrisons, which promises to be a tasty delight.
Diners can also enjoy festive star-shaped doughnuts as part of the Morrisons Christmas food range this year. These tasty treats are dusted with icing sugar and available in packs of two.
Christmas food range from Morrisons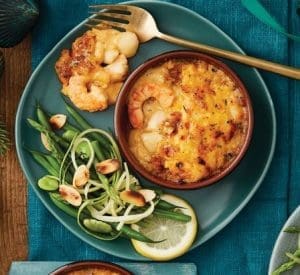 Most of the Christmas food range from Morrisons is available from November, and we also enjoyed their Best Seafood Thermidors.
These come in a pack of two and will be hugely enjoyable for seafood lovers featuring scallops and king prawns in creamy and rich Thermidor source – which also has a brandy and white wine.
This delicious creation is then topped with a cheesy crumb.
Enjoy a cheese board at Christmas
A lot of festive diners like to enjoy a cheese board at Christmas, and this year Morrisons is offering a crumbly Wensleydale cheese but with ribbons of salted caramel running through it.
There's no doubt that lots of people enjoy salted caramel and this addition to Wensleydale cheese offers a touch of luxury that many cheese lovers will love. Or maybe not, as many people may think this is a somewhat bizarre offering.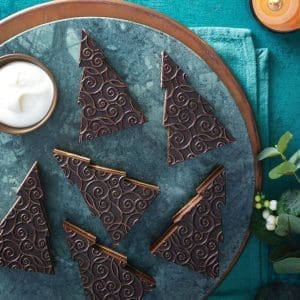 If that doesn't tickle your tastebuds, then how about the best Christmas chocolate and orange mini trees?
This tasty offering features layers of cocoa sponge with a Belgian dark chocolate mousse and an orange flavoured moose. It is finished with a layer of solid dark Belgian chocolate and a bronze design.
It's likely to be a conversation starter and these will not, we promise, last for long after being placed on the dinner table!
Sticky toffee bowl dessert
There's also a sticky toffee bowl dessert available that will be a great dish to serve up to guests with a (very) sweet tooth.
Morrisons have created a sticky toffee version of what is a classic trifle with sticky toffee sauce, vanilla custard, sponge, whipped cream and golden balls.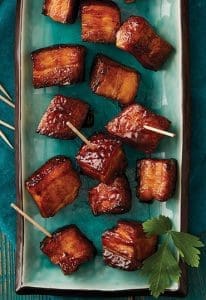 And for those who are entertaining this year – Covid-19 lockdown restrictions permitting, of course! – then Morrisons is also offering a tasty range of mini pies.
These bite-size delights include chicken and ham and also steak and ale creations.
Morrisons is also dishing up a range of mini pork belly bites which will look great on a Christmas sharing plate.
These delicious treats have been slow-cooked and then smothered with a barbecue sticky sauce.
Morrisons best stuffed free range turkey crown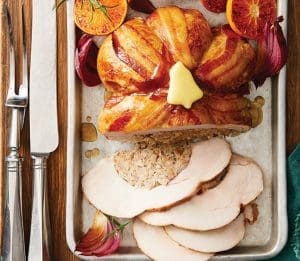 Let's not forget the tasty main course for Christmas dinner, and the Morrisons best stuffed free range turkey crown is a delight.
For many people, a Christmas dinner is not dinner without turkey, and this huge crown is topped with a smoked bacon lattice and has been stuffed with a pork, sage and onion stuffing.
Morrisons is warning though that this particular dish will only be available from December 19 and will weigh from 1.8 kg to 2.2 kg and should feed between five and eight people.
However, we think lots of people will be tempted by turkey cushion and this too is available from December 19.
Other meat options for Christmas dinner
Morrisons is also offering an easy carve duck joint that is filled with a plum and pork stuffing and then served with a caramelised onion and sauce as part of their other meat options for Christmas dinner.
And if you want to try something different, there's a sweet cured gammon joint, complete with a spiced glaze, with a star anise and candid orange slice as the topping.
There's even a boar meat dish available that has been hand-rolled with a fennel, chilli and lemon stuffing and is served with a fennel, lemon and mustard sauce.
When it comes to festive delights, we think the Morrisons Christmas food range is worth a closer look!
More information
If you like the look and sound of the Morrisons Christmas food range for 2020, then you can find a Morrisons supermarket near you by using their online store finder. There are more than 500 stores available!