It's an increasingly popular event which sees millions of us Brits taking part and there will be lots of people searching online asking, 'When is Christmas Jumper Day 2021?'
One reason for this is that it's a great way to raise money to help Save the Children, a charity that is dedicated to helping children around the world.
And this year, celebrities including Holly Willoughby, Emma Bunton and Kate Garraway have teamed up to lend their support to the popular event.
Indeed, last year more than 4 million people decided to wear jumpers to support the cause, says the charity.
This year, the charity says that participants should shop for second hand garments, upcycle old jumpers or dig out their vintage jumpers.
And after a year which saw many of us wearing leisurewear, this could be your opportunity to wear bright and bold winter woollies.
This is last year's advert for Christmas Jumper Day – see how easy it is to take part!
How to take part in Christmas Jumper Day 2021
The process to take part in Christmas Jumper Day this year is straightforward.
You simply need to wear a festive jumper to school or work – basically, any organisation that is participating in the event – and donate £2 to do so. For those in school, it's £1.
Your £2 donation will help keep medical clinics clean, while a £10 donation will pay for five children to have antibiotics that will help them beat malnutrition. £60 will help buy toys and books to support those children from England's struggling families, while £100 could help pay for a first aid kit for a Somalia health worker.
You can wear any type of Christmas jumper, of course, the sillier your jumper is, the better it will be.
And by donning festive garb, you will be helping Save the Children too.
You can also donate more than £2 should you want to, or even denote less but the main aim is to take part in Christmas Jumper Day whatever your financial circumstances are.
Also, there's no reason why you should not hold your Christmas Jumper Day on another more convenient date – or celebrate on more than one day if you choose to.
How many people take part in Christmas Jumper Day?
There's no doubt that millions of people take part in Christmas Jumper Day every year because it's a worthy cause and a great way to help.
There's even a counter on the Save the Children website that shows how many homes and workplaces, as well as youth groups and schools, have signed up to take part.
There's also a counter showing how many people look set to wear their best Christmas Jumper this year.
When we last checked, there were nearly 2.5 million people signing up to take part – and you can do too.
When did Christmas Jumper Day begin?
Christmas Jumper Day has grown in popularity since it first took place on 14 December 2012.
It was the idea of Save the Children to highlight the plight of millions of children in poverty around the world.
Since then, it has grown in popularity and has raised more than £27 million for children in the UK and around the world.
Last year, around 15,000 schools took part and more than 4 million people put on their festive jumpers for a great cause.
Register for this year's Christmas Jumper Day here.
Why take part in Christmas Jumper Day 2021?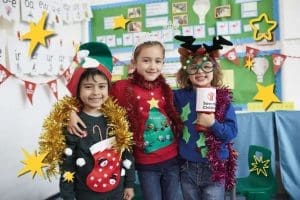 Apart from having fun with school friends, workmates and colleagues, there's a good reason for taking part in Christmas Jumper Day 2021.
And that's to support the great work that the save the children charity does around the world helping those who are living in poverty.
The charity helps to deliver education, shelter and food for children with the aim of giving them a better quality of life.
The charity also aims to ensure that those children have access to medical treatment, which includes vaccinations, to keep them safe from infection and disease.
And if your workplace is taking part this year, it might be an idea to offer a prize for the best festive jumper.
This encourages the bravest to wear garish garments and raise money through sponsorship.
When is Christmas Jumper Day 2021?
The day that has been dedicated as Christmas Jumper Day is Friday 10 December.
You can donate the money to save the children using their website, or you can donate £5 by simply texting JINGLE to 70050.
If you are organising Christmas Jumper Day at your workplace or school, and you simply sign up for the event and save the children will send you a text code for your team.
This will able you to pay the money you raise in a Covid-friendly way.
You can also claim a Just Giving page which has a QR code that also enables money raising to be done safely.
You can also opt to sign up for your own pay-in form on the Save the Children website.
There's a great page of frequently asked questions about Christmas Jumper Day 2021 on their website for any questions that need to be clarified.