Annnnd it's THAT time of year. The search for the best Christmas jumpers for women. It's a strange phenomenon, the festive pullover. They used to be itchy, scratchy and seriously naff. And now? Now, they are EVERYWHERE!
From the fantastic Save the Children Christmas Jumper Day on December 13th to your friend turning up to a night out with a flashing reindeer nose attached to her top, and she's wearing it in an entirely unironic way.
Me? I love a sweatshirt with a silver sequin festive slogan across the front. My daughter? She'll happily wear a big, chunky knit with a bold Christmas trees design and lashings of glitter.
Happily, there's a style of Christmas Jumper out there for all women. You just need to find it! Funnily enough, that's exactly what we've done. Here's a guide to the best snazzy knits to be found in 2019.
Chic and tasteful
Sequin snowflake sweatshirt £30 from Next
This blush pink sweatshirt would work all winter long. The darker pink sequin snowflake is pretty and festive, I love the placement. 100% cotton is breathable and much better if you'll be at an indoor event. Buy yours here.
Personalised Fairy Tale of New York sweater £28 from NotOnTheHighStreet.com
Inspired by the classic Christmas song, this sweater is gorgeous. Classic black with metallic silver embroidery depicting the New York skyline. Personalise it with your initials placed under the skyscrapers. Place your order here.
Joules Doggy Reindeer jumper £49.95 from John Lewis
Dog lovers will adore this cute jumper featuring a happy pooch in reindeer fancy dress and in a jolly red. It's a little pricey but Joules is a great quality brand so it this top will last for years. Follow this link to buy one.
Star jumper £98.00 from The White Company
Muted, stylish and fantastic quality. This beauty is so tasteful it almost isn't a Christmas jumper. The white and, ever so slightly sparkly, silver stars light up the black night sky base colour. Made from an insulating but breathable mix of wool and cotton, this jumper is super warm but still lightweight. Buy yours here.
Beautifully over the top
Personalised Snow Globe Jumper £38.00 from NotOnTheHighStreet.com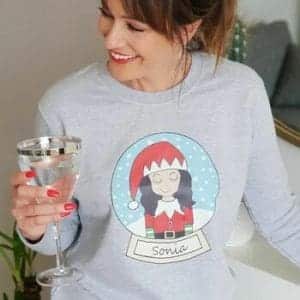 SO cool! This marl grey sweater is made fabulous with its ingenious design. Create an elf that looks like you, add your name and 'Voila!' she becomes part of the snow globe. It's made from a cotton mix so is breathable. Do be careful with the generous sizes though. Go down a dress size for a more fitted look. Order here.
Aperol Spritz Christmas Cocktail jumper £29.99 from Etsy.com
Christmas is a great excuse for a cocktail or three and this cheeky sweater celebrates that. A cotton mix with a brushed fleece lining makes this a cosy item for sipping mulled wine at a Christmas market. It also comes in four colours, black, green, navy and red. Choose yours here.
Robin jumper £35.00 from Yumi
This belter from Yumi is one of the few fitted Christmas jumpers we found. It's made from a slightly shiny, silky material and hugs the figure. In a shade of bright scarlet with two robins sitting on a piece of holly, this says Christmas without being obvious. The silver embellishments really catch the light and will make you stand out in a crowd. Buy yours here.
Pom Pom Reindeer jumper £25 from Marks and Spencer
The design of this is fun. Bright red Pom Poms create Rudolph nose and add a pop of colour to the muted grey background. With a smattering of gold sequins and an all-over repeating pattern, this is bold without being ridiculous. Head here to invest.
Quirky Christmas jumpers for women
Attenbrrrrr! £39.99 Christmas jumper from notjustclothing.co.uk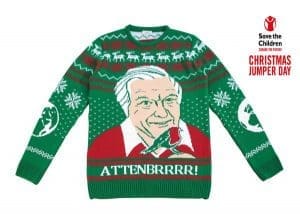 Possibly the best Christmas jumper ever created! An absolute must for fans of our National Treasure. This is from a range of gloriously odd festive top that was designed with charity in mind. Buy one and choose which charity you want to donate to as part of your purchase. Get involved here.
Harry Potter Christmas Tree jumper £24.99 from IWOOT.com
If you're a Harry Potter geek this sweatshirt is perfect for you. It's black with a fun print of a cartoon Harry, Ron and Hermione underneath the giant Hogwarts Christmas Tree. They are a small fit so size up if you like your sweaters to be baggy. Order here.
'Happy Birthday Jesus' Christmas jumper £39.99 from FunkyChristmasJumpers.co.uk
Let's not forget whose birthday it is! This jumper will be a talking point wherever you wear it. The fun design and bold colours will turn heads and it's a welcome change from endless Santa faces and Christmas Trees. Pick yours up here before they sell out.
'My Xmas Jumper' sweatshirt £24.99 from Grindstore.com
The ultimate Christmas jumper for people who really can't be bothered with it all. The fit is slouchy and designed for lounging around in. It's black, the print basic and they couldn't even be bothered to spell Christmas properly. We love the sentiment.
Naughty but nice
Christmas Puddings jumper £12.99 from BooHoo.com
'Hands off my Christmas Puddings' with cheekily placed pudding designs over each boob is an eye-catching look that will make others smile. Made from machine washable acrylic that might get a bit warm if worn inside. That said it's a total bargain and is a good option for mooching around a Christmas market on a chilly day. Grab yours here.
Nipple tassels jumper £25.00 from Etsy.com
Simply awesome! Burlesque at Christmas, what's not to love?! I especially liked the green sweater as the nipple decorations really stand out. Handmade from 100% cotton by an artisan so you can do your bit for the environment and small business too. Order here.
'On the Naughty List' Jumper £32.00 from NotOnTheHighStreet.com
Yeah! Us too! This 'Totally on the Naughty List' jumper is a fab idea for someone who got a little too drunk at the work's night out. This soft and snuggly sweater comes in several colours and is tastefully designed. Order yours here.
Ugly and obnoxious Christmas jumpers for women
Christmas Present Bow £46.51 from TipsyElves.com
A bright green sweater in velour fabric with a gold lame 3D bow across the front? Too much? You bet and it's amazing! There's even a plastic pocket for your 'To/ From' tag. Make yourself look like you need unwrapping by ordering here.
Tinsel and bauble cardigan £50.45 from TipsyElves.com
Ugly beautiful is a thing. Green and red chunky knit, matching baubles and silver tinsel, this is as tacky as it can possibly get. You will turn heads at any Christmas party in this monstrosity! Order here.
 'Grandma got run over' by a reindeer jumper £38.99 from fun.co.uk
This is an odd theme for a Christmas jumper and is best avoided at a family Christmas dinner. Based on a famous song this is likely to be unique at most parties. Made from 100% cotton so it's very breathable for a big jumper. The knitted-in pattern means it's easy to wash too. Buy yours here.