Growing numbers of families are looking to start their festive celebrations early this year which means many people will want to know what to put in a Christmas Eve box.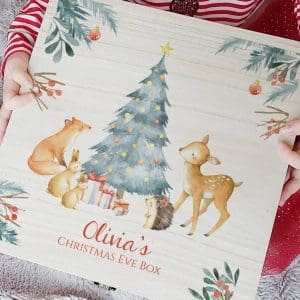 One reason why a Christmas Eve box has taken off is to give children something to look forward to rather than just having Santa visit on Christmas Day.
These boxes are given on Christmas Eve to get a family into the festive spirit for the magic of Christmas.
This is a growing trend and it's believed to be based on the German Christmas tradition of celebrating Christmas on the 24th and not on 25 December.
The aim of a Christmas Eve box
However, rather than filling the box with big, expensive gifts, the aim of a Christmas Eve box is to fill it with items that will help raise excitement levels for the next day and these boxes can be used year after year.
And since you should not put expensive items in there since Christmas is already expensive so there's no pressure to show off with a fancy Christmas Eve box.
This newly adopted tradition for Brits means children no longer have to stay up late waiting for Father Christmas and everyone can join in the fun.
By doing so, you will be creating a family tradition and offering small gifts on the night before Christmas to make that evening an extra special one as you all snuggle together – matching pyjamas is a very popular item to add – and prepare for Santa and his reindeer to visit.
oooooooooooooooo
How to Make the Perfect Christmas Eve Box from TV's This Morning
Here, Holly and Phil show you don't have to spend a fortune buying a Christmas Eve box – you can make them without spending a penny.
There's also a guide to items you can add to the box – and most of these are homemade too. Even the reindeer food which will be important when Santa calls.
ooooooooooooooooo
What to put in a Christmas Eve box for children
As mentioned, you don't have to spend a fortune on presents for your Christmas Eve box for children, this is just something for a child to enjoy before Santa delivers his presents.
This means that you should aim to buy a small selection of festive gifts including:
Pyjamas: Matching pyjamas for all the family are growing in popularity
Chocolate: Including chocolate stirrers for a mug of chocolate
Books: Always a popular choice and children's books aren't too expensive
Games: Opt for games that others can join in with such as board games
Small toys: Santa is bringing the big stuff in a few hours, so don't buy anything that will overshadow Santa's efforts.
To help, Argos offers a great selection of Christmas gifts for less than £10 including Spider-Man walkie-talkies, nail art, a facemask pampering kit and the Original Sea Monkeys Ocean Zoo.
There's also Meccano, a smartphone movie projector and a smartphone ring light to help get those selfies just right!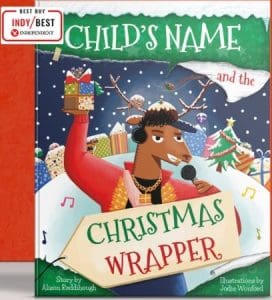 There's no reason why you shouldn't make this a special event by having a personalised Christmas book with a child's name on the cover.
Tickledmoon.com offer two titles for the festive season, 'The Christmas Wrapper' and 'The Christmas Boo!'.
These are great treats for very young children because the names used in the book are the recipient's name, as well as their siblings and pets.
This makes for a great Christmas Eve box present for children.
What to put in a Christmas Eve box for adults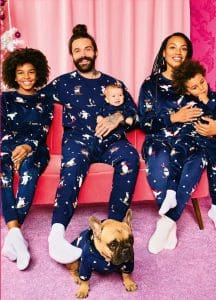 The fun of giving and receiving a Christmas Eve box is not just reserved for children, they are also a nice touch to give to adults.
Most Christmas Eve boxes for adults tend to contain practical items and fun stuff but this is also a great chance to offer a personalised item.
This means that you could buy an engraved piece of jewellery or a framed photograph of your family to place in the box.
Otherwise, you could add:
Socks: Always a festive favourite
Slippers: Crazy, festive ones or lovely fleece-lined slippers to keep feet toasty warm
Board game: A great board game for all family members to join in with
Christmas jumper: A stylish or wacky Christmas jumper to wear the next day
Pyjamas: Don't forget if buying matching pyjamas for children, then you could add these for adults too. Primark is among those offering matching pyjamas for the whole family.
Beauty products and toiletries: Buy your partner's favourite beauty or toiletry items
Scented candles: There are some wonderful festive scented candles available
A gift card: There's nothing wrong with buying a gift card so the recipient can buy something to remember their Christmas with.
This is also a great opportunity to add personalised items such as a mug which will be useful if you make hot chocolate drinks with chocolate stirrers!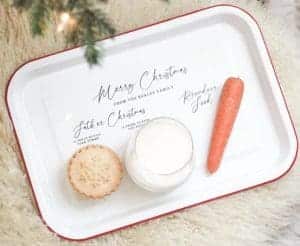 Here at Christmas.co.uk, we love this Juniper Studio Christmas Eve tray as a lovely keepsake.
The fantastic design leaves a space for a tree and drink for Father Christmas, plus there's a place for food for Santa's reindeer.
The tray is also personalised and while it costs £35, it is a pricey Christmas Eve box addition, but it will become a treasured part of any family's traditional Christmas Eve plans.
oooooooooooo
Christmas Eve Box Ideas – What to Put in a Christmas Eve Box from Mumsnet
Here, the Mumsnet team explain what a Christmas Eve box is and what should go in it as box fillers for their YouTube video, 'Christmas Eve Box Ideas – What to Put in a Christmas Eve Box'.
The presenter also highlights that a well-prepared box is a great way to enjoy 'a quiet night, ahead of the big day' as it distracts the recipients!
There's a good round-up of potential presents to add and the film highlights that parents don't have to spend a fortune and a lot of what can be gifted can be done for free.
ooooooooooooooo
Christmas eve box ideas for pets
Since most families will want to get their furry friend into the Christmas spirit, then you could add a box for them.
As with children, you could add their favourite toys and treats so they can join in the fun.
Christmas Eve box ideas for pets will include:
Dog beds: A great way to celebrate is to buy your pet a new bed
Cat beds: There's no reason for your cat to miss out on the fun with a new bed
Tennis balls or a Nerf dog ball blaster: All pooches enjoy chasing balls and with a Nerf gun you can easily have your pooch do all the running
Cat scratcher: There are some excellent cat scratchers available to make for the perfect gift.
Small pets and fish can also be catered for with either a pop-up rabbit tunnel and tent, or a sleepy tunnel for your pets to snuggle each other.
This may also be the time to consider a fishbowl set for a child to care for a fish in their room.
Personalised Christmas Eve boxes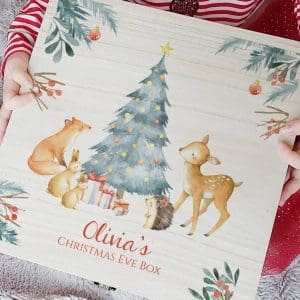 Since the tradition of giving Christmas Eve boxes is growing, there's also a trend for personalised boxes too.
This is a great opportunity – especially if this is a child's first Christmas – to offer them a personalised Christmas Eve box that comes complete with their name and favourite cartoon character, for example, Peppa Pig.
For a child's Christmas Eve box, you could add a very special scrapbook as a memento that records your baby's first months and years which will also bring fond memories as they grow older.
Making a scrapbook could become a family tradition on Christmas Eve if the children put their own scrapbooks together.
You can buy an all-purpose scrapbook with a ribbon tie for starting a scrapbook from various retailers, including Ryman.
And this is also a great opportunity to paint your own Christmas Eve box children can do this while watching a favourite festive film or TV programme.
Don't forget too that there are some excellent creations from the likes of Not on the High Street and the excellent creative marketplace, Etsy.