If you enjoy Christmas baking, these great recipes for cakes are a fun way to get your family together and create something impressive.
Baking at Christmas is also a great time to offer homemade and personalised treats to give away as gifts to friends and family.
The best thing about festive baking is that there are so many great, quick and easy recipes to follow and also more ambitious ones too.
Among the Christmas baking ideas are a number of festive solutions for a fruitcake and edible Christmas gifts.
We've spoken with bakers who have offered their favourite Christmas cake recipes and elsewhere on the Christmas.co.uk site, we've looked at crumbly mince pie recipes, delicious shortcrust pastry offerings, gluten-free creations and showstopping Christmas puddings.
Easy Christmas cake recipe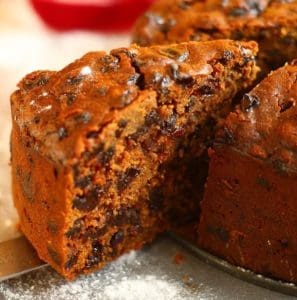 First up, is this easy Christmas cake recipe created by Jenny Walters.
It's not only a tasty creation but involves no creaming of butter or soaking of fruits.
Jenny says it's a 'bung it all in' recipe.
This is a super easy, delicious and fuss-free creation that can be made in the run-up to Christmas and if you make it five or six weeks early, you simply feed the cake brandy once a week so it's a tasty and flavoursome offering.
The big secret to the cake's moistness and richness is down to the simmering of the butter, fruits, zest, sugar, treacle and spices before the dry ingredients are added.
It's this method that helps to plump and soften the cake's dried fruit and you don't have to get organised the night before.
There's a photographic step-by-step process and it really is a straightforward cake to make.
Jenny also offers other Christmas ideas, including Christmas cookies, easy Danish cinnamon rolls and mincemeat muffins.
oooooooooooooooooooo
Christmas baking: A traditional Christmas Cake Recipe by Good Housekeeping UK
Some people may be put off from making a traditional Christmas cake, but this video on YouTube from Good Housekeeping shows how easy it can be.
This is a fool-proof recipe for fruitcake, and it is easy to follow.
There are also some very good shortcuts to achieving a great tasting Christmas cake without waiting days for the fruit to absorb the alcohol.
oooooooooooooooooooooo
Best Ever Pound Cake Family Recipe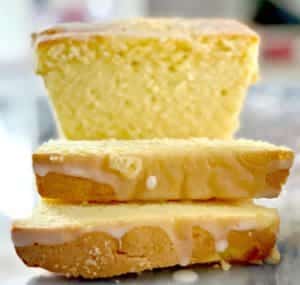 Here, Brooke Fedigan shares a popular recipe for a pound cake that has been passed down the generations in her family.
It's not only easy to bake, but it delivers excellent results and was a creation from Aunt Dot who baked these cakes every Christmas.
The cakes are dense creations because a pound of butter is used, along with a pound of sugar and a pound of flour.
Her aunt would bake a batch of these cakes and send them off to family and friends, carefully wrapped.
Brooke explains about adding lemon juice and zest plus, there's a secret ingredient that delivers a flavoursome cake.
So, while it's not a traditional Christmas cake, it is a very tasty non-fruitcake for everyone to enjoy.
Brooke also offers up an easy homemade peppermint patty recipe which are also easy to create and delivers a sweet dessert to impress.
Gingerbread Cake with Sugared Cranberries and Lemon Glaze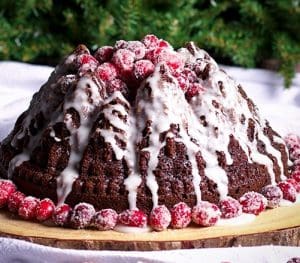 Gingerbread cake and figures are a popular choice at Christmas, and here Rebecca Blackwell has created an impressive version.
The recipe for her gingerbread cake itself is rich and packed with flavours of cinnamon, molasses, allspice and ginger.
The cake's richness is complimented with sugared cranberries and a tart lemon glaze.
As Rebecca points out, some people may believe that gingerbread cake can be flavourless and dry, but this cake really isn't.
One of the reasons for this is that Rebecca uses oil and butter and there's also a need for a cup of coffee which helps with the flavours without delivering a taste of coffee.
The molasses also adds flavour but doesn't make the cake too sweet and the pudding-like batter is easy to work with.
We have also featured Rebecca's frosted brown butter citrus shortbread Christmas cookies on another Christmas.co.uk article and mention it here because these cookies are easy to make, but they are also impressive when finished.
We also love Rebecca's Christmas Funfetti cookies that have a soft and chewy centre and are packed with flavours and topped with festive sprinkles.
oooooooooooo
Christmas baking recipes from BBC Food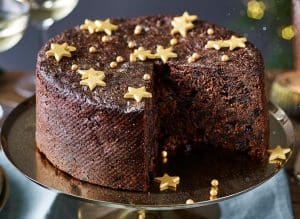 We also love the Christmas baking recipes from BBC Food with great ideas for cakes, mince pies and cupcakes.
There's an excellent chocolate fruit cake from Nigella Lawson and Mary Berry offers a classic Christmas cake recipe and a Christmas Genoa cake.
All three are tasty creations, and we were also impressed with Sarah Cook's vegan Christmas cake.
These are tried and tested recipes that will show off your culinary skills!
oooooooooooooo
Tiramisu Swiss Roll Cake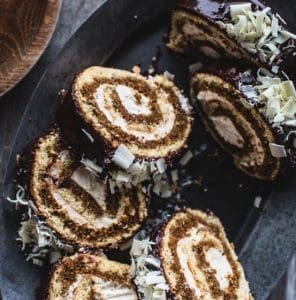 If you like Swiss roll and tiramisu, this creation from Izy Hossack is a real treat.
This Tiramasu Swiss roll cake has a very nice festive spin and is easy to make.
On Izy's blog, she offers a photographic guide to putting the ingredients together, even the rolling out of the mixture.
The idea came about when Lurpak set a challenge to reinvent a popular Christmas dish, and this was Izy's response.
Apart from Marsala wine for the coffee soak, most kitchen cupboards will have most of the ingredients and it's a straightforward cake to put together.
The white chocolate shavings really create a snowy landscape to offset what is a boozy and delicious cake to enjoy.
Izy also offers up a great recipe for vegan chocolate yule log, as well as chocolate crinkle cookies and a great idea for Nutella and salted caramel stuffed double chocolate chip cookies.
ooooooooooooo
How to Make a Christmas Cake by Tesco Food
Here is another YouTube video on how to make a Christmas cake from the talented folks at Tesco Food.
This is a festively flavoured classic Christmas cake that is surprisingly easy to make.
There's a long list of ingredients and after the dried fruit has been mixed and cherries and cranberries added, you simply add cherry brandy and leave overnight to soak.
The process then shows how to line cake tins and put everything else together before baking.
There's no voice-over for this YouTube video and the Tesco Food team simply use subtitles to explain in a simple way how you too can make a great tasting Christmas cake.
oooooooooooooo
Polish gingerbread loaf cake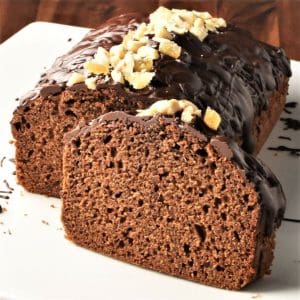 Gingerbread is a common part of the festivities for many people, and this Polish gingerbread loaf cake from Monika is a great tasting cake to serve up.
It's called Piernik in Poland and it's a spiced festive bake that is not too sweet and has a chocolate glaze topping.
Monika says this creation will stay fresh for several days and this is a gingerbread loaf that is traditional across Europe.
The spices in the cake include nutmeg, cloves, ginger and cinnamon.
Depending on the country, bakers will add ground coriander, allspice, cocoa powder and even black pepper.
There's a simple list of ingredients including butter, honey, eggs and brown sugar.
The topping is made with milk and dark chocolate, as well as butter.
Monika offers a great photo guide to putting the ingredients together in her step-by-step instructions.
This is a quick and easy cake to make and there's also a guide on how to decorate the gingerbread loaf cake.
In this instance, candied ginger and chopped hazelnuts are also added but you could opt to use dried fruit or even mixed nuts.
There's also a very helpful printout recipe on the website and the cake will take just over an hour to cook and deliver 10 slices.
Monika also offers a festive holiday coleslaw salad recipe on her website, along with a quick vegetarian Christmas stuffing recipe and Christmas truffles with chestnuts.
Christmas Tree Tear and Share Cupcakes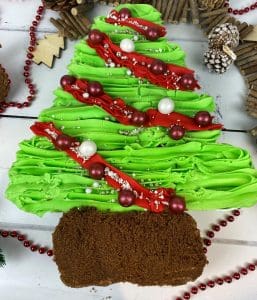 We have mentioned this excellent Christmas tree tear and share cupcake recipe elsewhere on Christmas.co.uk, but we think it's worth mentioning again for this Christmas cake recipe article.
It's not only delicious and festive, but it's also really easy to make and Sarah adds a step-by-step process to delivering an impressive Christmas tree.
The cupcakes are allowed to cool and while doing so Sarah makes her buttercream topping and adds a little food colouring for the green effect, plus a dollop of red colouring for the ribbon.
Putting the tree together is straightforward, you simply start with one cupcake at the top, then place two underneath, then three and so on.
From there, Sarah pipes the buttercream onto her cupcakes and finishes with the red buttercream to create the dazzling look.
You then add sprinkles and/or metallic silver sprinkles.
The end result is an eye-catching display that pulls apart easily for family and/or guests to enjoy.
Among her other easy Christmas cake recipes, Sarah also has a recipe for Christmas tree brownies, cinnamon rolls and gingerbread cake.
oooooooooooooooo
Top 5 Christmas Baking Recipes! by Donal Skehan
If you are still looking for more Christmas cake recipe inspiration, then this YouTube video by Donal Skehan is worth a look.
His top five Christmas baking recipes include chewy gingerbread cookies, candy cane fudge, an excellent idea for Christmas Rocky Road cookies, an edible Christmas wreath and boozy chocolate Pavlova.
All of the recipes are easy and quick to make – and look fantastic when finished!