It's one of the best festive smells ever, and that's the tempting scent of Christmas baking and here we look at some great recipes for cookies and biscuits.
For us, it's when the smell of baking fills a home with warmth that we know a treat is coming – which may explain why whenever we bake cookies and biscuits, we always have people eager to taste them when they are still very hot.
Christmas baking is also a great opportunity to make personal gifts for friends and family, or even as an end of term treat for a favourite teacher.
What is the difference between a cookie and a biscuit?
Before proceeding, we should explain what the difference is between a cookie and a biscuit.
Basically, biscuits can be sweet or savoury and are common offerings in the UK, and sometimes referred to as cookies.
Cookies, however, as Americans refer to them, are made with a thick, soft dough and tend to be thicker than biscuits are.
Also, cookies are softer, larger and chunkier than biscuits tend to be.
Festive recipes for cookies and biscuits
The festive recipes for cookies and biscuits that we highlight here are all straightforward with not too much effort to deliver a very tasty and impressive dish.
And don't forget too that Santa and his reindeer will be looking for tasty cookies on Christmas Eve to help them through their busy night of delivering presents.
So, when it comes to Christmas baking, here's the Christmas.co.uk guide to great recipes for cookies and biscuits.
Christmas baking: Orange biscuit recipe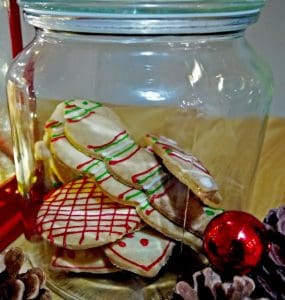 Our first biscuit recipe is this tasty offering from Agate Silina who says they make the perfect homemade Christmas gift.
It's an easy orange biscuit recipe to bake and they do make nice gifts. However, they are very tasty offerings for visitors too.
Her recipe makes between 50 and 60 biscuits, and you just need plain flour, caster sugar, salted butter, baking powder, vanilla extract, one large egg and two oranges.
Plus, you'll need biscuit cutters to create impressive biscuits.
Agate offers a step-by-step process with lots of pictures to create the perfect orange biscuit.
One of the best things though is the decoration ideas she gives at the end so you can either really personalise them or create festive biscuits to impress.
She also recommends wrapping them as extra presents to go with whatever you else you have bought someone or place them in a jar for everyone to get stuck into.
Christmas baking: German Cinnamon Stars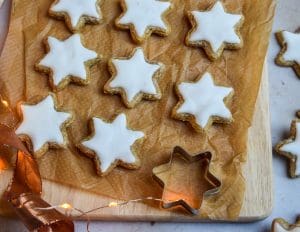 Rachel Phipps is a London-based food writer with a great blog that includes some impressive recipes.
Here, her German cinnamon stars is a tasty and easy to make creation.
Again, Rachel likes to bake biscuits to give as gifts and we think these make for excellent treats for visitors and family alike.
She adds that the biscuits will keep safely in a tin for up to six weeks.
The recipe is based on a German creation called Zimteterne which, apparently, are a fundamental part of the Christmas festivities and Zimteterne are for Germans, what mince pies are to the British.
Rachel does highlight though that if you don't already have a small six-pointed star cookie-cutter, then either search one out or you can still make these with a five-pointed star – the difference being, she says, is that you will have biscuits that have been cut more cleanly.
The recipe takes around 20 minutes to make, and another 20 minutes of cooking.
There's no doubt this is a very tasty offering and it's so easy to make that you will be guaranteed to make them again!
We also like the Christmas Kitchen ideas that Rachel offers for catering for smaller numbers, either single people or couples.
These include a two-person spice cherry glazed ham, Clementine margaritas and a Vietnamese-style turkey and sweet potato curry – using leftover turkey to create an excellent dinner.
Christmas baking: Frosted Brown Butter Citrus Shortbread Christmas Cookies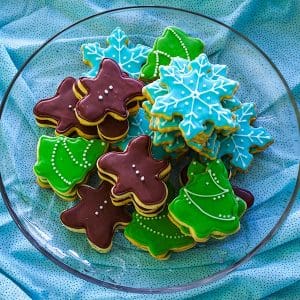 This recipe for Frosted Brown Butter Citrus Shortbread Christmas Cookies from Rebecca Blackwell is an excellent recipe for those wanting quick, tasty cookies to create.
Indeed, Rebecca says these are the best tasting decorated festive cookies that she's ever eaten.
She uses a brown butter citrus shortbread that's not too sweet but very buttery with a subtle flavouring of lime, lemon and orange.
She also uses white and dark chocolate fondant for the toppings that are easy to use and create the glossy and very impressive looking cookies.
Rebecca says these cookies can be stored for up to 10 days at room temperature and she adds that the best way to decorate them is to chill them first.
The ingredients list includes unsalted butter, sugar, citrus zest, egg yolks and pure vanilla extract. Along with salt and all-purpose flour, these combine to create a delicious cookie.
The fondant icing is easy to create and work with as well.
However, if you want to create a typical cookie but give it a festive twist, then Rebecca's Christmas Funfetti Cookies make for excellent alternatives.
This is an uncomplicated recipe that delivers lots of delicious cookies and with sprinklings on top, these will be very popular – and probably won't last long when you dish them up!
Christmas baking: Italian Amaretti Cookies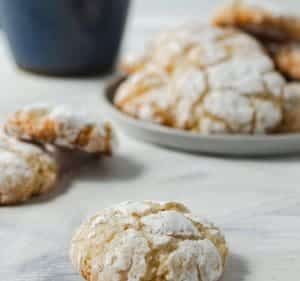 While not strictly speaking a recipe dedicated to creating Christmas cookies, this Italian Amaretti Cookie creation from Kelly Stilwell certainly hits the Christmas target.
As Kelly highlights, Amaretti is the name used by Italians for macaroons, but they are also referred to as either amaretti biscuits, or Italian biscuits.
Her recipe delivers 40 delicious Italian cookies that have a soft centre and a slightly crunchy outside.
They are also a great accompaniment for a cup of tea with just a hint of the Italian almond-flavoured liqueur.
The process that Kelly gives is straightforward, there are only seven ingredients including almond flour, amaretto liqueur, sugar, salt and lemon zest.
Kelly also recommends using aquafaba as a replacement for egg whites which will then make these tasty cookies a vegan-friendly choice. (Aquafaba is the liquid that comes from cooked chickpeas).
Here, you simply create the dough and then use two teaspoons to create a small ball, place that ball in a bowl of powdered sugar to coat it and then roll it between your hands before placing on a baking sheet.
You then bake these for between 18 and 20 minutes or until golden brown but because you need a chewy centre, it's important not to overbake these cookies.
When they come out, the surface is cracked, and they smell delicious!
As an alternative, Kelly also offers up on her blog a great idea for white chocolate covered Oreos.
These have been created as a Christmas treat and are a great way to get children to help when baking.
Not only are the Oreos covered in white chocolate, but you can decorate them with festive themes too.
Christmas baking: Gingerbread Mickey Mouse Cookies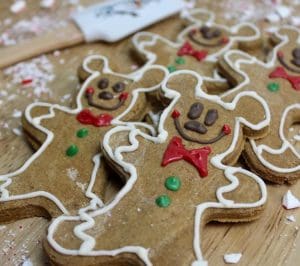 These Gingerbread Mickey Mouse cookies are an excellent treat for children and adults alike.
They come from Michelle at the Purple Pumpkin blog and are made from homemade gingerbread dough and then decorated with icing.
They make for great festive treats and can even be given as gifts.
These are very similar to the Mickey Mouse gingerbread cookies found in Disney parks.
The ingredients include brown sugar, black treacle, baking soda, pure vanilla extract, ground ginger and cinnamon plus ground allspice.
You also need icing sugar for the design on top, or you can buy tubes of coloured icing if necessary.
Along with detailed directions on making the gingerbread dough, Michelle also takes time to explain how to create the melted chocolate for the top, using melted chocolate buttons, for example.
They take around 30 minutes of preparation and cook for just 10 minutes and then need to be cooled before decorating.
There's also a step-by-step guide showing how to recreate the same designs that Michelle uses in her blog.
We thought the gingerbread dough was a very tasty creation and adding the icing or chocolate decorations was easier than we anticipated.
Christmas baking: Christmas Sugar Cookies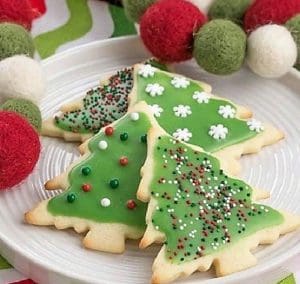 This is a lovely recipe to create Christmas sugar cookies from Liz at 'That Skinny Chick Can Bake' blog.
Using festive cookie-cutter cut-outs, you get to create stylish cookies that are easy to make.
There are also some decorating ideas, with sprinkles to create a festive look.
They have a buttery texture and there's no need to invest in special items to decorate them, such as piping bags.
There are some tips from Liz to help create much softer cookies by adding cream cheese, otherwise you could add an egg yolk.
The buttery taste comes from using real butter and not margarine and added a quality vanilla extract.
These cookies also freeze well, and the sprinkles can be added before or immediately after baking.
They take around 30 minutes to prepare and will cook for nine minutes.
You are left with 36 iced sugar cookies that children will love!
Christmas baking: Terry's Chocolate Orange Brownies
Who doesn't like Terry's Chocolate Orange? And who doesn't like chocolate brownies?
Then here is a dream combination from Donna Dundas which combines the two in her excellent Terry's Chocolate Orange Brownies recipe.
It's got Christmas written all over it!
These are a sticky and very rich brownie offering with a lovely flavour of orange.
They make for a great festive chocolate treat and are sticky and moist – not like most brownies you buy from supermarkets.
Donna combines Terry's Chocolate Orange with dark chocolate, along with the juice and zest of a large orange and then explains every step necessary to create these wonderful brownies.
The best bit though, is that Donna then adds Terry's Chocolate Orange segments to decorate her brownies.
This is a straightforward recipe, and the end result is not only tasty and impressive – it's a 'wow' creation for guests or family members.
Donna also makes After Eight Brownies for those who like the Terry's Chocolate Orange brownies idea here.
Donna's website also highlights mincemeat Chelsea buns as an interesting alternative to mince pies – these are a great idea if you or some you love likes a spin on a traditional offering.
Christmas baking: Christmas Tree Tear and Share Cupcakes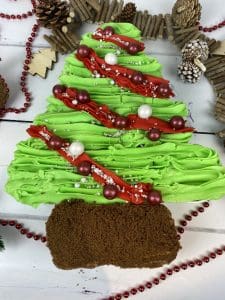 This impressive looking cake isn't a cake, it is made up of vanilla cupcakes with vanilla buttercream topping.
You simply pull them apart and dish out the cupcakes to whoever is lucky enough to be present when this is baked!
The creation comes from Sarah at A Spoon of Vanilla and this Christmas tree tear and share cupcakes is a clever idea.
You can also make the cupcakes with gingerbread.
Basically, you make 12 cupcakes and bake for 15 to 20 minutes until golden brown. While they cool, you put together the buttercream and then add to the top.
From there, you place the cupcakes on a board, placing one at the top, then two and then three and so on until you have the shape of a Christmas tree.
We also really like Sarah's candy cane cupcakes which are soft and gooey, and which contain candy canes and white chocolate chips. Highly recommended.
Christmas baking: Lebkuchen – German Christmas Cookies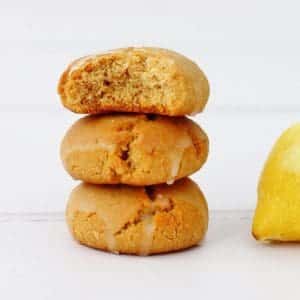 This is our second German festive offering, and like lots of European countries, the festivities are a great way to indulge in sweet and tasty Christmas treats.
These have been created by Corina who says these German cookies are delicious to eat as a snack, or even offer friends and family as an edible Christmas present.
Having spent a year in Germany, Corina fell in love with Lebkuchen because they tasted like nothing she'd had before.
Essentially, these are spicy gingerbread biscuits and are a popular choice in Germany at Christmas time.
They are bite-size and tend to be covered with a thin glaze, usually with a lemon flavour.
Ingredients for these Lebkuchen includes clear runny honey, butter, plain flour, ground almonds, baking powder, lemon zest and ground almonds.
You also need ingredients for the glaze and the process to make them is straightforward.
When finished, they should keep for at least two weeks, and they can be frozen.
They take 10 minutes to prepare, 15 minutes to cook but need to be rested for 12 hours, usually overnight.
There's enough to feed 15 people though they are very moreish!
We also love Corina's recipe for honey roasted cashew nuts which are perfect for snacks when guests drop round or as party food.
Christmas baking: Mince Pie Flapjacks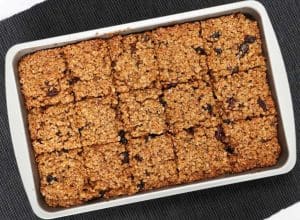 Our final offering for Christmas baking ideas is neither cookie nor biscuit, but these mince pie flapjacks are an interesting alternative.
They are a very tasty treat and taste just like mince pies do – but in a flapjack.
This is also a great recipe to make with children and if you have any mincemeat leftover from making your own mince pies, then consider this excellent flapjack recipe.
It comes from Donna at the What the Redhead Said blog and it is very easy to make.
Donna also offers recipes for mincemeat pie cookies, a festive trifle, mince pie tarts and mincemeat fairy cakes.
The recipe is simple, you don't need many ingredients and once it has been baked, you simply leave to cool before slicing and dishing up.
This mince pie flapjack is one Christmas baking offering that will disappear very quickly!