Christmas Eve traditions around the world
Whether it's your family or it's a cultural thing, people around the world celebrate Christmas the same – and also very differently.
We may give presents, but at different times we may even do most of our celebrating on a different day altogether but there's one trend that is taking off in the UK – and if you aren't already doing it, you will be doing soon – and that's the giving of 'pre-Christmas' presents in the shape of a Christmas Eve box.
Here, we look at how other countries celebrate Christmas Eve and how you can put together an impressive Christmas Eve box without breaking the bank.
Spain
'Nochebuena' is the Spanish name for Christmas Eve and they celebrate with a huge feast. Friends and family come together to share delicious dishes such as lamb and seafood.
Russia
The people of Russia often fast on Christmas Eve. It is broken only when the stars appear in the sky with a traditional meal called Kutya. A family will share this dish of honey, grains and poppy seeds from the same bowl as a symbolic act of unity.
Italy
Italians celebrate Christmas Eve with a meal known as 'Feast of the Seven Fishes'. Seven fish dishes are prepared and served with bowls of steaming pasta. The meal is in homage to the vigil before the birth of Christ.
Denmark
The Danes have two Christmas Eves. The 23rd of December is called 'Little Juleaften' and people will shop, decorate their homes and bake.
December 24th is the beginning of a chilled out few days and very little is done other than relaxing and chatting with family and friends.
The 24th is also the day that animals can speak! Danish legends suggest they stay up nattering till the early hours of Christmas Day morning.
Children will give their pets extra treats and put out grain for the wild birds to make sure they won't be 'told on' by the ever-vigilant creatures of the neighbourhood.
It was the night before Christmas – Christmas Eve in England
English Christmas Eve traditions vary from one family to another but here's the core few that we all recognise.
A treat for Santa and the reindeers
When I was tiny, Santa and Rudolph always received a midnight snack of a mince pie, glass of milk and a carrot. My own children knew that the magical duo preferred a bottle of beer, some Ferrero Rocher and a juicy apple!
Many little ones have a special festive plate they bring out every year so that Santa knows which treats are his.
Reindeer Dust
A tiny bag of porridge oats and glitter is tied with a ribbon. The children of the house must sprinkle the reindeer dust in the garden while reciting a poem to make sure that Rudolph knows where to land the sleigh.
Midnight Mass
Attending a late-night church service on Christmas Eve is a tradition that even some non-religious families choose to observe.
It's not a practical option for parents of small children but is something that can be re-started once they are older.
Attendees find the mass an important way of re-connecting with the Christian meaning of Christmas after a frenetic festive season of parties, shopping and over-indulgence.
Hanging up Christmas Stockings on the fireplace or at the end of the bed
Years ago, the only presents a child received would fit into a stocking sock. A tangerine, small tub of sweets, knitted socks and a wind-up toy would have been a very special year for most children.
Receiving disproportionately large stockings full to the very top with 'little presents' has become a tradition. It would be an opportunity lost if you don't explain to your sons and daughters just how lucky they are.
Santa's footprints
Finding a few of Santa's snowy footprints on or near the Christmas tree used to delight my two. Pure elation that he had really been! So sweet! All we needed was a welly boot and a bag of flour.
Watching a much-loved Christmas film together
Every family has their favourites, we love The Grinch and White Christmas.
Stumbling about the house dressed as Santa after having a few too many glasses of mulled wine
My daughter discovered myself and her Nanna sat on the living room floor, surrounded by presents and giggling after sliding down the stairs. Wine had been drunk! She was unimpressed and the magic was slightly tarnished.
A friend of mine fell asleep on the sofa after putting out the presents for his children. He was found by his irate seven-year-old at 5am still clutching Santa's mince pie. Naughty Daddy!!
Where did the tradition for Christmas Eve Boxes originate?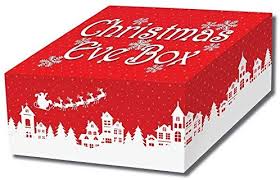 Christmas Eve boxes are a relatively new idea and were created as a way for parents to celebrate the night before Christmas with their children.
The build-up to Christmas is busy for everyone. Shopping, Christmas drinks, visiting family to drop presents off, pantomimes, Nativity plays, Christingles and Christmas discos. It's fun and exciting but also exhausting.
Christmas Eve boxes are a way to extend those few precious days of Christmas and bring the focus back to home, family and making memories together.
New pyjamas for snuggling up in
A book to read at bedtime
A new Christmas movie to watch after tea
A board game to play as a family
Hot chocolate, sweets and chocolates to enjoy together.
Budget Christmas Eve boxes – resist the urge to splash the cash
A Christmas Eve box should not be about spending lots of money. Remember, they will have lots of lovely presents to open the next day.
The items in the box should be designed around a lovely family evening together and they don't have to cost more than £15 at the most.
If you have more than one child, then the film, book or board game could be a shared present between them.
Many parents are on a strict budget and will already be financially stretched by buying Christmas presents. If Christmas Eve boxes just aren't affordable this year, then here are a few ideas to help:
Go to the charity shop to pick up children's books and DVDs that are often in very good condition
Go to the library and borrow several books to delight your child on Christmas Eve
Buy Christmas pyjamas in the sale for next year
If a new set of pyjamas is too expensive or unnecessary, buy fluffy or Christmas bed socks instead.
Where to buy a keepsake Christmas Eve box
The box that your children will receive their Christmas Eve treats in should hopefully last for years. Seeing the same familiar boxes appear every Christmas Eve throughout their childhood is a wonderful comforting tradition.
These fun and festive boxes on eBay are robust and great value. Buying different colours of a similar design is a fab idea for siblings.
If you are looking for a Christmas Eve box that will last your child a lifetime then these personalised wooden crates are perfect.
A family-sized Christmas Eve box is a budget-friendly option:
Only one box is needed
Buy one book that can be read aloud to everyone
Only buy one film that you will all watch together
Invest in an audio book to listen to before the children go to bed
Purchase one big box of chocolates for everyone to share.
Ideas for a Christmas Eve box for a toddler
'Maisie Mouse's Christmas Eve' a fun, festive book that is perfect for a toddler. This website sells second-hand books at great prices, better still it's free delivery!
'Shaun the Sheep – We Wish Ewe a Merry Christmas' DVD. Farm animals are a traditional theme in books and cartoons for very young children. Shaun is a fantastic character so all the family can enjoy this.
Ideas for Christmas Eve boxes for children
Asda is THE place to shop for good quality children's wear at an amazing price. These jolly PJ's would suit either a boy or a girl and are £5!
A sweet and creamy treat for warming chilly hands. Santa's Hot Chocolate Kit is a cute and tasty gift for a child.
Ideas for Christmas Eve boxes for a teenager
Delicious fudge with a touch of edginess. Your teenager will love this Chilli Chocolate Fudge. Beautifully presented, quirky and not at all expensive.
If spending time with the family becomes too much for your teenage daughter, she can zone-out on the sofa with this festive, pampering eye mask.
Christmas movies to enjoy together on Christmas Eve
All of you snuggled up on the sofa, warm and toasty, eating chocolates and sipping festive drinks. These are family moments that don't happen very often, especially if you have teenagers. A great movie is one of the few things that can still bring people together like this.
Elf
SO funny and simply joyous. Buddy the overgrown elf is lovable, a little bit crazy and he LOVES Christmas! A real family favourite of a film.
It's a Wonderful Life
Life affirming, thought provoking and a Christmas classic. Best for teenager and adults.
Santa Claus the Movie
A little bit retro but it has a fantastic story and the Santa in this film is THE Santa! (Or so my Mum told me when I was five).
Home Alone
Slapstick fun that will have your children roaring with laughter. Kevin McAllister is a genius!
The Polar Express
This film is mesmerizing. When my kids watched it for the first time they were enthralled. A beautiful film.
Miracle on 34th Street
There are a few versions of this gorgeous tale. I love the one with Richard Attenborough as Kris Kringle. A young girl, her Mother and a young lawyer come to the defence of the real Father Christmas.
A Muppet Christmas Carol
I ADORE the Muppets and I'm not ashamed to say that this is my favourite telling of this most loved of all Christmas stories. Charles Dickens was quite brutal in his festive classic. However, the Muppets cast make it a happier watch for younger children.
Recipes for Christmas Eve snacks, treats and drinks
Baking together on Christmas Eve afternoon is the perfect absorbing and calming task for you do with your kids.
The results of all their hard work can be enjoyed after their tea or as an indulgent treat while watching the Christmas Movie or reading.
Reindeer Cupcakes – chocolately, characterful and delicious.
Ingredients
5oz of softened butter
6oz caster sugar
2tbsp of cocoa
2 eggs
7oz of self-raising flour
5oz of good quality dark chocolate
100ml milk
Chocolate icing
50g of chopped up dark chocolate
3tbsp of double
Decorations
Large chocolate buttons
Mini pretzels
Mini marshmallows
Black icing for writing
Smarties
Instructions
Preheat your oven to 170c
Place paper cases in a 12-hole muffin tray.
Mix the butter and sugar together until fluffy and creamy.
Carefully mix the eggs in bit by bit.
Sift the flour and cocoa together.
Fold the dry powdered ingredients into the batter.
Mix in the melted chocolate and milk.
Portion out the mixture into the muffin cases.
Bake for 20-25 minutes and then set aside to cool.
Heat the chocolate and cream in a saucepan until melted.
Whisk the icing until silk and then allow to cool.
Ice the cupcakes.
Put the extra icing in an icing bag.
Decorate! A choc button with a red Smartie on top as the nose, two marshmallows as the eyes with black icing as pupils, use pretzels as antlers.
Banana Snowmen – simple, fun and healthy
What you need
Wooden skewers
Bananas
Raisins
Strawberries
Grapes
Mixed peel
Method
Slice the bananas into horizontal slices.
Skewer the edges of three banana slices to make the body and head.
Slice the strawberries into triangle shapes to use as a hat.
Skewer a small grape as a bobble on the hat.
Use raisins as buttons and eyes by carefully pushing them into the flesh of the banana.
Use a tiny piece of mixed peel for the nose.
Kid's Hot Chocolate – sweet, creamy and frothy
This recipe will make 3-4 mugs.
Ingredients
4 cups of milk
4 tsps of cocoa
8tsp of sugar
Whipped cream
5 cups of mini marshmallows
1 tsp of vanilla extract.
Method
Place a saucepan on the hob over a medium heat.
Add milk, cocoa, sugar and marshmallows.
Stir until everything is melted and combined.
Add the vanilla.
Take off the heat.
Pour the mix into a mug and serve with whipped cream on top and extra mini marshmallows.
 Whatever you decide to do on Christmas Eve, these ideas for filling your Christmas Eve box for loved ones will be well received. Happy Christmas!