Following on from our previous take on Christmas food 2018, let's look at some more weird Christmas food trends.
First up is Aldi's salted caramel Christmas pudding which comes with salted caramel vodka. Aldi says the vodka is to be poured over the pud and then set alight.
Iceland is also offering salted caramel Christmas tree cheesecakes and Asda literally takes the biscuit with a Wensleydale cheese with white chocolate and salted caramel.
Halloumi fries are set to be popular with Aldi stocking them in its frozen aisle and they are also available in Tesco with a breadcrumb coating.
There is no doubt that competition between the supermarkets has never been fiercer and Christmas could be a crucial battleground for many.
This gives an opportunity for the discounters such as Iceland, Lidl and Aldi to catch a customer's eye.
The latest Christmas food trends
It's also a way of showing people that they appreciate the latest Christmas food trends and offer interesting alternatives.
A spokesman for Iceland explained: "Customers tend to want traditional food – but sometimes with a twist."
Another trend this year is that many turkeys will, for convenience, come in oven-ready bags.
This may be a big help to many people who struggle on Christmas Day to deliver a turkey in time and at the right temperature to ensure it is cooked properly.
Another interesting trend could be caviar which some are saying is the new lobster.
Lobster used to be for those with deep pockets and then Lidl introduced cheap lobster from Canada which took away the shine.
Ethically sourced caviar from Yorkshire
Now Aldi is offering ethically sourced caviar from Yorkshire – which food critics say is of a good quality and will cost around £30 for a 10g tin.
We've already mentioned on the Christmas.co.uk blog about the impressive foot long pigs in blankets from Aldi and Asda and there are other super-sized offerings, as well.
For Prosecco lovers, Aldi is offering a methuselah which is, apparently, the equivalent of eight bottles or six litres of the fizz.
Waitrose is also offering a methuselah of Bollinger but it will set you back £363.
While it may look impressive, it's something of an impractical offering because you'll need two people to pour just one glass.
Christmas food trend you'll find hard to avoid
Another Christmas food trend you'll find hard to avoid is the pairing of chocolate and sour cherries for a Black Forest combo – a classic 1970s dish.
Aldi is offering Black Forest mince pies, while Iceland has a Black Forest Pavlova.
Tesco has got in on the act with a Black Forest meringue wreath and profiteroles.
For cheese lovers, be prepared for the appearance of Époisses de Bourgogne which will undoubtedly be making an appearance on cheeseboards around the country.
That's despite the cheese being banned on French public transport this year because of its pungent odour.
Waitrose is also offering cheese that's injected with blueberries, cranberries or caramelised orange.
Tesco has a 'Christmas pudding truckle'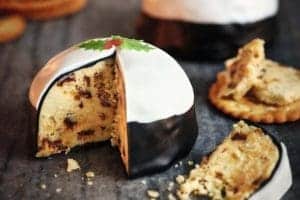 Tesco has a 'Christmas pudding truckle' which is essentially a white Stilton with raisins, cinnamon and rum.
And let's not forget that vegetarians will be properly catered for this year at the dinner table with many homes having to meet some form of dietary requirement – Asda says 60% of Christmas meals will need to deal with a dairy allergy, gluten intolerance or having a vegetarian or vegan.
To reflect this, Waitrose has unveiled 500 Christmas food lines, of which 200 are aimed at vegetarians and 21 are vegan, including a delicious beet Wellington.
For those who enjoy festive flavour crisps, then there is a lot to enjoy including chocolate tortilla and salted caramel from retailers.
We are sure that the Christmas.co.uk team will be back with more unusual Christmas food trends in the coming weeks!