For the first time in 13 years, there will not be a Doctor Who episode being broadcast on Christmas Day.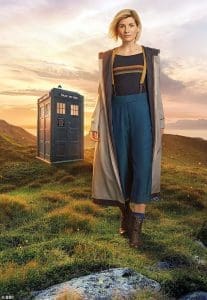 Instead, the festive special edition will be shown on New Year's Day instead.
The popular BBC sci-fi show, which stars Jodie Whittaker as The Doctor was a ratings success when she made her first appearance with more than 8 million people.
The show on New Year's Day will be the first to be broadcast since David Tennant left the series in 2010.
However, sci-fi fans will be able to enjoy the Doctor facing a terrifying alien threat, the show's executive producer Chris Chibnall says.
Series will conclude on 9 December
The current series of Doctor Who will conclude on 9 December and producers say that the New Year's Day show will be an hour-long, action-packed special adventure for all the family.
The move has been seen by TV industry watchers as a brave step since BBC One tends to regard the Christmas Day shows as something of a festive crown jewel.
The move also follows the switch from Saturday to Sunday night broadcast which has delivered bigger audiences for the new Doctor.
Also, the trend is to move big shows to New Year's Day which tend to deliver bigger ratings than for shows broadcast on Christmas Day, for example, Sherlock.
The other issue for fans who love their Christmas Day instalment is that with the show being broadcast on 1 January, it appears that 2019 will not be a Doctor Who-free year since the second series starring Jodie Whittaker will not be broadcast before 2020.
The Doctor Who show on Christmas Day
There's no doubt that the Doctor Who show on Christmas Day has been a popular TV fixture, particularly since Christopher Ecclestone ushered in the current revamped era and there probably won't be another show broadcast on Christmas Day in 2019 either.
The festive specials have also featured Kylie Minogue, Katherine Jenkins, David Morrisey and Sir Michael Gambon as stars in the programme.