Most cat lovers will do just about anything to spoil the feline in their life, so why not consider a Christmas advent calendars for cats?
This may sound a tad unusual, but the range of cat advent calendars is growing every year and is part of a booming industry that sees festive-themed toys, costumes and treats for cats being unveiled.
And cat advent calendars have become a favourite with cats enjoying the treats hidden behind the window – and also enjoy a little game of opening each one to get their treat.
Basically, Advent calendars are very similar to the ones we buy for adults and children which have a treat behind each window.
These are usually chocolate, though adults can also enjoy beer and wine advent calendars, whereas cats have a range of treats and toys to enjoy.
Here, the Christmas.co.uk team look at some of the best Christmas advent calendars for cats for you to enjoy.
Meowee! Christmas Meaty Cat Treats Advent Calendar
This is a striking creation that is filled with meaty chicken and fish cat treats – designed to keep your cat purring!!
This festive advent is a great way to countdown to Christmas Day – and have your cat enjoy the build-up to the celebrations as well.
The Meowee offering is whisker-lickingly good and packed with high quality treats containing meat.
As most cat lovers will appreciate, cats can be picky about what they eat but the Meowee advent calendar offers a variety of irresistible flavours and textures to keep your feline friend puuuurrrring.
The Meowee! Christmas Meaty Cat Treats Advent Calendar costs £5 and is available from a range of outlets including Tesco and Morrisons.
Scrumbles offers a countdown to Kittymas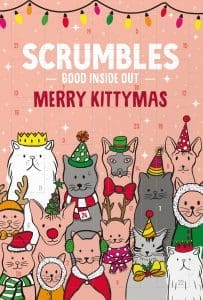 Back by pawpular demand is this Scrumbles Advent Calendar for Cats.
Since launching in 2019, Scrumbles calendars have been a fixture on many mantelpieces, plus featuring on plenty of Instagram feeds for pet parents every Christmas.
Now, for a third year, Scrumbles are expecting their biggest Christmas yet.
Co-founder of the family-run firm and pet mum to two furballs, Aneisha, told us: "I love sharing the fun of Christmas with my Smudge & Boo. Watching them wait patiently(ish) as I open a window each morning, I couldn't imagine Christmas without them. Last year we were blown away by the response and this year we've worked hard to make more than ever to delight thousands of cats across the country."
Each calendar has mini versions of the firm's guilt-free treats which are hand-baked in small batches in eco-ovens.
They are made with natural ingredients with no added sugar or salt.
The Scrumbles Merry Kittymas Advent Calendar for cats is a delicious duo of air-dried chicken bites and dental gnashers.
It costs £6 and is available to buy direct from Scrumbles, Amazon, Ocado and various independent stores.
Premio advent calendar for cats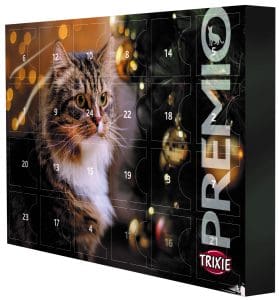 If your cat is choosy about what they eat, then the Premio advent calendar for cats is worth checking out.
The treats behind every door of this festive calendar are made from high quality ingredients and the 24 windows hide a tasty offering.
These treats have no sugar added, and they all have a high meat content.
For cat lovers everywhere who are worried that their fussy feline friend may be missing out on festive treats, then the Premio advent calendar for cats is worth trying.
Lily's Kitchen advent calendar for cats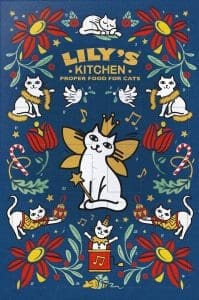 Lily's Kitchen has established itself as a pioneering food manufacturer – making 'proper food for pets'.
And this cat advent calendar is a real festive treat for cat lovers.
The calendar will keep your cat feeling Christmassy with deliciously crunchy pillows that have been filled with salmon and chicken.
The first treat is festive salmon nibbles that have a soft centre and crunchy shell. The treats are naturally delicious and made with freshly prepared salmon and chicken liver.
The second offering is cracking chicken nibbles made with fresh chicken.
Both of the treats are delicious creations for twinkly eyed cats at Christmas.
And, with all that tinsel to twirl and trees to climb, your cat will get a daily treat in the festive countdown to Christmas.
Available online and at various retailers.
Hatchwell advent calendar for cats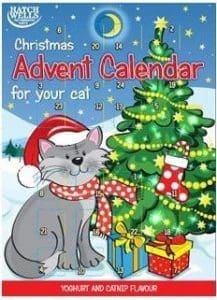 While this advent calendar for cats looks like a traditional festive offering with its cartoon front cover, the Hatchwell creation is certainly a treat.
Your cat will get to enjoy tasty yoghurt and catnip flavour treats during the countdown to the festivities.
The treats are free from wheat, cocoa and gluten so will meet a wide range of dietary needs from fussy felines.
Hatchwell has been making pet food products since 1933 so know a thing or two about what choosy cats may like to enjoy.
Available to buy online and from various pet food outlets, the Hatchwell advent calendar for cats will have your favourite feline purring with joy.
Reusable Christmas advent calendars for cats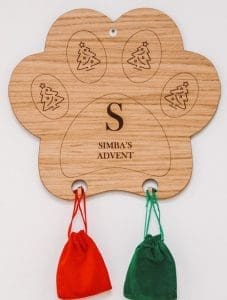 A reusable cat advent calendar is worth considering for those who want to be sure about the quality of treats that their feline friend will enjoy in the Christmas countdown.
And this stylish offering from Stag Design is also environmentally friendly and be reused every year – you simply tie your cat's favourite treats to the board and hand one over every day!
While it doesn't have 24 windows to open during the countdown, it does have an initial and your cat's name engraved onto the oak board.
That means there will be no mistaking who the advent calendar belongs to!
The board holds two velvet bags that will comfortably hold 24 treats so you can choose which their favourite ones are and fill them accordingly.
You can also choose the colour of the bags, and this is a great way to get a feline involved in the festivities.
And the fact it can be reused makes it a great addition to any cat-loving home at Christmastime.