Advent calendars are not just for children and adults – as the growing popularity of pet advent calendars makes clear.
Indeed, many of these advent calendars for pets ensure they are well and truly spoilt – which is why they make for great Christmas gifts!
Some advent calendars offer the full 25 days of treats, while other pet calendars are personalised with your pet's name – to remove any confusion over who the calendar belongs to, perhaps?
It's also important to appreciate that while adults and children are quite satisfied with cheap chocolate advent calendars, or even beer or wine advent calendars, that may not be the case if you have a choosy pet.
You may even buy a beauty advent calendar or even a posh food calendar, so there's no reason why your beloved pet cannot enjoy some pampering and treats in the run-up to Christmas Day.
Here, the Christmas.co.uk team look at some of the pet advent calendar treats available this year.
Impressive advent calendars for dogs and cats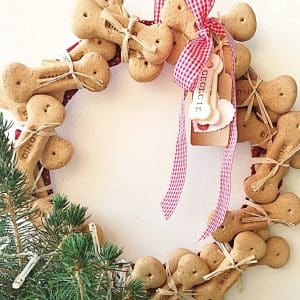 There are some very impressive advent calendars for dogs and cats on the market, and even if you're not bothered about having something handmade, some retailers are offering excellent calendars for pets to enjoy.
You can also buy a refillable dog biscuit advent calendar, and this can be used year after year with baked biscuit treats.
Other retailers offer 24 felt covered windows and the option of personalisation to create a forever advent calendar to offer specific treats for your pet.
Here at Christmas.co.uk we also enjoy impressive dog advent calendars that look like a wreath made from bony dog biscuits that is available from Notonthehighstreet.com.
There's also the impressive Christmas spectacular dog advent calendar from Lily's Kitchen.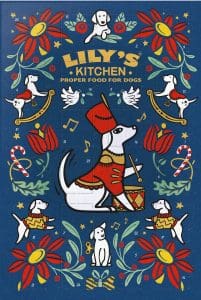 If you want quality organic pet food, then Lily's Kitchen is the top choice.
They put the same effort into their advent calendar for dogs as they do for their everyday offerings.
This year, you can spoil your pet in the run-up to the festivities and doggie lovers get to a calendar with Bedtime Biscuits made with honey, chamomile, yoghurt and passion flowers to help soothe your pet in the exciting run up to Christmas Day.
There's also 'Rise and Shines' which flower-shaped treats to help keep your pooch's coat as shiny as a bauble on your Christmas tree. They are made from beef liver, blackstrap molasses, fresh carrots and alfalfa.
Lily's Kitchen also adds 'Cheese and Apple' bone-shaped biscuit training treats that have been made with farmhouse cheddar and organic apples to help keep your pet's attention when out and about.
There's no doubt that some of the treats do sound delicious!
Not to be outdone, cats also feature with their own advent calendar.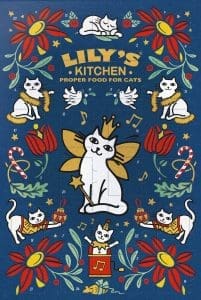 And with Lily's Kitchen they get a real treat with chicken and salmon treats.
With so much for cats to do, from twirling in tinsel and climbing Christmas trees and lots of catnaps to be had, this cat advent calendar is a stylish way to countdown to the big day for cat lovers.
The calendar is filled with delicious crunchy pillows of chicken and salmon.
The festive salmon nibbles in this calendar consist of a soft centre and crunchy shell which have been made naturally with freshly prepared salmon and chicken liver.
Cats also get cracking chicken nibbles, and these delectable treats are made with fresh chicken – ideal for twinkly eyed Christmas cats!
ooooooo
A DIY pet advent calendar
If you would like to make your own pet advent calendar, then this video from the RSPCA is for you!
It's a well-made production with an easy pet advent calendar to make at home.
Using recycled materials, you can fill your DIY advent calendar with your pet's favourite treats or toys.
Then after Christmas, it can be used (by cats!) as a purrrrfect puzzle feeder!
ooooooooo
The Trixie dog advent calendar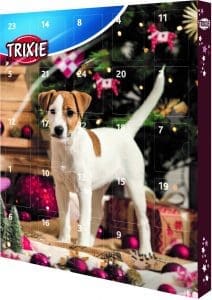 With a cute picture on the front, there's a lot to like about the dog advent calendar from Trixie.
Your favourite pooch gets to enjoy a good variety of treats in the run-up to Christmas Day.
Available from a range of outlets, including Amazon, the Trixie advent calendar for dogs includes 24 windows with a tasty treat behind each.
Your pet will enjoy 10 different treats including Soft Snack bony mix, happy mix and happy hearts, 'bouncies' and 'Baffos'.
They also get training snacks, a rice chewing stick and a Denta fun veggie stars.
Finally, the windows contain cookie snack Farmies and mini bones.
Trixie also makes cat advent calendars.
Yappy personalised dog advent calendars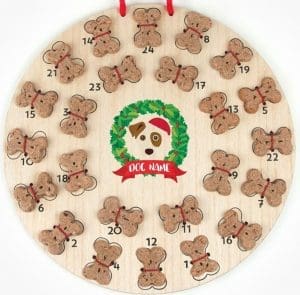 The Christmas.co.uk team was also impressed by the personalised dog advent calendars from the Yappy website this year.
On this site, you simply enter your pet's name, choose an icon and this will bring up personalised advent calendars. The calendars are available in a variety of dog breeds.
These consist of a wooden advent calendar that makes for an impressive Christmas decoration with 24 bone-shaped outlines that will hold 24 treats. What's more, the calendar can be used year after year!
The dog advent calendar measures 24" and has 24 delicious duck and orange flavour treats as well as a festive red rope to hang it proudly.
You can also buy biscuit refills from 'Santa Paws'.
Yappy also makes cat advent calendars too.
Dog and Dome advent calendars
How about this artistic offering from Dog and Dome for a dog advent calendar?
It's available to buy as a single purchase or is cheaper in bundles of three or five.
The calendar has 24 windows and can be hung from walls.
It's an ideal choice as a gift since it comes with a card envelope so it can be sent on to friends or family who have dogs as a perfect festive surprise.
The calendar has been designed by Catriona Hall and is printed in the UK.
Pets at Home advent calendars
Another popular outlet for pet advent calendars is the retailer, Pets at Home.
They have a wide selection of advent calendars for dogs, cats and other small animals including rabbits.
Pets at Home offers its own range of advent calendars including one with carob flavour treats and another with meaty dog treats.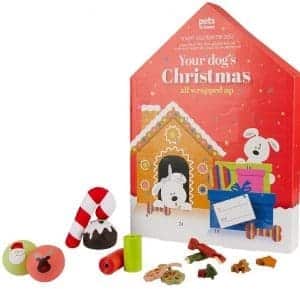 There's also an alternative dog calendar with fun shapes of rawhide treats for a pet dog.
There's also an advent calendar for dogs that contains treats, toys and poop bags – and there's a plush toy for every day of the advent period.
The store also sells advent calendars from Lily's Kitchen and Wainwrights, the pet food maker.
For cat lovers, Pets at Home offers its advent calendar filled with catnip flavour treats to treat the feline in your life.
There's also the advent calendar for cats from Lily's Kitchen, as described above.
Not all outlets will have advent calendars for small animals, but Pets at Home offers a striking calendar for bunnies containing dandelion leaf flavour treats.
Rosewood pet dog advent calendar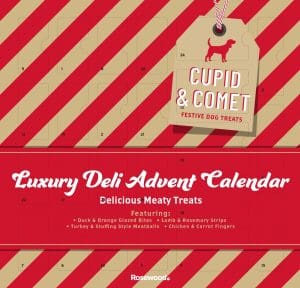 If you would like to treat the dog in your life to some luxury, then Rosewood pet advent calendars are worth checking out.
They offer an advent calendar with 24 windows complete with delicious meaty treats such as lamb and rosemary strips, chicken and carrot fingers, turkey and stuffing style meatballs and there are duck and orange glaze bites.
Those sound tempting enough for most pooches to look forward to every new day.
And come Christmas eve, there's a toy for them to enjoy.
Available from a range of outlets, including Amazon, the treats are highly rated by dog lovers.
Hatchwells cat advent calendar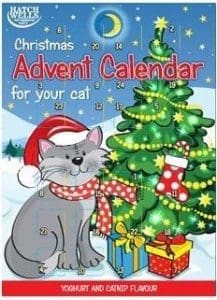 Another advent calendar for cats that is packed with tasty treats, comes from Hatchwells.
There are 24 creamy yoghurt and catnip flavour treats in a product aimed at delighting kittens and cats.
The firm also makes eye-catching advent calendars for dogs, puppies and small animals.
The small animal treats are dairy and sugar-free and consist of Dandelion leaf flavour treats.
The dog and puppy calendars contain treats made from carob which is the pooch-friendly alternative to chocolate.
Scrumbles dog advent calendar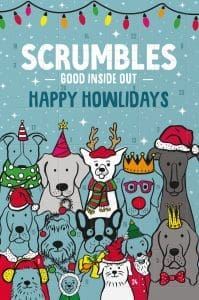 Finally, one of the best dog advent calendars available is this offering from Scrumbles.
The 'Happy Howlidays' festive gift has natural dog treats with functional benefits – this is one of the best advent calendars for pooches available.
It's made in the UK and the treats have a tasty flavour – and we love the cheerful design of the Scrumbles advent calendar.
The treats are aimed at dogs aged over three months and it's the 'pawfect way' the firm says to treat a doggy a Christmas.
The treats include calming treats, dental dog treats and 100% chicken treats that taste great.
There's also the Scrumbles advent calendar which is the perfect way to treat the kitty in your life in the countdown to the festivities.
It too is packed with natural, delicious treats with functional benefits including 100% chicken treats and dental treats.
Let your pet enjoy dog and cat advent calendars
So, that's our roundup for some of the best dog and cat advent calendars available this Christmas that will help your pet to take part in the festivities.
While some pet lovers may believe that investing in an advent calendar may be over-the-top, most pet lovers will either treat their pet pooch or cat to a calendar or a special Christmas Day treat, so they don't miss out.