When it comes to finding the best Christmas cakes in 2021, cake lovers will be impressed by the sheer range of quality products available.
While many people will go to the time and trouble of making their own Christmas cake, there's no reason why you shouldn't buy a wonderful, tasty Christmas cake instead.
Here, we look at some of the best Christmas cakes from independent producers, and we also have a look at what the supermarkets are producing too.
Waitrose No1 Rich Fruit Xmas Cake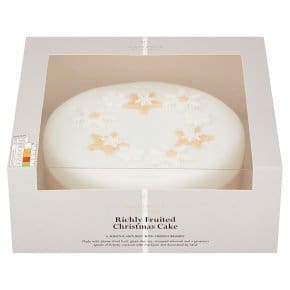 The Christmas.co.uk team loved the Waitrose No1 Rich Fruit Xmas Cake offering for 2021.
This is a richly fruited Christmas cake, and while it's pricey at £16, it's packed with glace cherries, plump vine fruits and chopped almonds.
It has also been hand decorated and covered with marzipan and there's a big splash of brandy to bring the moist, rich fruit cake's flavour alive.
This looks like a traditional Christmas cake with an effective and classy decoration and it's something of an all-rounder that will impress family and guests whenever it is served up.
Harvey Nichols Christmas cakes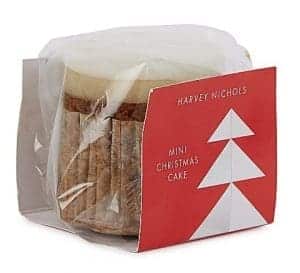 Another cracking offering comes from Harvey Nichols and their mini-Christmas cake.
It costs £5.95 but it's packed with taste and flavours and has obviously been handcrafted in the traditional way.
For us here at Christmas.co.uk, it is the perfect festive treat with decent layers of marzipan and icing and lots of brandy-soaked, juicy fruit to enjoy.
It's designed as an ideal size for one – though you won't want to share this.
The mini-Christmas cake is made by Meg Rivers in the Cotswolds (see below) as an exclusive offering.
We also loved the Harvey Nichols' Quaranta Forest Fruits Nougat Christmas cake.
It costs £24.95 and is an authentic, handmade Italian soft nougat recipe. The bakers who make this, Quaranta, have been using the same recipe since 1924.
It's not only a creamy delight but there's a crunchy surprise too.
Studded with hazelnuts and chopped almonds, it is packed with raspberries, blackberries, strawberries and blueberries – this is an impressive Christmas cake to impress with.
Morrisons The Best Christmas Fully Iced Cake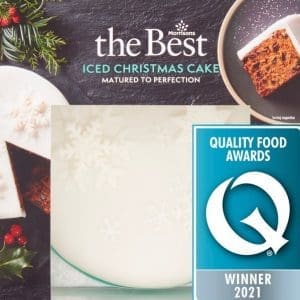 If you are looking for an impressive cake for the festivities, we can highly recommend the Morrisons The Best Christmas Fully Iced Cake.
It costs £9 and is an all-butter fruitcake with a delicious cognac flavour and lots of plump vine fruits and there's orange zest to add a lovely twist.
The mixture has been matured to perfection to deliver a rounded and deep flavour.
The iced design is simple and impressive and cutting through the ice and marzipan reveals a rich sweet-smelling fruitcake.
When this is dished up for family or friends with a cup of tea, there will be demands for seconds!
Biscuiteers Christmas Greenery Christmas Cake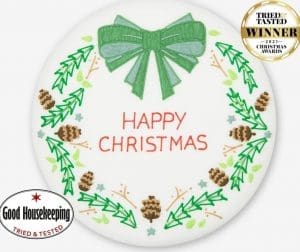 Following on from the very tasty Morrisons Iced Christmas cake and its simple design, here's a more extravagant design to get your teeth into.
At Christmas.co.uk, we love the team and creations at Biscuiteers and their Christmas Holly cake at £58 is an excellent creation.
It not only has a vintage look and feel, but there's a real homemade taste to the cake itself with big pieces of cherry and lots of spice.
It should serve up to 16 people and the biscuits also make a mini luxury Christmas cake alternative, and they also a Christmas cake featuring Santa's sleigh.
Meg Rivers Classic Fully Iced Christmas Cake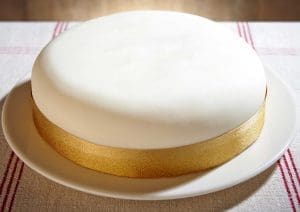 We have already mentioned Meg Rivers and their slogan as 'Bakers of Happiness' really is true when tasting their Classic Fully Iced Christmas Cake.
It costs £45 but it's a regular award-winning creation and the cake has been laced generously with French brandy and is packed with nuts and fruit.
The cake itself has been slow-baked in small batches and then matured for at least three months before being finished with an ivory sugar paste and natural marzipan.
This means that you can create your own decoration for the cake's top with a personal message or creative design.
The cake itself is delicious with a rich, well-rounded flavour and it comes in a stylish tin.
As a regular winner of best Christmas cake awards, this Meg Rivers creation for 2021 really is hard to beat.
Elf Colin the Caterpillar Christmas cake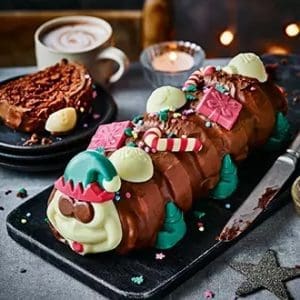 Christmas cakes don't just mean enjoying fruit cakes and this Elf Colin the Caterpillar creation from Marks & Spencer's is a case in point.
It's an extremely chocolatey sponge roll that is covered in milk chocolate and has chocolate buttercream. The decorations are edible and it's a chocolate lover's delight.
Colin the Caterpillar is something of an icon, and he's been dressed up as an elf for the festivities.
The cake costs £10 and is a great alternative if guests aren't always so keen on Christmas fruitcake.
Christmas Gingerbread Vegan Cake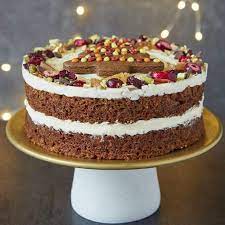 What happens if you have family or guests who don't like fruitcake or chocolate cake? The simple answer could be this excellent Christmas Gingerbread Vegan Cake from cutter & squidge.
This vegan offering cost £30.20 and is a spiced gingerbread cake that is available for delivery.
It consists of two light gingerbread sponges that have been flavoured with nutmeg and cinnamon and then sandwiched together.
The creation is then covered with a decadent vegan golden syrup buttercream, along with a layer of Biscoff.
On top of that, there is a generous spread of sweet candid orange, cranberries, cherries, crushed pistachios, and a gingerbread tree.
It's delivered in an embossed cutter & squidge tin to make this a great offering for the vegan or cake lover in your life.
We also love their Christmas Pecan and Cranberry Fruit Cake at £30.20. It consists of sponge cake spiced with nutmeg, cinnamon and ginger and filled with cranberries, sultanas and apricots. The cake is topped with rose petals, glazed cherries and berries, candied orange and edible gold.
Lakeland Ginger Bakers Gluten-Free Fruit Cake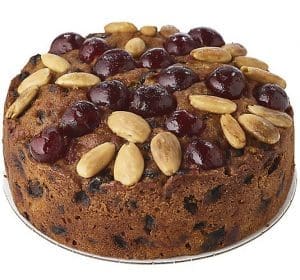 This great looking Christmas cake is ideal for those who may be wheat intolerant which makes the Lakeland Ginger Bakers Gluten-Free fruit cake an excellent creation.
Suitable for vegetarians, this cake has been flavoured with fragrant rosewater and brandy and is packed with sultanas and raisins.
It has been made by hand using locally sourced ingredients in Cumbria and is packed with excellent flavours that impress.
The cake cost £19.99 and can be safely dished up to family and guests alike – and because it's gluten-free doesn't mean it doesn't have to like flavour!
Yumbles Festive Iced Topped Fruit Cake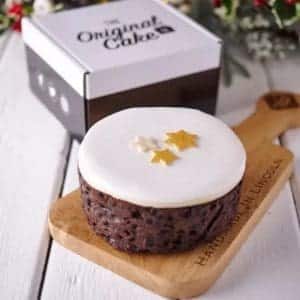 Our last recommended tasty offering for the best Christmas cakes in 2021, is this from Yumbles.
While Yumbles is a food marketplace, this Festive Iced Topped Fruit Cake has been produced by the Original Cake Company and costs £19.95.
It's a moist and very rich fruitcake that is packed with sultanas and then topped with marzipan.
The standout feature here is that each slice of the cake has been wrapped individually so there's no need to worry over slicing – it can just be served straight onto plates.
The artisan bakers have been delivering tasty produce for nearly 50 years and these Christmas cakes are sold around the world.
You only have to read the reviews from satisfied cake lovers because this is a standout cake that is head and shoulders above many shop-bought rivals.