It's been a staple of festive celebrations since the 1800s, and here's our roundup of the best Christmas crackers to buy.
It's all part of the Christmas fun – pulling open a cracker and reading out the terrible joke to everyone at the table. However, the contents are usually a big let down.
Whether you're fed up of receiving mini playing cards or mini screwdriver sets, there's an impressive range of quality Christmas crackers to buy in 2019.
Traditional Christmas crackers
It's probably best to begin this roundup with a look at traditional Christmas crackers to see what manufacturers have come up with this year.
We particularly like the option of having personalised Christmas crackers which bring a personal touch and means you don't have to use name cards at the dinner table.
Along with choosing names, you can also choose the crackers' contents which include tasty alternatives such as alcohol and family-friendly treats. There's the option to buy crackers for your furry friends too.
Of those we've seen, the Handmade Christmas Company offer a nice range from £5.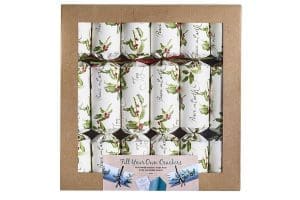 There's also the opportunity to fill your own Christmas crackers and this year we can do so with environmentally-friendly gifts to help reduce waste.
For those who want to have a more sustainable Christmas, without having to give up the familiar traditions, then eco-friendly crackers are a great place to begin.
Lakeland is offering a pack of six 'fill your own' Christmas crackers for £12.99.
For those who really want a touch of style and luxury, then there are velvet bow Christmas crackers from Harrods at £115, while Waitrose is offering suede ribbon crackers for £30.
One of the attractions for their Waitrose offering is that the usual tat has been replaced with practical items including the simply genius addition of a fish and chip fork and a corkscrew. There's even a pack of cards and a harmonica.
For those with young children, there are stylish Christmas crackers which have a crown for them to decorate which are available from Paperchase. The crown also has stickers to help decorate it. The crackers cost £6.
Alcohol and food Christmas crackers
Now we are talking! A great way to avoid traditional crackers is to opt for those that have food and alcohol contents.
To start, we quite like the cheese and crackers Christmas cracker from Sainsbury's, which offers a small selection of cheese and five mini oatcakes. There's also a small jar of chutney and for many people, this will be a great ending to a lovely Christmas dinner. The cracker costs £3.
For those with a sweet tooth, the 'Chorus Line cracker drum' is worth a closer look as it contains six crackers in a range of flavours including truffles, Sea Salt caramel flavour through. The Charbonnel et Walker offering costs £45 from Harrods.
We also loved the mini crackers from Hotel Chocolat which offer a nice bit of indulgence at £17.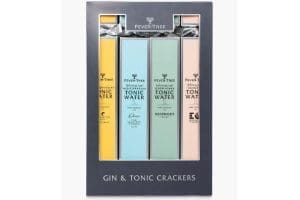 If there are lots of gin-lovers attending Christmas dinner, then the Fevertree Gin and Tonic Christmas crackers are a sound choice. There are four available and the tonic firm has teamed up with various gin brands to create a cracking cracker that recipients will be pleased to enjoy. Available from John Lewis at £32.
If you're quite happy spending a small fortune on Christmas crackers, then Fortnum & Mason have some impressive ones available. They not only look elegant, there's also a range of gifts from the store's bestselling produce, including champagne stoppers, chocolate and marmalade. A great way to continue quality Christmas present giving at the dinner table!
Not to be outdone, Selfridge's is offering a Moet and Chandon Imperial Rose Champagne cracker for £24.99 and popular London store Liberty is offering Christmas Gin crackers with a lovely design and small bottles of gin, along with a hat and a joke for £65.
Of the Christmas crackers aimed at whisky lovers, we particularly like the offering from Master of Malt who have a £29.95 treat this year with a cracker contain a malt whisky along with a joke and paper crown.
Best luxury Christmas crackers
With so many excellent and well-priced Christmas crackers available, this may be one item that someone looking for a touch of luxury can really indulge in. There are some very lavish crackers available.
We love the floral Christmas crackers box from Harrods at £110. The six handmade crackers are tied with velvet bows and the trinkets inside are very much more upmarket then you will normally expect. A great way to feel special on Christmas day.
Fortnum and Mason also offer their wreath crackers, which cost £295. The pack of six are a fancy offering and each one is decorated with a beautiful wreath. The retailer also has a nice luxurious offering at £60 with their gold leaf Christmas crackers containing an entertainment scroll, a hat and a silver plated Fortnum & Mason's treat.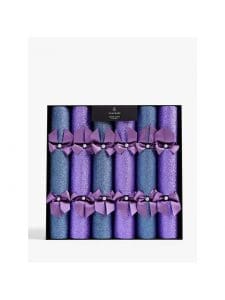 For those who want impressive crackers at a better price, then John Lewis & Partners has a pack of six luxury Christmas party crackers for £30. Their offering includes a photo holder, a handbag mirror, a mini screwdriver set and a mini clothes brush as well as keyrings. The retailer says that the crackers have been inspired by scenes from the flamboyant 80s and these neon nostalgia crackers may even be worth offering to guests on New Year's Eve.
Christmas crackers for families
Along with fun toys and fairly bad jokes, Christmas crackers for families really should deliver a big bang and value for money.
You don't have to spend a lot of money to appeal to family members of all ages with Christmas crackers that deliver.
For us at Christmas.co.uk then, Selfridge's have a Christmas cracker gingerbread man set costing £18. There is a baking-related gift inside each one which will delight youngsters.
Selfridge's and John Lewis also offers what is either a fantastic way to spend time after finishing the starter and waiting for the turkey main course or they are simply the worst idea ever for Christmas crackers ever invented. That's their Ridley's musical party Christmas crackers and this pack of eight cost £28, but contains eight whistles along with number stickers, a score sheet and a conductor's baton.
As we say, this will either be a fantastically fun interlude between courses or a platform for a massive family falling out. You have been warned!
In the same vein, Lakeland is offering a racing Festive Friends Christmas crackers which contain windup racing characters and a racetrack. There's also the beginning of the obligatory paper hat and joke and will deliver lots of fun at the Christmas dinner table.
John Lewis is also offering the Ridley's Christmas cracker, complete with a magic trick set to keep youngsters distracted while around the table.
Another unique consideration is to get a cracker that everyone around the table can enjoy. There is a star shaped cracker from Amazon costing £6.76 and designed to be pulled by six people, which then reveals a festive surprise in each of the arms. Certainly worth considering.
It's also worth mentioning in this category that we adored the personalised baby's first Christmas cracker from Not On The High Street at £14.95. It's a fantastic idea with the baby's name on the cracker along with a message of your choice and it makes for a lovely keepsake of their first Christmas. The cracker contains a mini paper hat, along with a wooden rattle toy to play with.
The best bargain Christmas crackers
Not everybody wants to spend a small fortune on Christmas crackers regardless of what they contain. And this is a quick roundup of the best bargain Christmas crackers available.
This is a particularly good guide for those with lots of guests on the big day who are looking for a budget-friendly option but still containing decent gifts.
We love an offering from Selfridge's, their mini Diamond Christmas crackers set costing £12. Essentially, the crackers look more expensive than they are and the toys are of a decent quality to keep people occupied.
There's also the joint family Christmas crackers from Marks & Spencer's. A pack of 12 costs £15 and contain a good choice of gifts including spoons, cookie cutters and a bottle opener.
Make your own Christmas crackers
For those who want Christmas crackers that are really unusual, then there's a trend to make your own crackers for the dinner table.
For those who are crafty then these are great opportunity to show off your skills and put some careful thought into the contents.
Among the best offerings we found is the holly and pine fill your own Christmas cracker from John Lewis & Partners. A pack of six costs £8 with decent jokes and gifts being specifically chosen for those you love.
There's a similar offering from Selfridge's for £15 with these gold coloured crackers, offering a chance to place a suitable gift inside for those attending dinner.
Lakeland also has a pack of six fill your own crackers, costing £12.99 and these come with jokes, ribbon, snaps as well as a gift tag. For the money, these are a sound choice.
There's also the cheaper option of making a Christmas cracker kit available from Amazon for £8.99.
The best Christmas cracker of them all in 2019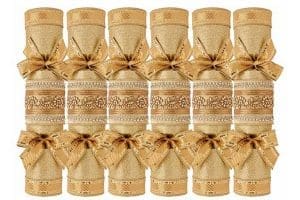 If you really want to impress with what must be the best Christmas cracker available this year, or, if ever, then you'll need to go to Fortnum & Mason for what will deliver the ultimate 'wow' factor.
They are offering their 'Midas Touch' crackers which have an impressive gold design and contain a gold envelope. Within the envelope is an extravagant gift to set help jaws around the table drop.
The list of prizes that the recipient may receive include: a tea for two gift set, dinner at The Royal Exchange for four, High tea with champagne for four, dinner at 45 Jermyn St for four, a 'Delicious History Tour' for four. There's also a Connoisseur Hamper and a Globetrotter Hamper plus a St James Tea for two gift.
And the prize for delivering such an impressive and awesome Christmas cracker surprise? That will be £5,000 – a sound investment for those who want to do things a little differently at the Christmas dinner table this year.