Christmas is the perfect time for catching up with family and friends and making lots of happy memories. OK, so maybe an hour spent playing charades is your idea of hell but if it makes your Dad happy then stop sulking and join in! Most of us have fond thoughts of the weird traditions that belong only to your mad bunch of relatives … and that, in the end, is the point of overloading on mince pies and brandy butter at home since Christmas is about people not things.
Hopefully, you have the luxury of a car to zip about the country paying visits in. Of course, not everyone has access to four wheels and even if they do the thought of getting stuck in Christmas traffic gives them pause before jumping into the driver's seat. If that's you and train travel is your thing then it's time to think about buying your tickets.
Train companies release their advance tickets
Train companies release their advance tickets around 8 weeks before the dates of departure and that means now for travelling by train during the festive season. Train travel is expensive and leaving it till the last minute always costs the traveller more. If you buy now then the savings made could go towards a lovely present for yourself, an extra treat for your niece or another train ticket to go drink mulled wine at a Christmas market with a friend.
Visiting relatives and old friends throughout December is a fantastic way to get into the Christmas spirit and allows you to deliver gifts and cards in person. Imagine the money and faff saved at the Post Office by hopping on a train to act as Father Christmas in person.
Book your travel for slightly outside the Christmas period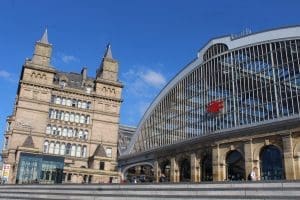 Try and book your travel for slightly outside the Christmas period. Travelling to your destination on the 22nd and then back on the 28th will give you a lovely long time to chill with your loved ones and it will be cheaper than the day before Christmas Eve and the day after Boxing Day.
If the railway network you need hasn't released their Christmas tickets yet then sign up to email alerts to ensure you get first dibs on the cheapest and best times of travel. Being flexible about your route will help too. If you're an adventurer and don't mind changing trains an indirect route will be cheaper.
Impact of buying two singles and a return
Always compare the impact of buying two singles and a return and check the difference in price between first and standard class. It's surprising how much can be saved by buying the singles and how little extra it is to treat yourself to first class. It doesn't work every time as all routes, dates and times seem to work differently but for the sake of a few minutes checking it might be worth your while.