When it comes to taking our Christmas decorations down, there will be some people asking, 'Can I leave my outdoor Christmas lights up all year?'
There may be a range of reasons for people asking this question, they may, for example, like the look of their outdoor festive light creation and simply want to enjoy it all year round.
Obviously, festive displays, such as LED-wrapped Christmas trees and Christmas novelty lights, such as Santa being pulled on his sleigh by his reindeer are probably not worth keeping in place until the following year's festivities.
That would look very strange in the middle of a very hot summer!
There are two things to consider before deciding which outdoor lights you want to keep up and which you want to take down. And they are:
What type of lights will work for both Christmas and summer?
Where will you place the lights?
Here, the Christmas.co.uk team take a closer look at leaving your Christmas lights up to enjoy around the year.
Can I keep my outdoor Christmas lights up around the year?
There's no reason why you can't keep your outdoor Christmas lights in place around the year, but you need to be aware of two issues:
You must ensure that the Christmas lights that you buy for use outdoors are waterproof and have not been damaged while being put in place. They must be designed specifically to withstand wet and cold weather – THIS IS IMPORTANT!
You really should choose LED lights rather than incandescent bulbs because the traditional type of bulb is less likely to handle changing weather conditions. Also, too much rain and sun may damage the lights, so LED lights are not only more energy-efficient, but they will also last longer and will be perfect for use around the year.
However, if you do decide to keep your Christmas lights up, remember never to neglect them.
You should check them on a regular basis to make sure the wires haven't been broken or become frayed and that they are connected to a waterproof power source – that way you will avoid accidents and other issues should the power source become damaged or wet.
Remember too that squirrels, mice and rats will chew the wires – and even dig down to them – so you will have to monitor the condition of the wire, plus the lights too. If you do investigate why your outdoor festive lights have stopped working, remember to switch the lights off before you touch a chewed wire to avoid electrocution.
ooooooooo
This YouTube video from Dobbies Garden Centres offers some nice tips on how to put your outdoor Christmas lights using bulldog clips!
There's also sound advice on using a stepladder and testing the lights beforehand – and using a bucket to get the job done quickly.
oooooooooooo
Leaving outdoor Christmas lights up – a warning
It cannot be stressed enough that when it comes to retaining outdoor Christmas lights for use around the year, there are some safety issues to consider.
It's important that the bulbs and the cable that you use are weatherproof because not all lights are designed for use outdoors. To help understand this:
The MINIMUM safety mark you should check for is the 'CE' mark on the plug. This is a requirement for use in Europe.
Can you see the British Safety Kitemark?
Check the label on the cable – it should state clearly that the lights can be used outdoors safely. Some will say they are safe for indoor and outdoor use.
Is there a red House-shaped symbol – this shows the lights can be used outdoors.
You may see the IP Code – this details the level of protection of the lights. For example:
IPX3 – Rain proof
IPX4 – Splash proof
IPX5 – Jet proof
IPX7 – Water tight.
Indeed, some LED light creations will stress that they can be only used outdoors for up to 90 days – leaving them exposed to the weather over a longer period may lead to the bulbs cracking or the cables drying out and breaking to expose the wires.
This last point is important because you are then creating a fire hazard in your garden – and the potential you or someone else being electrocuted.
You should always read the manufacturer's instructions for the outdoor Christmas lights that you buy and consider how long you will leave the lights outside for when making your investment.
Also, if using ladders for placing festive lights on your home then you need to be careful – have someone help and to stand on the bottom rung. They can also remind you not to stretch too far when putting your lights up!
It may even be worth considering hiring the services of an electrician to help turn your property into a festive wonderland by ensuring that the lights you use are of good enough quality and have been installed by an expert so you will be able to use them around the year safely.
Keep the right (white) lights
Another important consideration about whether you should keep your Christmas lights in place around the year is the colour of the lights.
For the festivities, many of us enjoy a range of colours, including bright reds and multicoloured offerings.
While these look stylish and whimsical during the run-up to Christmas, they may look out of place on a summer's evening when you might be enjoying a barbeque with friends.
That means you should think about taking down your red, green and multicoloured string lights when the festivities end – or invest in white and soft white lights for Christmas so you can use them in warmer weather.
However, if you have wrapped an outdoor tree in festive lights or have placed a long string of LED lights around an area in your garden, then you could get away with retaining these.
Not only will you have a trendy and unusual place to entertain in warmer months, but you also get a head start when it comes to decorating your outdoor areas for next Christmas!
How unusual is it to keep outdoor Christmas lights up all year?
There's a very simple answer for anybody wondering how unusual it is to leave your outdoor Christmas lights in place all year round.
And that is – it's not very unusual!
That's because a survey from Wyevale Garden Centres revealed that one in 10 British people do not take their outdoor Christmas lights down.
The same survey also revealed that 57% of those who do take down their outdoor lights tend to be festive traditionalists and will pack away all of their decorations by the 12th night.
The firm also says that the most popular outdoor lighting choices at Christmas are for fairy and icicle lights.
Brits also like animal-shaped lighting and Santa novelties.
A spokesperson for the Wyevale said that outdoor Christmas lights are increasing in popularity.
They added: "We are all familiar with the neighbourhood one-upmanship that takes place during the festive season around outdoor lighting displays, and this year is set to be no different."
ooooooooo
This YouTube video from Festive Lights shows how to wrap outdoor Christmas lights around a tree trunk.
Done well, this is an idea that could work around the year – but you need to prepare by measuring the tree trunk and understand the lit length of the lights you will need.
oooooooooooo
Brighten up your winter months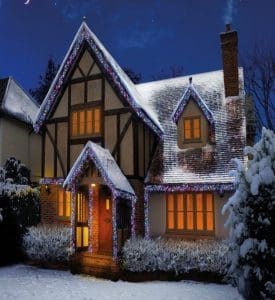 For anybody wondering whether it is unusual to leave your outdoor Christmas decorations up, it should be noted that in early 2021, English Heritage urged Brits to leave their festive decorations in place for the rest of the winter.
The charity said that the public should keep their tinsel and lights up until February's Candlemas.
They also said that this would bring some cheer during the dark winter months, and they noted that our mediaeval ancestors would leave their festive decorations in place until Candlemas too.
There's no doubt that growing numbers of people are showing off their outdoor Christmas light creations on social media – and in future, this trend look set to be an even bigger one as more of us create outdoor light scenarios to be proud of (and to show off!).
Depending on what happens in the run-up to Christmas this year, and afterwards, there may be similar appeals to keep your festive lights in place, so you may find that growing numbers of us decide to keep our outdoor Christmas lights in place to enjoy for longer – not just for us, but our neighbours too!
Ideas for keeping Christmas outdoor lights in place around the year
When planning on the style and location of your outdoor Christmas lights, it might be worth bearing in mind where the best place will be for them at Christmas and in the summer. This decision will then influence the size, style and location of the lights you buy.
For example, string lights will be ideal for use on a patio and can be clipped to your property's gutters and decking.
Pathway lighting is also a suitable choice for using festive lights around the year as you simply re-purpose the lights you have invested in to boost safety and visibility – and make your home stand out and look good.
Garden lights are also a tasteful addition at Christmas but when your garden begins to bloom, they are a great way to highlight a well-tended and cared for garden.
The best types of Christmas lights for year-round use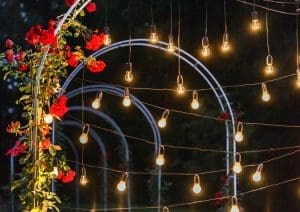 It's one thing discussing the potential of keeping your Christmas lights up around the year, but which types of festive lights will be most suitable? Here are some ideas:
Rope lights
Christmas rope lights are flexible and versatile to achieve several design ideas and can be laid along a path to look like Santa's sleigh tracks or wrapped around doorframes. If you have decking, then rope lights will be strong enough and ideal for wrapping around timber frames.
String lights
LED string lights are versatile and attractive for use during the festivities and wherever you decide to place them outdoors, they will work around the year though be aware of using specific Christmas shapes such as pinecones and stars.
'Can I leave my outdoor Christmas lights up all year?'
Essentially, in answer to the question, 'Can I leave my outdoor Christmas lights up all year?' then preparation is key. You need to plan and think about the lights you need for the festivities and will work in the summer; you need to buy quality lights designed to be used outdoors – and these lights will need a secure and weather-proof power source.