For many people, Christmas lunch would not be complete without pigs-in-blankets – a mini sausage wrapped in a layer of bacon as a tasty side dish.
There's a wide range of these delicious offerings available and here we'll take a look at some of them.
The main aim of the test is to avoid the bland or the strange tasting versions, which means that the cheaper the dish, the less flavoursome and poorer quality we found the pigs-in-blankets to be.
As this is one of the big attractions for the Christmas meal, it's a favourite that you shouldn't take chances with! Also, you don't have to wait until the big day to try them and they are great for parties and other dishes as well.
Winner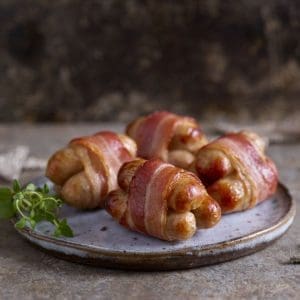 One of the issues when it comes to buying pigs-in-blankets is that the sausage may be too small, the bacon may be too fatty but the aim is to have a great tasting crispy dish.
For this reason, Aldi's Specially Selected Three Little Pigs (£2.99) was the outright winner since it offers three sausages under one tasty, quality bacon blanket.
A great choice for meat lovers, the bacon crisps nicely and the sausage is a tasty offering as well. They look great when cooked and they are a novel offering to impress. A great choice.
Second place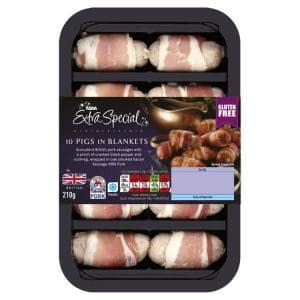 Coming in close second place, is Asda's impressive offering of Extra Special Pigs-in-Blankets' (£2.99). We loved the salty and savoury aroma and the dish was very popular.
The bacon crisps nicely and the sausage meat is very tasty and an overall delicious offering. Very, very moreish.
Third place
In third place is a dish that cooked really well, offered excellent flavours and textures with great crisp bacon; this is the Marks & Spencer's Posh Pigs-in-Blankets (£4) using British outdoor bred pigs.
Fourth place
Coming close behind the Marks & Spencer offering is the tasty Irresistible Pigs-in-Blankets (£3.30) from the Co-op offering really smoky flavours, crispy bacon with nice herby-tasting sausages.
Fifth place
Another great offering from Aldi is their Specially Selected Pigs-in-Blankets, which looked lovely and tasty when cooked with a slight caramelisation. A good balance of taste and sweetness with succulent sausages.
Sixth place
In sixth spot, we have an offering from Sainsbury's that rated very highly and would have scored more but this is a salty offering that may put some people off. The Taste the Difference Pigs-in-Blankets (£4) also uses British outdoor bred pigs to create a lovely looking dish with a generous offering of bacon that retains its shape and crisps nicely. The sausages have a herby, meaty taste and there's a lot to recommend these for those who like a strong taste to their pigs-in-blanket treat.
Seventh place
The only offering from Lidl that makes our top 10 is their Cocktail Sausages Wrapped in Bacon (£2.29) offering that taste great but the sausages, even before cooking, look dry and unappealing. However, the overall taste is quite impressive, with lovely aromas and the strong flavours working together.
Eighth place
With a great appearance, the Best Pigs in Blankets from Morrisons (£3) cooked really well with crisp golden bacon – they will look lovely when dished up for Christmas dinner. However, the dish is not as flavoursome as others in our top 10 and some may think the offering is quite bland.
Ninth place
Surprisingly, Tesco has not impressed us in 2018 with their pigs-in-blanket offerings, which is quite unusual for a store that really does push the boat out at Christmas. However, we did like their Finest Cocktail Sausages in Streaky Bacon (£2.50) offering. There's lots of bacon that's wrapped around a chipolata sausage and it's a great tasting combination, if a little fatty. The bacon doesn't crisp up as the competitors do but it's a sound choice to serve up on Christmas day.
Tenth place
For those who have a Booths supermarket to visit, then the Booths Lakeland Pigs-in-Blankets (£4) are a very tasty and great looking dish. The sausage meat is excellent and the bacon crisps up nicely to deliver an all-round impressive dish. Though it is more expensive than most of its competitors, it's certainly worth considering and most people will enjoy tasting them.
Special mentions
It would be wrong of us not to acknowledge that there are some excellent pigs-in-blankets that may not tick everyone's taste box.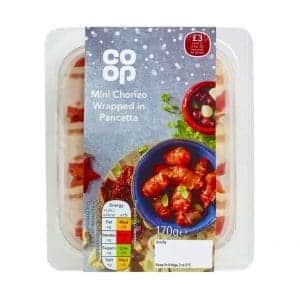 First up is an offering from the Co-op and their Mini Chorizo Sausages wrapped in Pancetta (£3). While it's not the traditional offering, this spicy dish offered an excellent taste, and an impressive looking pigs-in-blankets dish. A firm favourite with the Christmas.co.uk team.
Waitrose offers a pricey organic version of Sausage and Bacon Rolls and the £5.29 dish is a meaty and delicious serving.
We also enjoyed Aldi Butcher's Pigs-in-Blankets at £1.99 and Iceland's Luxury Pigs-in-Blankets at £2.50 is certainly worth considering.
Jumbo pigs in blankets are also taking off and the Tesco serving at £2 is a delicious sausage wrapped in crispy bacon, but the Marks & Spencer's version tastes better. We also recommend the foot-long pigs-in-blankets from Aldi at £2.00 for two.