While glitter makes a lot of our festive products much brighter and gives them a cheery appearance, the glitter itself is not good for our environment.
And now, John Lewis, Waitrose and Morrisons have announced that they will stop using glitter on their Christmas products in 2020.
Here at Christmas.co.uk, we have reported previously that Waitrose made clear in 2018 that by Christmas this year they will have removed glitter from their products.
And we saw in Christmas 2019 that glittery products in the shops were beginning to disappear.
You may struggle to find glitter this year
Now it appears that you may struggle to find the popular addition this year on wrapping paper, crackers, Christmas tags and cards. Flowers and plants will also now be free of glitter.
The big problem is that while we all love the shiny flecks, they are made from plastic which can then contaminate rivers, lakes and seas where they can poison sea life and also contaminate water.
The move follows an announcement from Boots that revealed that it is to cut single-use plastic packaging from all of its Christmas gifts this year – and that means there will be 2,000 tonnes less plastic in its ranges.
Also, Tesco has revealed that it uses only edible glitter, and as they revealed in September, this year would see its first sustainable Christmas range being launched.
And not to be outdone, Sainsbury says that 2020 will see customers 'finding no glitter on our Christmas wrapping paper, cards or gift bags'.
Reducing the amount of glitter being used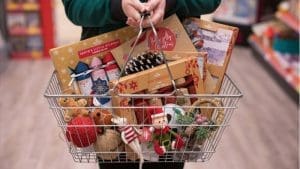 The supermarket giant says it is reducing the amount of the sparkly stuff being used on flowers, decorations and crackers.
Now Morrisons says that it will remove completely glitter from all of its Christmas ranges including wrapping paper, crackers, cards, plants and flowers as well as present bags.
Also, the contents of its Christmas crackers will be plastic-free so you'll only find wooden, metal or paper toys this year.
Morrison says that this decision will see 50 tonnes of plastic being removed over the festive period from its shelves.
The supermarket's home and director, Christine Bryce, said: "When a card is opened or Christmas crackers are pulled, plastics are used – but only once.
"We've taken plastic and glitter from our Christmas range, so customers can enjoy the festivities and not worry about their environmental impact."
Supermarkets and retailers to remove glitter this year
The move by the supermarkets and retailers to remove glitter this year has been welcomed by the campaign group, Friends of the Earth.
They said that retailers in the UK should do more in ditching unnecessary plastic this Christmas.
A spokesman said: "People can enjoy the festive season without the pointless packaging and glitter that adds to the wave of plastic pollution poured into our environment to threaten our wildlife every year."
He added that we can all take further steps to rid ourselves of the 'scourge of plastic pollution', and the group is calling on the UK government to set firm targets to phase out using unnecessary plastic by all firms.