With the big retailers unveiling their Christmas food range for 2020, we are rather taken with Asda's offering this year.
Their range will include reindeer crumpets and spicy pigs in blankets.
Be warned though that these pigs in blankets are flavoured with one of the world's hottest chillies, the Carolina Reaper.
Perhaps that's why Asda calls them 'Extra Special Pigs on Fire'!
The reindeer-shaped crumpets are inspired creations, and they will make the perfect start to Christmas morning for children and adults!
Vegan festive food offerings
And for any vegans visiting your home this Christmas, there's a good range of vegan festive food offerings including creamy dessert in the shape of a Christmas cottage.
The dessert is also a bonus for those avoiding dairy and is filled with a dark morello cherry compote with chocolate mousse.
The tiffin base is topped with dark chocolate and chopped raisins and dates.
Vegans at the Christmas dinner table can also enjoy a 'turkey stuffed joint' made from soya, sage and onion stuffing and caramelised onion.
Served with potatoes and vegetables, it looks nearly as tempting as a traditional Christmas turkey.
People searching for vegan food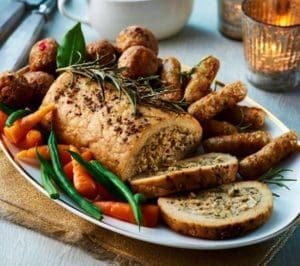 To underline the shift in tastes, Asda says that the number of people searching for vegan food on its website has soared by 275% in 2020.
Other research highlights that those adopting a meat-free diet this year has grown by 2% as more of us become 'flexi-tarian'.
There's also a vegan yule log available – and for something rather different, a vegan bao bun selection.
Bruce the Brussel Sprout cake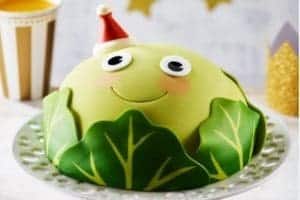 There's even a Bruce the Brussel Sprout cake – though it's not made of brussels sprouts (Thankfully!!) and is instead made with chocolate.
Asda is also offering a very tasty chocolate orange gateaux, it is one of several impressive puddings on their shelves this year, with a creamy orange curd, dark chocolate orange ganache and chocolate mascarpone cheesecake.
To really set this apart from rival gateaux, there are hand-moulded winter decorations surrounding the base of it.
The Asda Christmas food range for 2020
There's lots of good value in the Asda Christmas food range for 2020 and for those who are entertaining lots of guests, there's a lot to offer with show-stopping Christmas dinner spreads.
Asda believes that convenience in preparing food will be important in 2020, with customers spending as little time as possible in the kitchen.
They say this enables customers to spend quality time with loved ones and family friends – especially if they haven't been able to meet up during the year.
There's even a turkey that you can cook in just one hour from your freezer.
Extra Special Easy Carve Turkey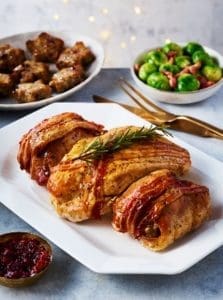 Plus, there's their Extra Special Easy Carve Turkey which will be a great addition to every dinner table.
There's a turkey joint that has been stuffed with pork, cranberries and Bramley apple. It also has layers of bacon.
The centrepiece is oven-ready – there's also a turkey gravy with it packed with flavour.
And, if you're not a huge fan of turkey for your Christmas dinner and want an alternative, Asda is offering an excellent Extra Special Beef Shin.
Feeding guests at the Christmas dinner table
This mouth-watering offering is ideal for feeding guests at the Christmas dinner table, and is slow cooked at a very low temperature for over nine hours so when it is presented at the Christmas dinner table, the beef will easily fall from the bone.
The joint will cook in a delicious redcurrant and red wine sauce, and has rosemary and thyme and garlic seasoning.
The beef shin is nothing short of a sumptuous and is a rich dish to savour and enjoy.
Delicious and easy-to-prepare festive food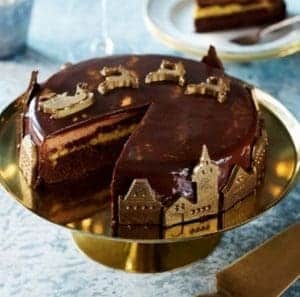 There won't be much of this delicious and easy-to-prepare festive food going to waste over Christmas 2020!
A spokeswoman for Asda told us: "Christmas brings loved ones together from around the country, if it is safe to do so, and we want to help create meaningful and lasting memories.
"We have seen buying habits change this year and shoppers are mindful of any outgoings."
She added: "This year's festive season may feel different for many of us – based on the events in 2020 so far."
And, from what we have seen, Asda's Christmas food range in 2020 is a hard-to-beat offering.
More information
If you like the sound of the tasty treats in Asda's Christmas range for 2020, then they have an easy-to-use store locator to find your nearest Asda supermarket.