'Tis almost the season once again, no sooner than school uniforms are back in stores but the Christmas food, drink and gifts have started to make a comeback on the high street.
Some may say it's too early, but did you know that one in four started to plan their Christmas shopping before the end of August?
We recently carried out research of 2,000 UK adults to find out when the festive feeling really begins. Find out when people start shopping, and what they're buying this year, below!
Saving & shopping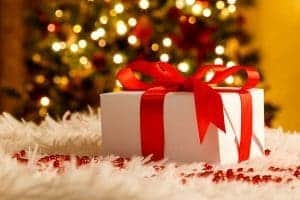 According to our research, more than half of us are now saving for Christmas. It's certainly a savvy move as it means you can spread the cost of gifts throughout the year.
But, there's more. One in five has even started shopping already! Our results showed that people who get a head start on their shopping begin in either January, taking advantage of the sales, or in July with more and more jumping on the bandwagon each month after. In fact, only 16% will wait until December to make their first purchases.
Of those who have begun shopping, two in five do so to spread the cost while a third want to feel relaxed knowing their shopping is underway.
East Anglia is the region most likely to get it done early with one third saying they've already stashed away gifts for the big day.
The UK's most generous
The most generous people in the UK can apparently be found in Yorkshire. According to the study, they are the most likely to spend over £1,000 on gifts this year. How's that for going against stereotype!
But don't expect extravagant gifts if your friends and family live in the South West. They like to keep things simple by being the region most likely to spend £100.
Battle of the sexes
Talking of stereotypes, it seems some of them are true, sorry guys but women really are the more organised sex. 30% of them said they'd started shopping by August compared to 16% of men. Surprise, surprise, 22% of men also said they'd wait until December to do their shopping.
What we say
Daniel Brown, owner of Christmas.co.uk, said:
"We Brits are an undeniably festive bunch but we're also savvy with our money too so thinking ahead makes sense – even if we have been in a heatwave.

After all if you spot a bargain and it's the great gift for someone why not buy it now? It helps stop panic buying and means you have more time to relax and enjoy Christmas markets, pantos and all the real fun of the season."
What we're buying
Those who are shopping early say they're mainly buying toys, in addition to fragrance, clothes and even food & drink before the rush begins.
For parents, it's an astute move to buy that all important toy before December to avoid the types of queues and eBay bidding frenzies we saw for Hatchimals two years ago.
According to retailers, the top toys for Christmas 2018 include:
Poopsie Unicorn Surprise – £49.99
This toy combines everything kids love in 2018 – unicorns, slime and toilet humour. Guaranteed to have kids in stitches on Christmas Day.
Lego is always a top seller and these kits are set to be the hot favourites for this year.
My Lovely Unicorn Electric Ride-On – £229.99
Continuing the unicorn theme is this ride along toy. The Kardashians' kids have already been seen on something similar so of course we expect to see parents all over the country rushing to buy this expensive treat.
Paw Patrol Rescue Fire Truck Playset – £69.99
Paw Patrol is a major success story of recent times and kids love fire engines so this one is a guaranteed top seller.
Fingerlings Hugs – £29.99 and Fingerlings Untamed T-Rex – £16.99
Fingerlings are another top-selling toy so these new versions are sure to continue the trend. The 'Hugs' is a larger version that are interactive, just like their smaller counterparts.
Nerf Laser Ops Two-Pack  – £49.99
Nerf meets Lazer Quest with these new guns that allow you to play laser tag around the living room.
Chow Crown Game – £24.99
This slightly bonkers game is one for all the family. Wear the spinning crown and try and eat as many of the attached treats as possible in the time – what could be more fun?!
Kids LOVE the LOL Surprise toys and good news for parents, this year's offering is much cheaper than last year's must-have LOL Surprise Ball.
Tips for Christmas spending
Of course, Christmas isn't just about the presents – far from it. But, when the pressure is on to deliver a fantastic Christmas for your family it makes sense to think about the costs in advance. Here's our top tips for a savvy Christmas 2018…
Start saving – There's no need to start shopping too early if it's not your thing, but stashing a little away for Christmas each month helps spread the cost throughout the year.
Shop in sales wisely – Lots of us wait until Black Friday or the pre-Christmas sales. However, not all sales are as good as they seem plus, there may be better offers on the items out of the Christmas season. If you know what you want don't delay!
Plan shopping in advance – It's much better to go shopping armed with a list of what you want for each person, rather than panic buying something more expensive than you can afford.
Compare to save – Use price comparison sites to check you're truly getting the best deal and don't leave it to the last minute so you can benefit from free delivery.
Use cash back sites – You can use these sites to make money back on your purchases that you can put towards next Christmas or just a rainy day. You can sometimes get up to 20% back on your purchases!
Agree not to buy gifts – Ok so you'll always buy gifts for kids, but do you really need to also buy for friends, neighbours and the extended family? You could make a gift or just agree to save on buying each other presents.