Christmas time is hectic in a Primary School and by the end of term, many teachers are on their knees with stress and fatigue. Let's face it, when it comes to Christmas presents for teachers, most of them deserve a reward of some kind!
Here's what December looks like for them:
The school play with rehearsals, tantrums, complaints over a child who 'should' have the main part, organising costumes and several late nights
A carol concert involving the whole school that requires UN standards of co-ordination
The Christmas Party where, despite an instructive letter home, all parents provide crisps and the kids end up wired from excess sugar
Over-excited and tired children who become progressively more feral as the end of term approaches
The School Disco where all night is spent watching boys skid across the floor on their knees and the girls spend all night whispering in corners. It's like the worst kind of club night but without the wine!
Our children's teachers deserve a treat or two at Christmas. They've nurtured, taught and kept the precious little darlings all year so here's our quick guide to the best gifts.
Expensive Christmas presents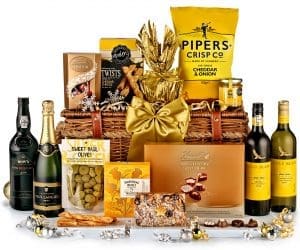 Christmas Classic Hamper with Champagne £149.00 from RegencyHampers.com
This would make a luxurious gift from your family (If you're feeling VERY flash!) or from the whole class. The food, wine and champagne selection in this hamper are all delicious so make sure you don't get tempted to try the chocolates!
Available here.
Personalised Inking Stamp £39.95 from NotOnTheHighStreet.com
This is so lovely! Your teacher will use this every day for many years as they mark books and work. It's not cheap but the quality is fantastic, and it will be a part of their teaching kit for years.
Order here.
Gorgeous leather bag – class gift – £457.63 from Etsy.com
Any handbag lover would be delighted with this! The leather is exquisite and it's a stunning colour. At over £450 it's a big spend but shared between thirty parents it would only cost £15 each. The bag is a practical size for any woman but especially for a teacher who has lots of bits and bobs to carry.
Buy here.
Homeware as a Christmas present
Personalised Unicorn Cushion £7.95 for just the cover and £11.95 for a filled cover from Etsy.com
This cushion is adorable and would be a lovely gift from a Unicorn-obsessed little girl to her teacher. Made from natural hessian and decorated with colourful lettering, it would match most decors. Teacher could take it home or use it on her desk chair. The personalisation is a gorgeous touch.
Order here.
Personalised Word Art Mug £14.99 from Amazon.co.uk
Everyone loves a soothing hot drink in the middle of a stressful day and a special mug is a failsafe gift. The personalisation of the wording is wonderful with lots of options for making it truly appropriate for the teacher and the child giving the gift.
Buy here.
'This Works' Deep Sleep Scented Candle £26.00 from Oliver Bonas
'This Works' is a cool homeware and skincare brand and their candles are amazing. The smell of this candle even when unlit is gorgeous. Created for a relaxing evening and a deep, restorative sleep this gift will be truly appreciated by tired teachers surviving on their last nerve.
Order yours here.
Christmas presents for female teachers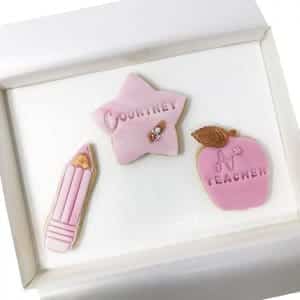 Personalised Teacher Cookies 15.29 from GettingPersonal.co.uk
SO cute! I love this set of pink cookies that are almost too pretty to eat. 'Teacher' themed with an apple, pencil and shining star – this is a fab Christmas gift. One of the cookies can be personalised with your child's name which is sweet. Even better, the cookies are made by a mother and daughter team running a small business and that's a very good thing to support.
Buy here.
Watercolour Robin Scarf £9.99 from Amazon.co.uk
A scarf is always useful! From a traditional neck warmer or throw for a chair, to wearing it tied in the hair for a playful look. The watercolour festive robin print on this scarf makes it a wonderful Christmas gift. It's beautiful quality for under a tenner too!
Order here.
Heart Cashmere Socks £10.00 from John Lewis
No, it's not a cliché socks as a gift is always a good idea. Soft, warm and such a cute heart design these socks are an excellent gift for the chilly winter season.  
Order here.
Christmas presents for male teachers
Personalised Marvel Super Hero Key Ring £5.30 from Etsy.com
This is an absolute bargain! Choose his favourite superhero character and then personalise the display card with your child's and the teacher's name. Co-ordinate with other parents and get the full set. Buy one here.
Harris Tweed Hip Flask £15.00 from The Whisky Shop
He'll need a nip or two of the strong stuff by the end of term and this cute little flask is the perfect carrier. Harris Tweed is an iconic design which comes in several colours. At £15 it's a great price for a gift that will last a lifetime. Order here.
Beard Care Kit £15.00 from The Body Shop
Beards are in fashion and teachers should look smart, am I right?! This is worth buying if only for the tiny beard comb and scissors. The 'No Animal Testing' ethos of The Body Shop is a good teaching moment for your little one. Buy here.
Alcohol and food Christmas present ideas for teachers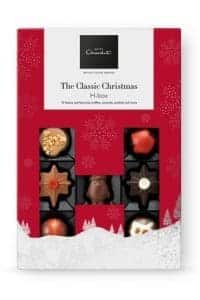 White wine and Swiss chocolate gift set £15 from Marks and Spencer
Gift your child's teacher with a 'Perfect Night In' set and make their Christmas holiday start with a 'Ahhhh!' You can buy various M&S alcohol gift sets, including a festive Port Tasting Kit, for the same price. Buy your choice of set through this link.
'Hotel Chocolat' Classic Christmas Chocolate selection £13 from Next
Delicious chocolates are an amazing gift and the Hotel Chocolat brand is a little bit special. The varieties in this selection are lovely and the price is spot on for teacher's Christmas present. Order yours here.
Muzzi black cherry and chocolate chip panettone £13.95 from TheSousChef.co.uk
I've tried this and it's scrumptious, a real showstopper and a fantastic treat for a hard-working teacher. The wrapping is lush too! For under £14.00 its incredible value for such a luxurious gift. Order here.