Vegans in the UK are increasingly being well catered for and is our guide to some of the best vegan Christmas products in 2020.
Whether you are looking for a tasty vegan dish to serve up at Christmas dinner for a guest, or you want to enjoy plant-based foods, then retailers really have improved their offering.
There is a wide range of vegan Christmas foods to deliver a vegetarian Christmas with a delicious selection plant-based treats which means it is actually quite difficult to choose!
The major supermarkets in Christmas 2020 have stepped up with their vegan-friendly range and are expanding choice from offering a simple vegetarian dish such as nut roast, and anything with red onions and red pepper to meat-free delights in puff pastry.
Instead, there's everything from a vegan hamper to delight vegetarians and vegans alike, to tasty food that is tempting enough for non-vegetarians and meat lovers to enjoy.
Here, the Christmas.co.uk team take a closer look at the best Christmas products currently available.
Tesco vegan products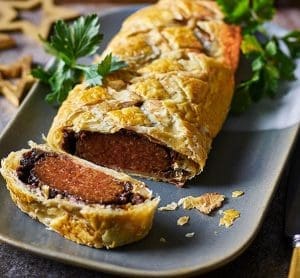 It's probably easier to look at what each retailer has to offer, and later we will have a look at vegan Christmas gifts.
We start with Tesco because they are renowned for striving to meet the growing demand from vegans and vegetarians and the popular retailer has something for everyone this year.
Indeed, we highlight in our Tesco Christmas food range for 2020 review, that one of the UK's most popular supermarkets has an impressive vegan range.
Among the party food delights this year are the no-chicken drumettes and their no mozzarella sticks.
There's even prawn firecracker dippers which look like the real thing with a kick of smoky barbecue sauce and a touch of spice.
For a Christmas dinner vegetarian main course, the Wicked Kitchen Wellington is highly recommended.
It costs £7 and will feed four people, and this hand-rolled Wellington is a plant-based delight.
There is pea protein along with a mushroom, onion duxelles and is a novel creation.
We also liked the no-turkey roast crown.
This is an easy carve creation made with wheat protein and soy and topped with crumbs of sage and onion stuffing and a vegan coconut melt.
Tesco is also delivering an interesting range of plant-based desserts and their tasty ginger chai cake is highly recommended.
Sainsbury's vegan Christmas food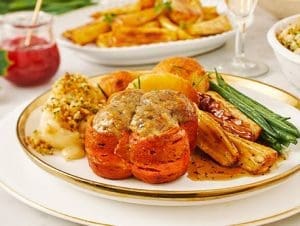 One of the retailers that has really upped its game this year is the Sainsbury's vegan Christmas food range.
Party food includes their Plant Pioneers No Belly Pork Bites, sweet chilli cauliflower bites and BBQ jackfruit bao buns.
Sainsbury's is also offering a no-beef Wellington which I was a kick of horseradish in a flaky vegan puff pastry.
However, we also think that the Plant Pioneers turkey parcels is worth a closer look as a tasty alternative.
This consists of a turkey-flavoured wheat protein which has been filled with a sage and onion stuffing and rolled up in a smoky Vacon rasher. Very, very tasty!
For desserts, the chocolate salted caramel star is highly recommended.
This impressive dish consists of a panna cotta style dairy-free treat that contains Belgian dark chocolate with salted caramel sauce.
Morrisons vegan Christmas food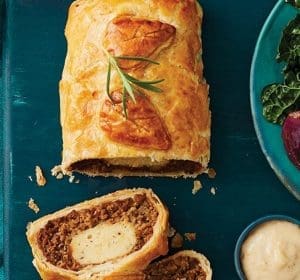 We also like the offering in 2020 from Morrisons who have delivered an interesting range of vegan Christmas products for customers.
Party food includes no pigs in blankets which will also work as a side dish with Christmas dinner.
The no-duck spring rolls and the tempura no-prawn offering are also worthy considerations.
Morrisons has also delivered on the vegan festive food trend this year by offering a beefless Wellington.
However, this one looks very tasty and is worth considering.
The wholegrain mustard melt centre really does help this meat-free Wellington stand out from the crowd. It's highly recommended.
Morrisons is also offering a fully vegan trifle with biscuits, whipped vegan cream, a fruity strawberry sauce and custard.
It's not be available until 21 December, but it is an interesting treat.
However, our choice of vegan desserts from Morrisons must go to their vegan lemon shimmering semifreddo.
This consists of a sponge and lemon semifreddo, topped with a tangy lemon sauce and a golden shimmer. This is a very interesting dish that will impress non-vegans too.
Waitrose vegan Christmas food range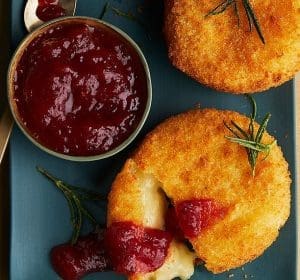 As part of our recommendations for vegan Christmas food in 2020, we could not leave out the tasty delights from Waitrose.
Whether you choose them as a party food, or as a Christmas dinner starter, the Waitrose breaded vegan baking melts are divine.
The dish consist of dairy-free cheese melts which become gooey when hot to flow nicely from the golden crisp breadcrumb exterior. The red current relish is also a nice touch.
Other Waitrose vegan food includes festive filo swirls, and roasted roots with carrot and parsnip falafel wrap.
Marks and Spencer vegan Christmas food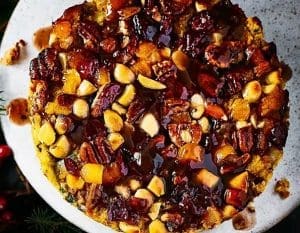 Another contender for offering quality vegan Christmas products this year, is Marks & Spencer.
Their vegan Plant Kitchen range really does impress this year.
Side dishes include their excellent no-chicken Kiev, the Mac and cheese bites and their no-duck spring rolls.
M&S is also offering a cranberry and orange stuffing and a very tasty festive nut roast for vegans.
The Plant Kitchen butternut, almond and Pecan nut roast is a delight.
It costs £7.50 and will feed four people and is packed with festive flavours including roasted nuts mixed with sweet squash and served with a red wine jus.
We also really enjoyed their Plant Kitchen vegan festive wreath.
Desserts from the M&S vegan range include their Plant Kitchen chocolate torte.
With a crunchy biscuit base and a dark chocolate ganache, this is one for vegan chocolate lovers.
We can also highly recommend the Plant Kitchen sticky toffee pudding which is very impressive.
Asda vegan Christmas food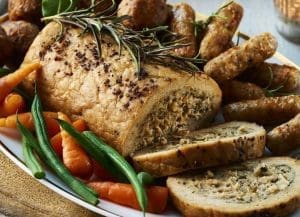 One of the frontrunners in delivering interesting vegan Christmas products this year is Asda.
They were also the first have a dedicated aisle of vegan food and they are delivering an impressive 48 plant-based products as part of its 2020 festive range.
Among them are the vegan bao buns filled with various delights including chilli, plus there are mini duckless spring rolls and vegetable fritters.
Asda's vegan turkey roast is also a tasty offering and comes with all the trimmings.
The seasoned soy-protein filling comes with a caramelised onion stuffing and it looks fairly realistic.
Mini meat-free sausages and stuffing balls along with fresh veg, make this a great vegan Christmas dinner.
There's also a beef Wellington despite dish – which should come as no surprise – and the Asda savoury yule log combines cranberries and chestnuts and a veggie mince in a flaky pastry. It is very tasty.
Asda is also offering a range of vegan desserts, but we love their Christmas cottage dessert.
This consists of a chocolate mousse, a morello cherry compote and a tiffin base made with raisins and dates and this is wrapped in a dark chocolate shell.
Aldi vegan Christmas food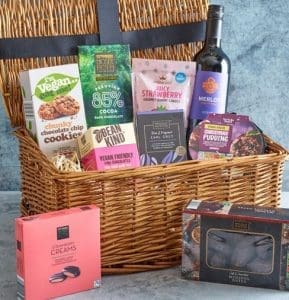 While it may be a budget retailer, there's no doubt that Aldi is looking to impress this Christmas.
Their Plant Menu vegan turkey made from soya and filled with apricots, red pepper and cranberry is a very tasty and interesting creation.
The retailer is also offering vegan stuffing balls, stylish vegan Thai roses along with vegetable tempura nests and no-duck spring rolls.
Their pigs in blankets are also among some of the best currently available.
However, the Aldi vegan hamper is worth close attention and costs £29.99 with a range of excellent plant-based treats to enjoy and impress with.
Shoppers get Chilean Merlot, tea, dairy-free creams, a fruit cake bar and a vegan Christmas pudding.
The best vegan Christmas products & gifts for 2020
Leaving aside the Aldi vegan Christmas hamper, there's an impressive range of gifts for vegans this Christmas.
Here, we take a look at some of the better ones.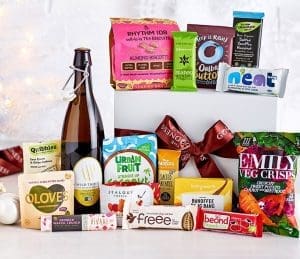 Firstly, we love the vegan hamper packed with vegan snacks and prosecco – for every bottle sold, there's a donation being made for animal welfare.
The vegan snack hamper is available from the goodnessproject.co.uk at £58.50.
Another great hamper, this time a luxury offering from momafoods.co.uk, is their vegan hamper to impress. It is packed with a range of Moma foods and various festive treats including mince pie filling and truffles.
The luxury offering costs £50 and age UK receives a £25 donation with every purchase.
For those who love vegan wine, you can buy a case of mixed vegan wines from elcite.com.
The price for a vegan bottle of wine starts at £10.50, and they are selling mixed cases of wines from £49.
You can also buy English vegan sparkling wines from theenglishvine.co.uk. They are selling a case of mini bottles of sparkling wine – which are very drinkable – for £66.
For those who have a sweet tooth, the vegan and gluten-free cake box from cakehead.co.uk at £19.50 is just the treat. Enjoy a selection of chocolate and orange brownies and caramel shortbread.
Following on from a box of cakes, how about a box of vegan mixed sweets selection?
That's the treat on offer from the littlecandyboxcompany.com at £12.99.
The sweets are neatly packaged in fully recyclable packaging and you can also add a Christmas gift message.
However, it's not just sweets and treats that vegans can indulge in, there's also a decent selection of vegan clothing and kitchen gifts this year.
We love the vegan rucksack from veganhappyclothing.co.uk which comes in seven lovely colours.
The Beeswax Wrap Company is offering a kitchen gift bundle to keep food fresh using these reusable and eco-friendly wraps.
It costs £20 but for the eco-conscious vegan in your life, this could be the best Christmas treat.
Vegan gifts for children this year include the ultimate bath time bundle from Rowdy Kind.
Not only are the products plastic-free but are suitable for vegan children's body care regimes.
They make for a great stocking filler with these individual bars starting at £8, and the ultimate bath time bundle costing £50.