As the large supermarkets in the UK unveil their festive offerings, the Sainsbury's Christmas food range for 2020 is an impressive collection.
There's something for everyone, including party food, 'Free from' vegetarian options and good Christmas dinner choices.
There is also an unusual pigs in blankets with stuffing (see below) creation which will become a talking point, rather than a dinner table centrepiece.
The supermarket is looking to deliver a festive season that will feel magical since it is likely to be one that most of us will not have planned for.
Among the tasty choices, which will become available from November and December in-store, the Christmas.co.uk team really enjoyed the items listed below.
Sainsbury's pigs in blankets wreath
The Sainsbury's pigs in blankets wreath is a sage and onion stuffing creation with six cranberries and six pigs in blankets.
They say that their wreath should serve six people at the Christmas dinner table, so there should be enough to go around.
The offering is from their Taste the Difference range and costs £10.
There's also a Taste the Difference pork and cranberry pigs in blanket which sees the offering being encased in pastry.
Layered pork, chicken and stuffing pie
And if you don't fancy turkey for your festive dinner, Sainsbury's Christmas food range also has a layered pork, chicken and stuffing pie.
It costs £12.50 – there's a similar pie from Waitrose – and could make a sound alternative for those who enjoy a pie.
The pie also has a tasty cranberry layer.
Festive yule dog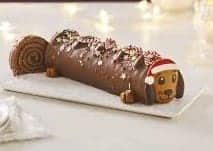 Sainsbury's is offering a festive yule dog, an interesting spin on yule logs for 2020.
It's also a take on the ever-popular Colin the Caterpillar cake that is produced by M&S and is made with chocolate sponge cake, chocolate buttercream and a milk chocolate topping.
There are also candy canes running along his back, with festive shimmering sprinkles.
The interesting addition to Sainsbury's Christmas range for 2020, is that they are gearing up for those who want to extend the festive celebrations.
For those who will be hosting Christmas dinners or parties, then this supermarket is worth considering.
Buy meat-free Christmas products
Sainsbury's says it saw a 54% increase in those customers wanting to buy meat-free Christmas products in 2019.
They've now moved to meet this growing demand with a range of lovely and tasty offerings.
They include their Plant Pioneers range to meet an entire meat-free Christmas dinner range.
Puddings include a chocolate salted caramel star, which is a dairy-free panna cotta treat as part of the Plant Pioneers range.
There's also a Plant Pioneers 'No Turkey Parcel' which is a good way to treat vegans and this is filled with a rich sage and turkey flavoured seitan – a wheat gluten.
Christmas dinner choices for 2020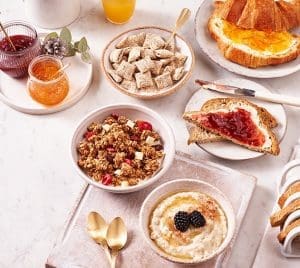 Other big Christmas dinner choices for 2020 include 'No beef Wellington', and 'No fish and chips' as party food.
We were also taken by the Taste the Difference prawn roses, which are a mix of king prawns in filo pastry with Panang curry spices.
However, Sainsbury's is really focused on delivering great food for the entire Christmas Day, including mince pie filled Wheaties, and gingerbread porridge sachets for breakfast.
If they don't attract your attention, then their Taste the Difference cranberry, cinnamon and white chocolate granola might do. We also love the sound of their Bucks Fizz Marmalade.
They all sound delicious and will be a great start to the day's events.
Tasty Christmas dinners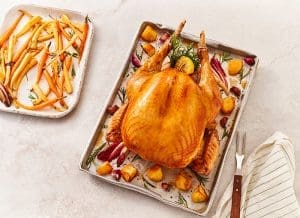 When it comes to tasty Christmas Dinners, Sainsbury's has everything covered.
As a first course, there are delicious smoked salmon terrines which contain steamed and honey roast salmon, decorated with Scottish smoked salmon and cream cheese.
They also offer a Taste the Difference free range whole bronze Turkey, prices start at £35, and this will be great addition to any Christmas dinner table – though many will still like the supermarket's frozen turkey range for 2020.
For those who don't fancy a fresh turkey for their Christmas dinner this year, Sainsbury's is also offering a hand-rolled pork belly joint which is packed with flavour and comes with a lemon, herb and garlic stuffing.
There's also a delicious Taste the Difference beef wellington at £45 which is made with beef fillet with a mushroom and chicken liver pate and wrapped in a butter puff pastry.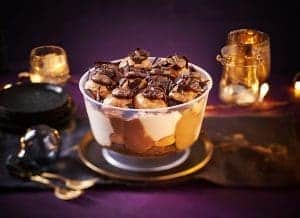 When it comes to the deserts for Christmas dinner, there's a lovely mix of profiteroles and tiramasu which Sainsbury's calls 'Tiramichoux'. It costs £12 and should serve eight people. Expect guests to ask for seconds!
Other desserts include a Belgian white chocolate and raspberry snow dome, a chocolate and salted caramel star and an impressive-looking Christmas tree cheesecake.
For those who like unusual treats, there's a Chilly the Penguin with a fluffy marshmallow belly offering and festive mug hanging gingerbread men.
Sainsbury's is also offering a great range of party food along with drinks including a winter berry and Clementine gin.
It all looks very tasty, so tuck in and enjoy!
More information
If you like the look of Sainsbury's Christmas range for 2020, then you can use their handy online store locator to find a shop near you.