If you fancy having a posh Christmas dinner, then the Waitrose Christmas food range for 2020 should meet your needs.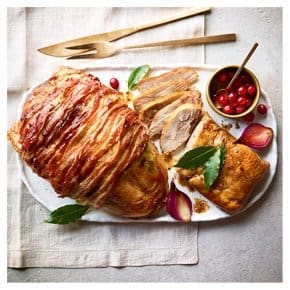 Along with slow cooked beef shin, edible candles and a large bronze Turkey crown, Waitrose is predicting one trend that many of us will be considering.
They say that growing numbers of us will opt for alternative meats for their festive dinner this year, rather than the traditional turkey.
Waitrose says that in 2019, demand from customers for dishes such as venison soared by 60%, compared to the year before.
Lockdown Christmas dinner
They also say that a lockdown Christmas dinner may also be reflected in the growing interest in less-known meats, as well as slow cooking recipes.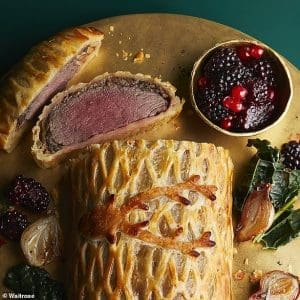 The Waitrose food range for Christmas is available from the end of October and includes breaded vegan cheese melts, duck parfait with a mushroom centre and jewelled stuffing ballotine.
There's no doubt that the upmarket supermarket is offering festive food offering a twist that will delight any dinner table.
Among the Christmas dinner mains is a British venison Wellington for £30, a succulent bronze free range Turkey crown complete with thighs for £60.
And if you are thinking of enjoying a frozen turkey in 2020, Waitrose is guaranteeing that their Christmas turkeys will stay fresh until Boxing Day – so these Christmas Day (or Boxing Day!) cooking tips may prove to be useful).
British woodland pork crackling bone rack
There's also a British woodland free-range pork crackling bone rack £12.99 per kilogram.
This particular pork joint will be a welcome addition to the Christmas dinner table as a stunning centrepiece. The skin is coated with sea salt and black pepper to create crackling that is an extra bit crispier.
However, we are particularly taken by a Chateaubrand fillet with porcini and truffle butter at £38.
And the slow cooked beef shin we mentioned earlier will offer meltingly tender meat with great flavour and is a decadent stand out centrepiece for dinner guests to admire.
Waitrose also highlights that the beef shin dish is a sound option for those who are looking for easy hosting food to deliver to guests.
We will be spending more time with loved ones this year
This is another issue that supermarkets are highlighting this year – they believe that after the events of 2020, we will be wanting to spend more time with loved ones rather than slaving in a hot kitchen creating our Christmas dinners.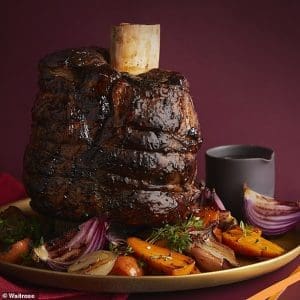 And this beef shin is worth considering because the slow cooking part of creating it, it takes around nine hours in all, has been done already.
Plus, if that's not enough to tempt you, there's a classic sauce that is a rich reduction of a smooth Merlot wine, redcurrant jelly and beef stock to help cut through the shin's deep flavours.
There's also an interesting twist from the supermarket's tie-up with chef Heston Blumenthal for a citrus gin smoked salmon at £6.99.
The Scottish salmon has been cured and smoked over oak before being finished with a gold lustre. It is certainly eye-catching!
Vegans have not been forgotten by Waitrose
And Waitrose has some tasty vegan meals on offer in 2020.
They include vegan filo swirls for £6.99 which have been inspired by Moroccan tastes. It comes complete with raisins, apricots and spiced vegetables in a crisp filo pastry.
There's also an easy carve duck with chestnut, pear and rum for £35. The sticky spiced rum glaze really does help set this dish apart from other offerings.
And that jewelled stuffing ballotine we mentioned earlier?
It's another offering from Heston and costs £7 and is a succulent pork loin stuffed with apple, dried cranberries, sultanas, candied orange and apricots. The pork is wrapped in oak smoked bacon and finished with a Calvados and apple glaze.
And if that's not enough, it's finished with a lovely pork crackling crumb. Yum!
Desserts in the Waitrose Christmas food range for 2020
The tempting desserts in the Waitrose Christmas food range for 2020 include a chocolate Rudolph cake at £14. This impressive looking chocolate sponge cake has been smothered with a chocolate buttercream and then decorated with fondant icing.
There's also a raspberry and vanilla panna cotta, and the chocolate candles created by Heston have been previously highlighted here at Christmas.co.uk when we looked at supermarket Christmas food offerings.
The white chocolate candles have been filled with a tasty mandarin Buck's Fizz chocolate ganache.
These tasty treats will not, trust us, last long in any home!
Indeed, if you like the type of food that is created by Heston Blumenthal, the, Waitrose is your one-stop shop for these delicious treats.
The Waitrose range from Heston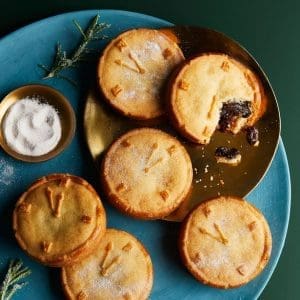 In addition to the dishes described above, the Waitrose range from Heston also includes 'the night before Christmas mince pies' which are made with golden caraway and carrot pastry with a rich vine fruit and carrot filling and a cream sherry. Smoked sugar has been sprinkled on top.
He has also created the smoked salmon infused with a citrus sherbet gin which is a refreshing Christmas brunch option.
There's also a fish and seafood platter from Heston, the Lapsang Souchong Tea Smoked Salmon, and a Bloody Mary prawn cocktail.
And if you like some of the unusual flavour combination that have been created by Heston, there's also a sherry and balsamic vinegar Christmas pudding that contains sultanas that have been soaked in aged balsamic and will deliver a very rich flavour.
This particular Christmas pudding is not only a tasty delight, but it has also been maturing for a full year to deliver a boozy and yet indulgent finish to any festive dinner table.
Waitrose party food
Waitrose is also offering an impressive range of party food as part of its Christmas 2020 collection.
Among the offerings is cheese nougat, maple and bacon whorls, open cheese croquettes and creamy smoked salmon tarts.
Waitrose is also offering ornate £5 chocolate stirrers which can be stirred into a hot milky drink, or even from the stick.
There's also a Christmas tree box of treats that young ones (and the 'not-so-young-at-heart') can leave for Santa and Rudolph costing £4. This great idea will see the busy duo receiving a milk carton, carrots and cookies that have all been made from chocolate.
'Customers love to plan what they will serve on Christmas Day'
A spokeswoman for Waitrose told Christmas.co.uk: "We know our customers love to plan what they will serve on Christmas Day.
"Last year, the searches for Christmas on the Waitrose.com site started in August and Christmas mince pies were a popular search, open more than 300% between July and September."
She added: "This year, it's important to ensure we have a variety of traditional and new dishes and flavours, as well as options for main courses and gatherings and which can be useful leftovers.
"We know our customers love our festive food selection and drink, so their Christmas still feels like a special celebration, no matter how many people are sat at the table."
While many us may not yet know how we will be celebrating this year, the Waitrose Christmas food range for 2020 is not only impressive, but there's a good range of mouth-watering creations for us all to look forward to.
More information
If you like the sound of the Waitrose Christmas food range for 2020, and want to know where your nearest branch of this popular supermarket is, then here's a link to find out which store that will be.