It's usually a fitting finale to an impressive Christmas dinner, and if you need to know which ones the best Christmas puddings to buy are in 2021, this article will help.
The Christmas.co.uk team has been tasting a wide range of puddings to find which ones have the best plump fruit and balanced flavours.
Whether you bring your pudding to the Christmas table aflame, or simply tuck in with a brandy butter or custard topping, this is a traditional dessert to enjoy.
The typical pudding will have dried fruit, glace cherries and various vine fruits, as well as other fruit and spice to deliver a tasty soft texture for everyone to enjoy.
The shops are packed with 12-month mature Christmas pudding choices and while most have a traditional Christmas pudding recipe, there are more modern alternatives.
But first, let's look at some common questions about Christmas puddings:
How do you cook a Christmas pudding?
You can either steam or microwave a Christmas pudding though many brands will recommend that their offering is steamed – that's because a microwave Christmas pudding can overheat which may lead to the soft texture becoming tougher. Steaming should deliver a light texture to enjoy.
How do I light a Christmas pudding?
One of the big attractions for using a traditional Christmas pudding is to bring it to the table with flames rising from it. It's a festive tradition but to guarantee a flame you need to: cook your pudding, ensure there's a clear surface area, use a small saucepan to warm the brandy gently, pour the brandy over your pudding and then tip the plate to one side before very carefully lighting the brandy. You should now be able to put aflame to it.
Harvey Nichols Christmas puddings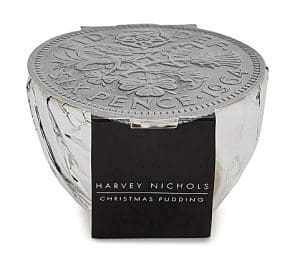 First up in our taste test of Christmas puddings, is the impressive offering from Harvey Nichols.
While these puddings tend to be pricey, they are undoubtedly very impressive.
The Christmas.co.uk team was taken by the Harvey Nichols Classic Christmas pudding that costs £6.50.
The popular store also offers a smaller version, along with an alcohol-free alternative.
This is a classic offering that is packed with juicy fruits, sultanas, glace cherries, pecans, almonds with lashings of brandy, port and cider. It's a taste sensation!
This pudding can be steamed or microwaved and it's a great dessert for a stylish festive table.
We also really loved the Harvey Nichols Really Chocolatey Christmas Pudding that costs £10.95.
Again, there are plenty of juicy vine fruits along with cherries but plenty of Belgian chocolate chunks too and a shot of crème de cacao. There's plenty of alcohol in this pudding.
Though if you fancy skipping alcohol then the Harvey Nichols' Alcohol-Free Christmas Pudding at £6.50 is certainly worth considering.
It's packed with flavour with lemon and orange peels, raisins, and glace cherries, plus lots of nuts including almonds and pecans. It's not quite as boozy as the other offerings but it is very, very tasty.
Aldi Specially Selected Champagne Christmas Pudding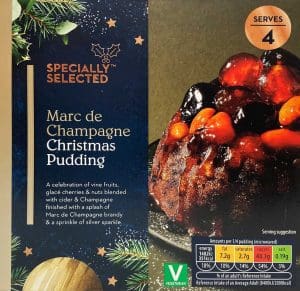 Aldi's Specially Selected Champagne Christmas pudding is a sparkling pudding to enjoy with a great balance of flavour and it looks impressive too.
It's hard to believe that it costs just £4.49, and the fruit and nut jewelled topping will impress – though you may struggle to set it aflame.
The pudding itself is packed with rich, plump vine fruits and it's a tad sweeter than other puddings available and rather than having brandy soaking the pudding, Aldi has used champagne.
This is a winning combination and, for the money, it's hard to beat.
Waitrose No.1 Figgy Pudding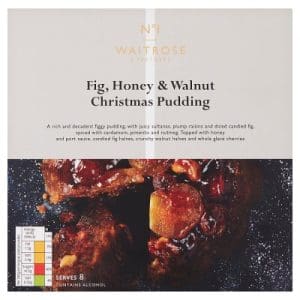 If you some fancy something a tad different but still packed with flavour, then how about the Waitrose No.1 Fig, Honey & Walnut Christmas Pudding?
This is a spiced pudding that is packed with vine fruits, figs, honey, walnuts and topped with glace cherries. There's also a good tasting of rum and cider in the pudding and everything is coated in a honey, fig and port sauce.
It looks rich and decadent and tastes absolutely delightful.
It costs £14 and is a great idea to deliver a cracking Christmas feast finale.
Co-op Irresistible 12 Month Matured Christmas Pudding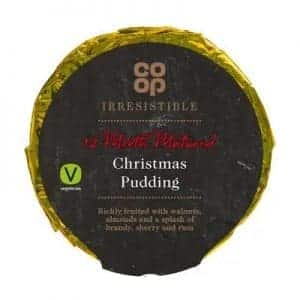 This 12-month matured Christmas pudding from the Co-op's Irresistible line is a great small pudding to enjoy.
The maturity has led to a rich, fruity taste and diners get to enjoy lots of vine fruits, almonds, walnuts and a splash of room, sherry and brandy.
It is a very moreish pudding that costs £4 which makes it a sound choice for those wanting to impress – if there are only a few guests or your guests have small appetites.
Of all the Christmas puddings taste-tested here, this Co-op offering really does have a delicious boozy taste that cuts through the vine fruits.
Overall, this pudding delivers a well-balanced flavour and looks and tastes of great quality.
Meg Rivers Christmas pudding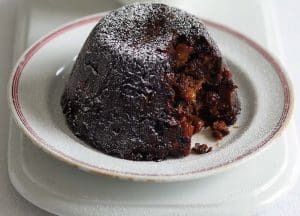 If you prefer a traditional Christmas pudding but without the heavy texture that some offer, then this Meg Rivers creation is for you.
They use fine French brandy to create a lighter taste along with the real zest from using fresh lemons and oranges to liven the pudding when it hits your palate.
The bakers also use Bramley apples, and the pudding is baked slowly overnight, and it is a fantastic and tasty creation – there's a real homemade feel to them but this is a pudding made with quality ingredients.
This is an excellent offering and should be carefully considered and at £17.50 will make for a real festive treat to finish off a lovely Christmas dinner.
We thought we should also mention the Meg Rivers Gin Christmas pudding at £18.
Rather than using brandy, the bakers have used gin – and lots of it – to create a delicious and simple Christmas pudding to enjoy.
There are still the nutty flavours from the nuts, and a rich fruity taste for diners to enjoy. If there is a gin lover in your life, this is the Christmas pudding for them.
Yumbles Stout Soaked Fruit Christmas Pudding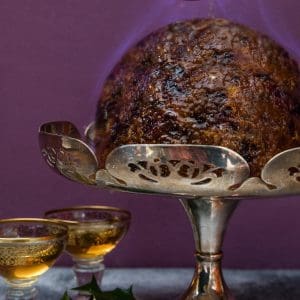 The foodie platform Yumbles has a wide range of intriguing Christmas puddings to enjoy this year, but we were really taken with the stout-soaked fruit Christmas pudding.
It has been created by Blackberry Cottage and costs £14.
It's not only a moist and delicious round pudding, but it's full of fruit and then wrapped in muslin and a ribbon is added.
The old family recipe sees juicy sultanas, currants, figs and raisins being steeped in stout with the other ingredients then being combined, including a secret spice mix.
The pudding is then steamed for six hours and then wrapped before being left to mature in order to reach perfection.
This is a traditional round Christmas pudding that delivers excellent flavours that everyone can enjoy.
Blackberry Cottage also offers a rum cask cider Christmas pudding and an ale and carrots Christmas pudding.
However, Yumbles has a wide selection of unusual puddings to enjoy including Christmas pudding teacakes, Christmas pudding cherry brownies and Rocky Road Christmas puddings.
It's fair to say, that there's something for everyone Christmas pudding-wise on the Yumbles website!
Nana Lily's Christmas Pudding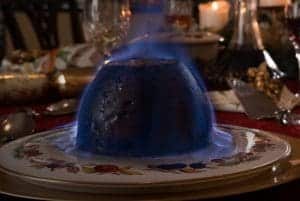 Our final recommendation for the best Christmas pudding to buy in 2021, comes from Nana Lily.
This is a fruit-filled, moist traditional plum pudding that will delight Christmas pudding lovers – and potentially win over those who are not so keen.
The pudding is packed with lovely warm spices and then laced liberally with 'Nana's favourite Kilbeggan Irish Whiskey'.
The recipe has not been changed in four generations since it was created on the West Coast of Ireland and it's still a delicious, mouth-watering taste.
Now, however, the baker lives in Worcestershire but still stays true to the original recipe from Nana Lily.
This is an award-winning offering that costs between £4.50 and £18, and the pudding is sold around the world. It is highly recommended.