Whether you are entertaining family and friends, you'll need a plentiful supply of quality food and drink which is why this guide to the best Christmas hampers in 2021 could prove to be invaluable.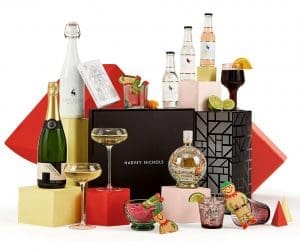 And who wouldn't want to have an impressive Christmas hamper overflowing with luxury items as a great way to celebrate and treat those who are close to you?
Christmas hampers come in a range of choices including afternoon tea and brunch selections, as well as hampers of alcoholic drinks – and teetotal offerings.
Indeed, a festive hamper may also include mulled wine, Christmas pudding, hot chocolate drinks, sweet treats as well as mince pies to celebrate the festive holidays.
As festive gifts go, not only will the recipient get to enjoy luxury food and drink, but they will get to reuse a wicker basket in future months and years.
There's no doubt that while a wicker hamper packed with festive gifts may not be for everyone, for most of us, gift hampers are a great Christmas gift to enjoy.
Here, the Christmas.co.uk team has been working to find some of the best Christmas hampers available to send as a gift, or for you to help celebrate and entertain house guests.
Carluccio's 'Merry Cherry Duluxe' hamper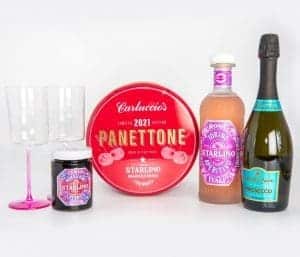 One of the most intriguing Christmas hamper offerings every year comes from the team at Carluccio's – and this year is no different. Along with a touch of Italian class, these hampers deliver festive cheer, and some are a luxurious offering. This year, Carluccio's have teamed up with Malfy gin and with Hotel Starlino for other items, and along with their signature artisanal classics, there's also a luxury advent calendar. Essentially, the Carluccio's Christmas hampers have something for everyone at a range of prices. For example, we love the 'Merry Cherry Duluxe' hamper at £95 which features everything with cherry, including a new Panettone Maraschino that is packed with delicious pieces of dark chocolate and Maraschino cherries. There is also a bottle of Starlino Rosé Italian Gin and a bottle of Prosecco. Along with tasty preserved Starlino Maraschino cherries, there are also two stylish cocktail glasses from Starlino.
There's also a new offering for those who like a traditional Italian supper hamper at £36, which includes authentic Italian pastas, infused oils and sauces, including a delicious tomato and basil sauce.
British Regional Hampers' Warwickshire Hamper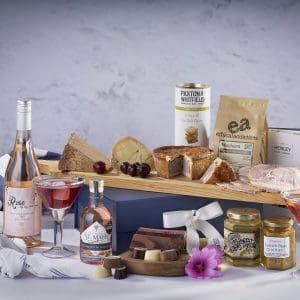 Lots of people love to receive a hamper at Christmas and one of the best providers are British Regional Hampers. They have an impressive range of hampers available, and the Christmas.co.uk team were rather taken by their Warwickshire hamper for 2021. It costs £150 and includes an excellent gin and bramble cocktail that comes in a pouch so it's ready to shake and then be poured over ice and drink – and then you can open the rest of the hamper. There's also an excellent English rose wine, a bottle of spirit from Ragley Estate and some handmade cheese shortbread dough that's easy to bake to create cheesy, warm biscuits in just 10 minutes. There's also an impressive ploughman's platter that includes two cheeses along with one of the best pork pies around. There's also a jar of honey and runner bean chutney, plus celery and sea salt oatcakes. Recipients also to get to enjoy delicious, sliced ham along with a collection of tasty chocolate and fresh coffee. British Regional Hampers works hard to support local small businesses around the country to deliver limited edition and very tasty British produce. For those who enjoy environmentally friendly products that are also sustainable, the Warwickshire hamper is certainly worth considering.
Social Supermarket 'Sweet Chestnut' Christmas hamper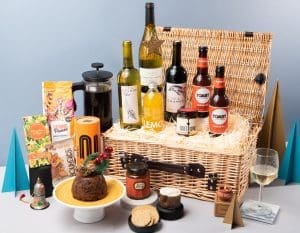 There's a real opportunity to do some good in the world when you select the Social Supermarket's 'Sweet Chestnut' Christmas hamper. It costs £139.99 and is packed with great treats from various social enterprises. This means that you'll be discovering new food and drink that is not only just good for the planet, but also for people. The 'Sweet Chestnut' hamper includes some very nice wines and beers, but also a tasty Christmas pudding and a richly fruited Christmas cake. There are also very nice coffee beans, tasty chai teabags, oatcakes, and a very delicious chutney. There's also a chocolate bar, a scented candle and a nice snacking seeds and nuts mix. Everything in the hamper is of the best quality and the wicker basket also impresses. If you want to make a difference this Christmas by supporting those ventures that aim to make a difference either in the disabled people they employ or the recycled materials , then the Social Supermarket's 'Sweet Chestnut' Christmas hamper is certainly one way of achieving that.
'Konnichiwa' The Cheese & Sake Selection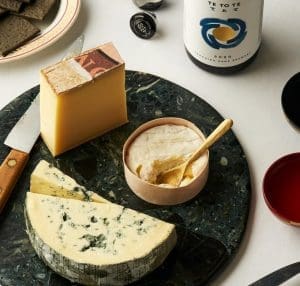 If there's a cheese lover in your life who enjoys unusual food and drink pairings, then the Fine Cheese Co has something for you. It's the 'Konnichiwa' cheese and sake selection which costs £64 and pairs delicious cheese with sake. The hamper contains a cheese from St Jude which is a complex and delicate cheese that has been handmade in Suffolk and it's packed with flavour. The wrinkled, thin coat offers a refined taste that lingers. There's also a Comte St Antoine cheese that is an unpasteurised French offering from the Jura mountains and it offers a nutty, mellow and smooth flavour with a long finish. The hamper also includes Cashel Blue which is a famous blue cheese from Ireland and when young it is a crumbly creation, but when mature it delivers a full flavour from a creamy texture. This hamper also includes all-butter charcoal crackers from the Fine Cheese Co that have a delicate flavour and a crumbly texture that help underpin the taste of the cheese in the hamper. But let's not forget the Te To Te sake which has layers of complex flavours that are expressed when tasting the cheese with balanced acidity and a wonderful rounded offering. The Fine Cheese Co has created an impressive hamper with this great cheese a sake pairing.
Christmas hampers from Harvey Nichols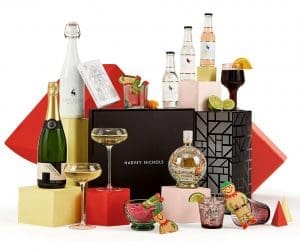 Among the impressive range of Christmas hampers at Harvey Nichols is their Merry Christmas gift box priced at £120. This is a real treat for the recipient, which is a cheeky, boozy gift box containing quality Champagne, mulled wine, flavoured tonic water – and includes the Harvey Nichols snow globe orange plus their very popular gingerbread gin liqueur which quickly sells out. There's also the 'Jolly Gingerbread elf' to snack on, though you need to be aware that the food has been made in small artisanal batches and needs to be consumed before the end of January. All in all, the Harvey Nichols Merry Christmas gift box is a great way to treat someone for the festivities.
Sam's Larder 'It's Christmas….!' Hamper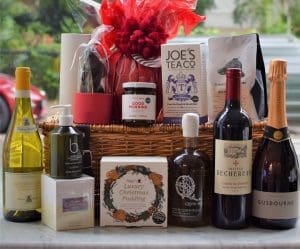 Here at Christmas.co.uk we like to find unusual Christmas hampers and we were rather taken by Sam's Larder 'It's Christmas' hamper which costs £260. This popular Hammersmith restaurant now has its own shop to offer a great selection of quality ingredients, and this is reflected in the excellent Christmas hamper. The recipient will get to enjoy Vallebona traditional panettone, Figgy's Christmas pud, a bottle of Chateau Bechereau Pomerol, Querubi Organic extra virgin olive oil, a Bamford Rosemary Candle and Joe's Tea Co Ever-So-English Breakfast creation, plus a jar of Melrose & Morgan Good Morning Marmalade. We also rather like the sound of 'Sam's Hammersmith' hamper which costs £75 and is packed with quality biscuits, tea, marmalade and piccalilli.
Other offerings in the best Christmas hampers in 2021 to consider
Christmas hampers by Marianna Leivaditaki
It's also worth mentioning the Christmas hampers by Marianna Leivaditaki, the head chef at Hackney's Morito restaurant. She has put together a number of interesting and very tasty hampers including the Aegean wild and foraged box from Crete at £45. It's something of a foodie delight with a selection of hand-picked herbs and wild teas, including wild sage and oregano, Cretan thyme honey plus a honey spoon, and a blend of Cretan Mountain tea. There are also two handmade ceramic tumblers from the island of Crete.
Oliveology 'Christmas Star' hamper
Another hamper that caught our eye is the 'Christmas Star' hamper from Oliveology at £70. It contains impressive Greek-style Christmas treats including wild thyme honey, an olive wood honey dipper, dried figs, molasses, walnut olive oil and kalamata olives with orange and herbs.
Biscuiteers Christmas decoration biscuit tin
The Christmas.co.uk team also enjoyed the Christmas decoration biscuit tin from the Biscuiteers at £45. The tin itself is attractive and will be a lovely keepsake while the 12 gingerbread iced biscuits are very impressive and tasty. The Biscuiteers also create other novel and great festive treats, including a Christmas tree-shaped biscuit at £9, and also a limited-edition Advent Calendar at £125 – which is a very impressive product indeed.