Perfume gifts are popular at Christmas but fragrance is a very personal choice. A perfume can be loved by one woman and loathed by another. Scent is emotive, subjective and a conjuror of memories. So, why do so many of us buy and receive a gift of perfume every Christmas?
Scent can be expensive. Some of the best sellers are around £50 for a 30ml bottle that will last all of six weeks if you use it every day. Most of us can't afford to keep ourselves fragrant with our 'signature scent' all year round so receiving it as a gift is a lovely thing.
Every year at the end of November the expensive, 'sexy' … and slightly weird … adverts woo us into thinking a new bottle of scent will make us sexier, richer and more …erm … interesting!
Gift sets arrive on department store shelves at Christmas. They represent better value than a single bottle during the rest of the year. Beautiful, re-useable packaging, a free 'gift' such as a body lotion or purse spray and a slightly cheaper price make a perfume gift a tempting option.
The effort and attention that a loved one pays in order to choose the right type of scent is always appreciated. It's a gorgeous thing to be noticed and understood and fragrance is the easiest way to get it 'right'. *Note* Check dressing tables, bathroom cabinets and bedside tables for bottles of scent that have been loved and used. Find that bottle in the shop!!
As ever, the team at Christmas.co.uk are here to help make Christmas 2019 a fantastic success. Inspiration, sound advice and the latest info are what we do! And so, here's our carefully curated and sniffed out list of the most desirable perfume gift sets.
Perfume gifts for the ladies in your life
Paco Rabanne 'Lady Million' Eau de Parfum Gift Set £64.00 from Boots
A delicious, sexy scent with a base of opulent patchouli. The box the set comes in is a metallic neutral that would look great on any dressing table. The perfume is a generous 50ml and the 'extras' are a scented and silky body lotion and 10ml purse spray for your handbag. The price is fantastic for the three and may change for the better as we get nearer to Christmas. Order your set here.
Clinique 'Happy' Eau de Toilette Gift Set £25.00 from John Lewis
This is a lovely gift for a teenager. Keenly priced for 50ml and a large scented body cream. 'Happy' is a fresh, fruity scent with lots of fizz. John Lewis has lots of gift sets on offer throughout December and they are often on 'Price Match' so the price drops further. Buy yours here.
Lancome 'La Vie est Belle' Eau de Parfum Gift Set £75.00 from Debenhams
Translated into English 'Life is Beautiful' this grown up fragrance is feminine, floral and has a real depth. Lancome have created a bestseller with this long lasting and impactful scent. It lingers wonderfully on the skin and in the room after you've left. The 'gifts' are a 50ml body lotion and a cute miniature perfume. Order your set through this link.
Tiffany & Co. 'Signature' Eau de Parfum Gift Set £100.00 from FeelUnique.com
A stunning fragrance with mandarin, iris and soft musk that is one of those perfumes that make people ask what you're wearing. This classy scent represents the strength of women apparently. I'm not sure about that but it's a great line to deliver to your Mrs when you present her with it!
It's one of the more expensive gift sets but Tiffany is an iconic brand and the perfume, body lotion and mini perfume are all much bigger than the norm. Order yours here.
Colognes and aftershave for the men on your gift list
Versace 'Collection' Miniatures Gift Set £21.99 from Fragrancedirect.co.uk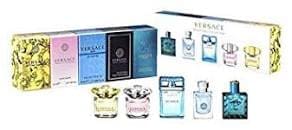 This is an ace gift for a teenage boy or a man who is new to wearing scent. The set includes four of Versace's best-selling colognes so the wearer can decide which they prefer, and which suits them best. When Beth in A Level maths goes all gooey-eyed after getting a whiff of your 'Eros Homme' (not a euphemism) then you know that she's the one for you.
Most men won't be bothered but the tiny bottles are very cute and would be fab on the bathroom shelf. This is also a good gift for fitness freaks as the bottles would fit nicely in a gym bag.
Creed 'Aventus' Gift Set £415 from CreedFragrances.co.uk
We know! HOW much?! Creed is one of the most expensive scent brands on the UK market. BUT their scents smell divine, are super long lasting and pack a punch when the wearer walks by. The cost is prohibitive to most people's budgets which is why the gift of Creed is such a luxury. Gift sets are rare in retailers, they either don't sell them or are out of stock.
Buying through Creed direct allows you to buy the bottles individually and then choose your own person specific 'extras'. Or buy the gift set such as this which includes a 50ml cologne, an aftershave balm and a shower gel. Aventus is a rich, deep and woody scent. Check with the man in your life what type of smell he prefers by 'having a mooch' in the fragrance section of a department store. At this price don't take the risk of picking the wrong one! Buy here.
Jean Paul Gaultier 'Le Male' Eau de Toilette Gift Set £48.50 from The Fragrance Shop
As perfume gifts go, this fabulous scent is encased in a very cool 'male torso' bottle. The smell?! It's hard to describe and the 'blurb' that the brand give you isn't much use either. 'A reassuring scent with a modern trail' what does that even mean!? Basically, the smell is fresh, sexy and sweet and it's gorgeous! The extra treat is body cream some men might sneer at. Help them realise that it's a great way to make the fragrance last all day and encourages their significant other to snuggle in for a sniff of soft, deliciously scented skin.