Advent calendars have come a long way since children enjoyed opening a calendar with a chocolate behind every door in the run-up to Christmas and 2018 and now there's a wide range of Food & Drink options available.
For those who are even older, advent calendars usually consisted of opening a window to reveal a Christmas character.
The official countdown for Christmas is about to start and there's an advent calendar for everyone.
Some of them are downright bizarre while others are more traditional, so here's our rundown to some of the better ones.
Snaffling Pig pork crackling advent
The Snaffling Pig pork crackling advent calendar.
Why not buy that someone special in your life a packet of pork scratchings with a beer to wash down with every day before Christmas?
That's the opportunity being presented by the Snaffling Pig Company with its £65 one metre tall advent calendar.
Inside, there are 12 packets of premium pork scratching plus 12 bottles of Meantime beer – there's a choice of pale ale or lager to choose from.
While there are 24 doors, each will offer either a beer or the pork scratchings but not both.
Gin and tonic advent calendar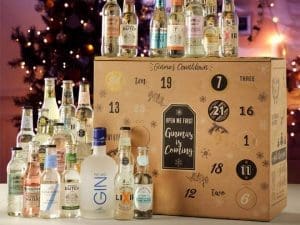 Yes, that's right there is a gin and tonic advent calendar available.
While there are whisky advent calendars available, it's also possible now to enjoy a range of gin and tonics with this advent calendar from Amazon.
Costing £99, the recipient gets to enjoy a 70 cl bottle of gin from the award-winning Lakes Distillery and then every day there is a new tonic behind every door to enjoy a range of favourite combinations.
Among the brands are Fentiman's, Double Dutch and Fever Tree while the makers may be repeated, the flavours are not.
Also recommended: That Boutique-y Gin Company Advent Calendar.
Carluccio's Luxury Advent Calendar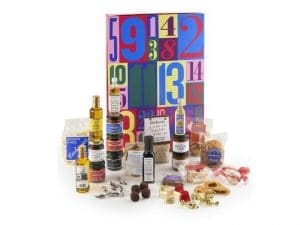 For the foodie lovers out there, the Carluccio's Luxury Advent Calendar offers a great taste of Italian foods with a fresh offering behind each of the 24 doors.
The offerings include sauces, truffles, oils and pasta so there's a wide range of tempting goodies to indulge in.
The Carluccio's Advent calendar costs £85.
Also recommended: So Wrong it's Nom Cheese Advent Calendar.