If you are a fan of the Tesco lunchtime meal deals – and who isn't? – then you may be interested in the supermarket's new Christmas sandwich offering.
That's because there's a full three course dinner 'feast' available.
Tesco's Christmas sandwich set will include posh prawn cocktail, followed by turkey and stuffing and there's a desert roll of chocolate and cherry.
So far, so yum and all for just £3.50.
The Finest Festive Feast trio also features, for those who don't like Turkey, gin and juniper soaked salmon bagels and also sandwiches filled with Boxing Day leftovers featuring smoked ham, bubble and squeak with a sprout slaw finish (that's perhaps not so 'yum' to many readers!).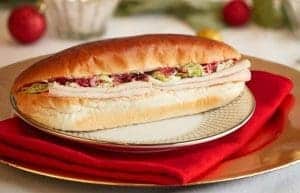 There's also a pumpkin wrap filled with Christmas vegetables.
Christmas sandwiches are also available as part of Tesco's standard £3 sandwich meal deal, including vegetable Christmas dinner wrap and a brie and cranberry sandwich.
All of these will be available from 19 October – so will they get you into the Christmas spirit?